Are you looking for a way to make money online? If so, you should consider selling in Jiji. Jiji is one of the most popular online marketplaces in Nigeria, and it is a great place to sell your products and services. 
In this article, we will provide a step-by-step guide on how to sell in Jiji and make the most money. We'll go over how to create an account, how to list your items, how to optimize your listings, and more.
What is Jiji?
Jiji is an online marketplace for buying and selling products. It was founded in 2014 and has since grown to become one of the largest classifieds sites in Africa, with over 3 million users in Nigeria alone. 
The platform allows people to easily buy and sell everything from cars to electronics to clothing. It is completely free to list your items on Jiji and it is a great way to make some extra money or find great deals on items you need. 
Jiji has also recently introduced a payment system so that buyers can securely pay sellers online, making it even easier to transact. Whether you're looking to buy or sell, Jiji is a great platform to use.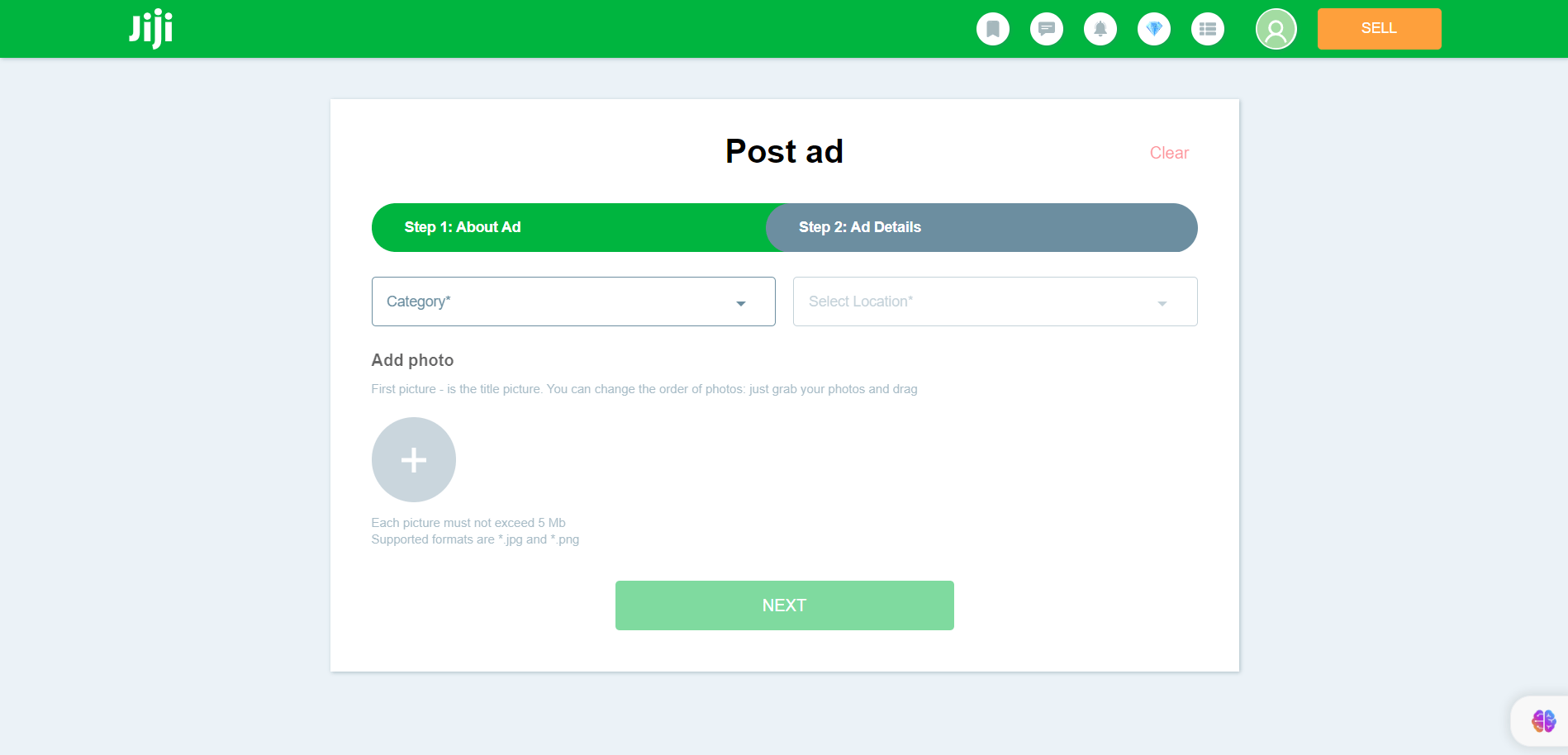 How to list an item on Jiji
Listing an item on Jiji is easy and can be done in just a few steps:
Register for a free account. 
Creating a Jiji account is the first step in selling on the platform.
To register for Jiji, go to the site and select "Registration" from the menu at the top right. Simply enter your email and a password and hit the "Register" button to get started. 
A verification link will be sent to your email address, and you must use it before your account can be fully used.  This is free and only requires you to provide your name, email address, and phone number. 
Choose the appropriate category. 
Once you're registered, you'll be able to start creating your listing. Start by choosing the category that best suits your item. 
Provide detailed information. 
Now it's time to provide all of the necessary details about your item. Be as specific as possible and include any information that might help potential buyers make a decision. This includes the brand, model, age, condition, any warranties or other special features. 
Be sure to include the following components in your Jiji advertisement if you want it to be successful:
– An attention-grabbing title: Use keywords that potential buyers might search for, such as "Brand New iPhone 12" or "Affordable Home Cleaning Services."
– Clear and high-quality images: To give customers a better idea of what they're getting, it's a good idea to upload multiple images of your product or service. Make sure the pictures are bright and clear.
– A detailed description: Provide a thorough description of your product or service, including its features, benefits, and any relevant specifications. Be honest and upfront about any defects or limitations.
– A competitive price: Do some research to find out the average price for similar products or services on Jiji, and price your item competitively.
– Contact information: Make it as simple as possible for prospective customers to get in touch with you by including your phone number, email address, and physical address in the listing..
In addition to providing factual information, you should also use your listing description to make the item sound attractive to potential buyers. Explain why someone should buy this particular item over something else.
Make sure to use keywords so that your listing is easy to find. 
Upload photos and Set a price. 
It's always a good idea to include several photos of your item when listing it on Jiji. This will help buyers get a better sense of what they're buying and will also make your listing stand out from the rest. 
Finally, you'll need to set a price for your item. Consider your market and how much similar items are selling for. You should also consider how much it would cost you to replace the item if it doesn't sell. 
Now you know how to list an item on Jiji! With these steps, you'll be able to get your item out there and start making money.
Promote Your Ad
Once your ad has been published, it needs to be promoted so that it can be seen by potential customers. 
Use social media like Facebook, Twitter, and Instagram to disseminate your ad and encourage your audience to do the same. 
You can boost your ad's exposure and exposure to potential buyers by paying for promotion through Jiji's Top Ads or Bump Up features.
 Arrange for Payment and Delivery
Once you've agreed on a price with a buyer, it's time to arrange for payment and delivery. 
Jiji offers a "JijiPay" option, which allows for secure online transactions between buyers and sellers. 
If you prefer to accept payment in person, make sure to meet in a public place for safety reasons.
For delivery, you can choose to ship the item using a reputable courier service or meet the buyer in person to hand over the product. 
Ensure you get a tracking number or other proof of shipment to protect yourself in case of any disputes.
Tips for writing a good listing
When it comes to selling on Jiji, it's important to have a good listing that stands out. Here are some tips for writing a good listing: 
Make sure your title is descriptive and catches the reader's attention. Include the brand, model, size, and condition of your item in the title. 

Write a detailed description of your item, including its features and condition. Include measurements, brand names, and any defects.

Upload clear, high-quality photos of the item from all angles.
Highlight why your item is a good buy, such as its quality or value for money.

List any extras you're offering with the item, such as accessories or warranties.

Offer an attractive price that reflects the item's condition and is competitive with other listings.

Let buyers know if you can deliver or if they will have to pick up the item. 
By following these tips, you'll be able to create a good listing on Jiji that will help you make the most money from your sale.
How to take good photos
When it comes to selling items online, good photos are essential. If your photos are low quality, potential buyers may not be as likely to purchase your items. Here are some tips for taking quality pictures when you're selling on Jiji: 
Use natural light. Natural light is usually the best source of light for photography. Try to take your photos near a window or outdoors, if possible. Avoid using a flash.

Pay attention to the background. Make sure the background of your photos is clean and uncluttered. You want the focus of your photos to be on the item you're selling, not the background.

Take multiple shots. Try taking a variety of shots from different angles and distances. This will give potential buyers an accurate view of the item they're considering purchasing.

Edit your photos. Use photo editing software to make sure your photos look their best before you post them on Jiji. Even simple edits, such as cropping or adjusting the brightness and contrast, can make a big difference in how your photos appear.
By following these tips, you'll be sure to take good photos that will attract potential buyers when you're selling on Jiji!
What sells well on Jiji
Jiji is a great platform for selling just about anything, from electronics and clothes to cars and furniture. However, certain items tend to be more popular in Jiji than others. If you're looking for some quick sales, consider selling some of the following items:
Smartphones and Tablets: Mobile devices are a hot commodity in Jiji, and they're always in high demand. People are always looking for a good deal on the latest phone or tablet, so if you have any to sell, you should definitely list them.
Clothes and Accessories: From trendy fashion items to traditional African clothing, people love buying clothes and accessories in Jiji. Take advantage of this trend by listing any clothes or accessories you have lying around.
Home Furniture: Whether it's an old couch or a brand new dining table, furniture is one of the most popular items sold in Jiji. People are always looking for furniture to decorate their homes, so take advantage of this by listing your pieces for sale.
Cars and Motorcycles: Cars and motorcycles are always in high demand on Jiji, as people are constantly looking for the perfect vehicle. Listing a used car or motorcycle is a great way to make some extra cash.
Home Appliances: People are always in need of new appliances such as refrigerators, air conditioners, washing machines, and more. Listing your home appliances can be a great way to make some money.
Conclusion
In conclusion, selling on Jiji is a great way to make some extra money. It's easy, convenient, and best of all, free! Whether you're selling clothes, electronics or furniture, you will find success with this platform.
When setting up your account, be sure to use clear photos and accurate descriptions of the products that you are selling. Additionally, it's important to give buyers as much information as possible so that they can make an informed purchase decision.
These are just a few of the many items that sell well in Jiji. With the right listing and price, you can make some serious money by selling items on the platform. So take advantage of the opportunity and start selling today.