You are probably here because you are searching for check my people or want to know more about checkmypeople.com.
I will be teaching you all you need to know about the website, how it works, and how you could use it for NIN verification.
There is a post on my blog where I talked about the steps to verify your NIN with VerifyMe. The post link is the one in blue. You can check I out as I am sure you would find it helpful.
The primary aim of CMP is for users or company owners to get their staff verified.
Enough of the intro; let's get to the real deal. So without further ado, let's dive in.
What is check my people?
According to them, it's an identity verification service. Check my people is a simple online tool that allows you to verify people's identities in photos or videos.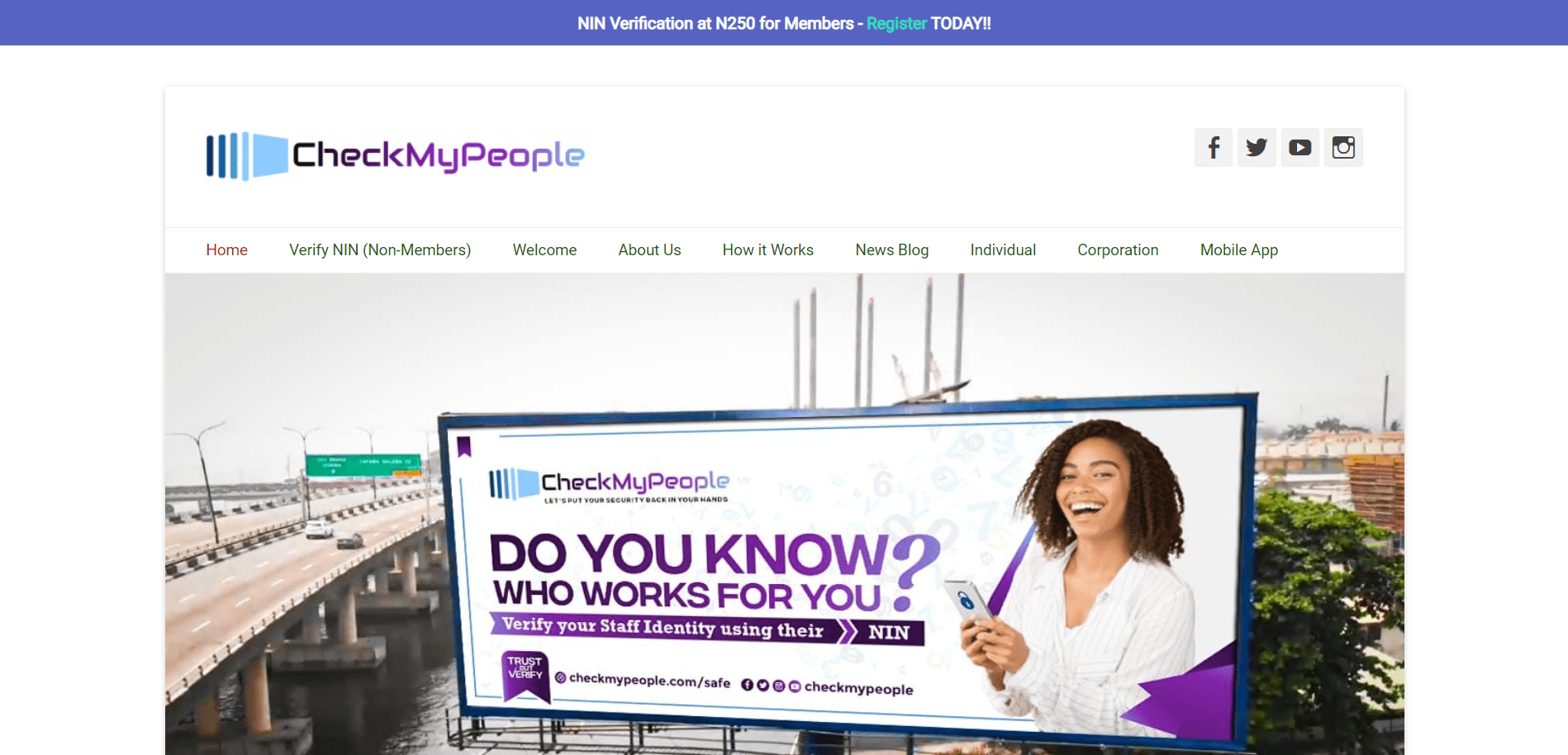 By entering basic details about the person in question, check my people will return matching profiles with public information. 
This can be useful for verifying the identity of someone you know or investigating potential internet scams.
How to use check my people:
 Go to checkmypeople.com and enter the person's full name and other relevant details into the search bar.

 Click on the "Find People" button and wait for the results to load.

 Click on any matching profiles to read more about them, and click on the "Contact" link if you wish to contact them directly.

 Enjoy your verified identity!
How does check my people work?
If you're looking for an easy way to verify the identity of someone on your network, check my people is a great option. 
It's a simple verification tool that can be used to check the identities of users on your network.
To use check my people, first create a list of user IDs and passwords. This list can be stored in a text file or in a database. 
Next, open check my people and enter the user IDs and passwords into the appropriate fields. The program will automatically generate a verification report.
If you need help using check my people, our support team is available 24/7 to assist you.
How to use check my people to Verify NIN
In order to verify the identity of someone in your organization, you can use check my people. 
This service allows you to check the biography and photographs of people against a database of known identities.
The first thing you would need to do is visit the website via this link https://checkmypeople.com/.

Scroll down, and you should see Verify NiN. Tap and wait for it to load.

You should be redirected to a page where you would see a number that's assigned to you.

Select any of the options given to you via a radio button. Some of the options might include "

Search by Telephone,"

 

"Search by VNIN,"

 and

 "search by NIN."

Now enter your NIN and email, and accept their terms and conditions.
You can chat the number on whatsapp and also download their mobile app on the playstore. The NIN verification coast N250 as at the moment of writing
Apart from NIN verification, you can also join the website's free community. It's kind of simple and super easy to join.
Conclusion
In this article, we will show you how to use the CMP tool to verify whether or not someone is on the NIN registry. This registry contains contact information for individuals who may have been affected by the 2017 Equifax data breach.
By verifying that a person is on the NIN registry, you can ensure they are aware of the security issue and that they have taken appropriate steps to protect themselves.