Hello and welcome back to Naijacloud, today we are going to look into the step of how to verify NIN on Verifyme and how to validate NIN online.
I would be talking the tutorial short today and would be spending less time. The tutorial I am going to teach you today would work if this is your first time opening and NIN or you Wan to retrieve one.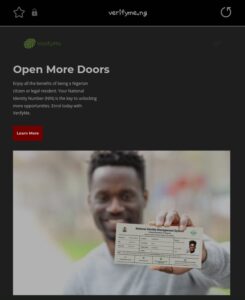 Of course, getting a NIN is 100 percent free but depending on your location.
One of the most asked questions is that you need an ID to register and NIN?
No. A fat No. You can get a recommended letter from your leader, ruler, or pastor.
It works perfectly.
You might be wondering was is the use of a NIN and what's the meaning? Well let's start with that
NIN a short form for National Identification Number has a lot of advantages. At the time of writing the article, you can register a Sim (Phone number) without a NIN.
It is not possible to open an account, passport, or driver's license, and you would be limited to certain things.
Am sure when you don't have an account your business won't progress so it's better to have a NIN.
Speaking of making money, I have a special post on how I made money from 1xbet and many more here.
That's all we need to know concerning that, so without much ado let's look into the How To Verify NIN On Verifyme.
The first thing you would have to do is to download their NIN enrollment form. The form is light and less than a megabyte and you can download it right away.
Print out and fill the fork then take the form to any other centers around you.
They have major branches in Lagos, Edo state, and some other vital states in Nigeria.
If you don't know how to find a center near you, I have a list of centers that you could browse through.
Once you are there, you would get your biometrics taken.
You might get your NIN ready immediately or you get you to come back at an assigned date depending on the traffic.
That's all you need to know in How To Verify NIN On Verifyme. So easy.
How To Validate My NIN Online
There are many methods that you can use to verify or know your NIN number.
The first is via the use of the Verifyme.ng website and the other is via the use of USSD.
I would be exploring more on the USSD method today. Why? Because it's more simple, straightforward, and short.
To use the Verifyme, follow the link here and get started. If you would like to use the USSD then let's proceed.
The USSD method below works on all network providers in Nigeria, be it MTN, Glo, Airtel, or 9mobile.
To get your NIN via USSD code, fail *346# and a dialog box would pop up.
Make sure to select the first option (NIN Retrieval) by entering "1"
Kindly note that you can only check for your NIN if only you have one or have to use the first method we discussed earlier. If you have, your NIN number would pop up on the screen.
Conclusions
I hope you enjoyed my post on how to verify NIN on Verifyme and how to validate NIN online? Make sure to use the free resource link I provided.
Kindly use the comment box below if you have any comments or suggestions. Make sure to subscribe to my Google News.