Scammers keeps growing daily on the internet looking for account to hack. They main reason why the hack account is to scam innocent souls. So today on NaijaCloud we are going to look into the number method to keep your whatsapp account save  from hackers. So without making much Ado let's dive in, but In case you missed mu last post on How to Enable Dark Mode in Google Play Store,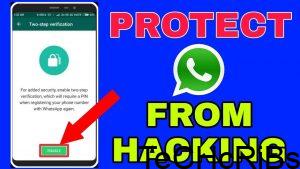 What's WhatsApp Two-Step Verification
I can assure you that Two-step verification will surely keep hackers off your account, because when you have two-step verification enabled, any attempt to verify your phone number on WhatsApp must be accompanied by the six-digit passcode that you created.
How To Keep Your WhatsApp Account Save
Open your WhatsApp Application, if you don't have the updated version you can download here,
Navigate to Settings > Account > Two-Step Verification,
Then tap "Enable."
Now type a six-digit PIN, tap "Next," and then confirm your PIN on the next screen.
Ensure the inputted six-digit PIN can be remembered!
Tap "Next."
Now kindly input the email address you wish to use in terms of resetting your PIN if forgotten or you can decide to tap "Skip."
If inputted an email, on the next screen, confirm your email address and tap next.
Want more updates like this? Join us via any of our social handles below.