I am sure you are here because you want to know how to increase adsterra CPM. It's easier than you thought. 
There are things and changes you might need to apply to our site to see an effective result.
What's Adsterra? It is a micro-advertizing machine used to boost your website or blog. 
If you have questions about this topic and need more information, read the article to learn about different options for increasing your CPM (cost per mille, which is the cost of 1,000 views)
What is Adsterra CPM?
Adsterra is a programmatic ad platform that allows advertisers to manage their ads across multiple channels and devices. 
They offer a variety of tools and services designed to help advertisers increase their CPMs. Some of the features available through Adsterra include: 
-Real-time bidding capabilities
-Targeting abilities
-Customizable creative templates
-Performance tracking and reporting
I have been using adsterra for a while now, and I would love to share with you a few things that worked for me. 
The first day I used adsterra, the frustration of making $0.01 per day from over 50 visitors made me stop writing posts for a while.
Then I had to figure out what was wrong. I reached out to adsterra support and watched a few youtube tutorials; boom, my CPM raised over 1000%.
The dos and don't care what I would be sharing with you today.
How To Increase Adsterra CPM
There are a few things you can do to increase your adsterra CPM. One is to optimize your ad placements and ensure they deliver the best results for your audience. Let's get down to the real deal.
Placement
This is the first thing that you need to know. You need to use only one type of placement per page. 
That might be a bit confusing, so that I would be explaining m self. It means you can only use one type of 350 by 250 or 320 by 50 per page.
Using multiple 350 by 250 ad formats on a page would lower your CPM. The best thing you can do is combine various forms and not multiple single formats. 
Use only one Native Banner, 300 × 250 px, 160 × 300 px, 320 × 50 px on a single page, and check our CPM rise.
Another thing that you need to know is the 300 × 250 px are more CPA based; that is, they pay you more on how your audiences react to the ad.
Social bar and Native ads are the best methods to make money on adsterra. I have attached a screenshot of my CPM before and after I found a solution.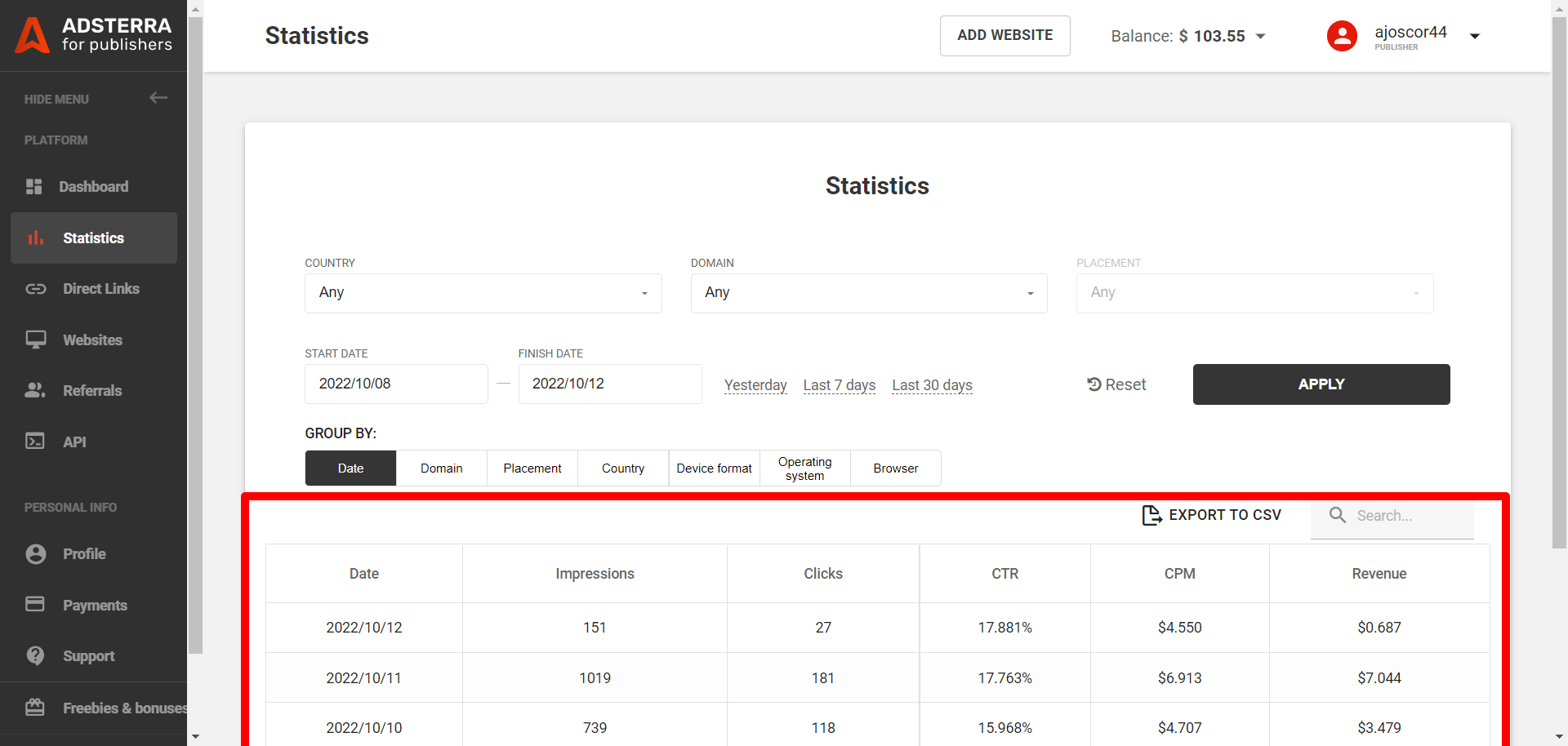 Kindly note that I use the Social bar only.
Geo
This is also one of the factors you need to consider when trying to use adsterra CPM because the CPM rate varies depending on the traffic you generate from Top tier countries. 
Adsterra love traffics from South Africa; this should; 't be hard to get by Nigerian Publishers. You can try and get a little bit of Ghana and Cameroon traffic; they aren't useless.
Any European traffic, too, has a higher CPM.
Devices
This is also one of the steps to increase Adsterra CPM; If you have low traffic and want to expand our adsterra earning them, you should target PC or desktop users.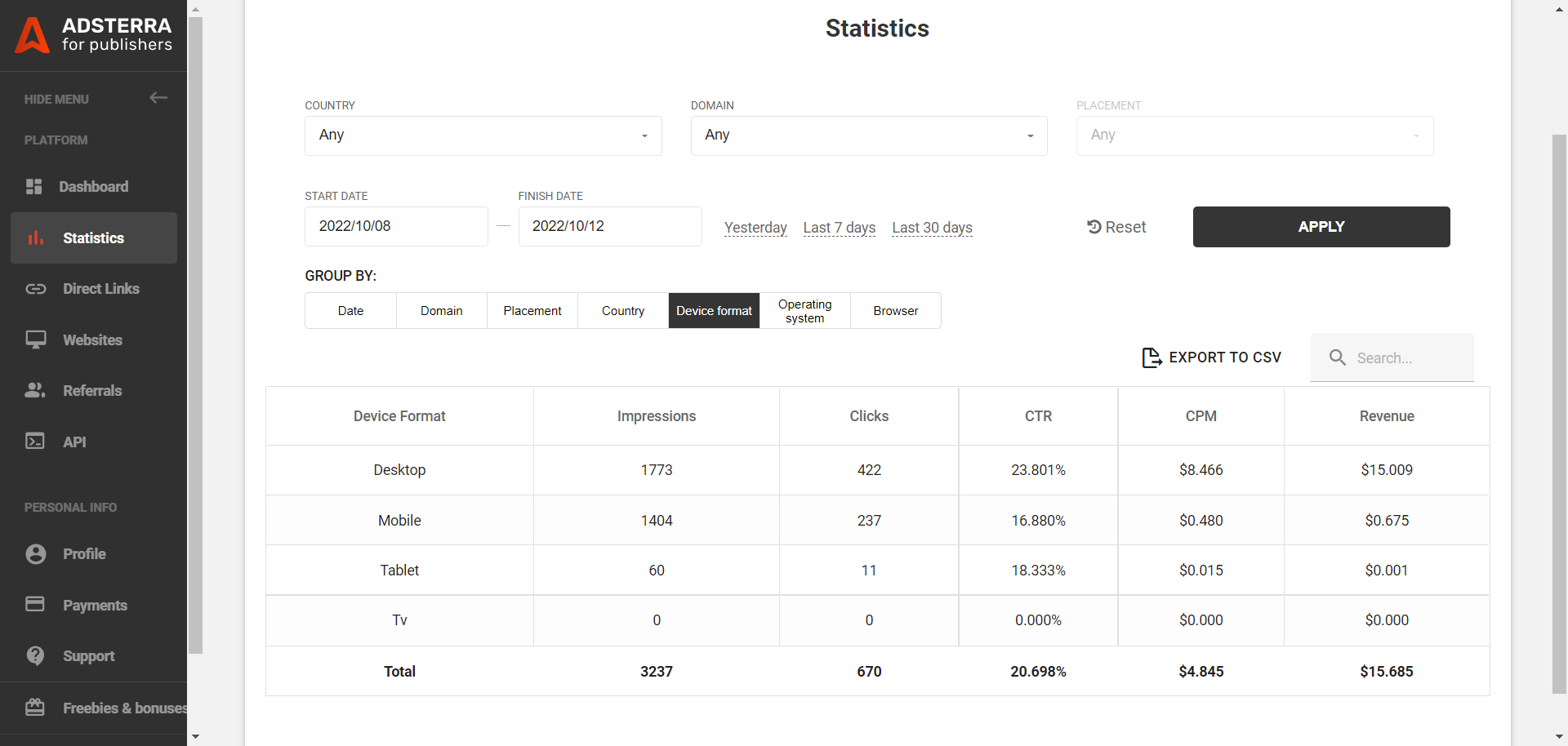 From my time as a blogger, I noticed companies like adobe and co pay more for desktop ads, and it's harder to get, unlike android apps that are easy to promote.
If you use SEO as your traffic source, you should check my post on Top SEO tools, find keywords related to PC solutions, and ensure you target PC/ Desktop keywords from top-tier locations like South Africa and others.
Direct Links
Direct links are the easiest way to make money on adsterra, with or without a blog. All you need is audiences willing to tap on the atrackabke link given to you.
The direct link has a Huge CPM. I have seen a direct link CPM as high as $36 and made that much that day. 
You can use a direct link to make money on TikTok, Instagram, telegram, and WhatsApp.
All you need to know I to create a landing page because Facebook rejects the Direct link even whenever you shorten it.
Share it with people. They tap, and you earn.
Advantages of Increasing Your Ads CPM
There are many reasons to increase your adsterra CPM. Here are four benefits:
1. Higher Revenue. You're likely to see increased revenue when your ads run at a higher CPM. This is because advertisers will be willing to pay more for an ad that appears in a high-CPM environment.
2. More Engagement with Your Ads. When ads run at a high CPM, they're likely to be seen by more viewers and clicked on more often. This means that you'll be able to generate more leads and sales from your ads.
3. More Traffic From High-Value Prospects. You may find that high-value prospects are likelier to click on your ads when they run at a high CPM. This is because these individuals are usually looking for quality content and products and will likely appreciate finding them advertised prominently on the web.
4. Increased ROI for Your Advertising Campaigns. When you increase your adsterra CPM, you'll likely see increased ROI for your advertising campaigns. This is because advertisers will be willing to pay more for an advertisement that has a high impact and leads to successful conversions
Conclusion
Congratulations on your newly increased Adsterra CPM! This article will discuss some tips that may have helped you grow your CPM. 
By following the simple steps outlined, anyone can achieve a high CPM across all of their campaigns. 
Stay tuned for more helpful articles in the future, as we aim to help you grow your business!