Have you ever forgotten your Airtel  PUK number before? Fear no more because it's now easy on Airtel. You can now check you PUK number using simple USSD code which we will be discussing in today's tutorial.Today on Naijacloud we are looking into the steps to check Airtel puk number. Incase you missed my last post on How To Activate Glo 1.25GB For N200 – Sunday Data plan , you can kindly check it out. So without taking much of your time, let dive in.
What's PUK number?
The PUK (Personal Unblocking Key) code is a code consisting of 8 digits that you also received with your SIM card. It is used to unblock your SIM card when you entered 3 times a wrong PIN code. These codes are provided with the SIM card in the Welcome Pack.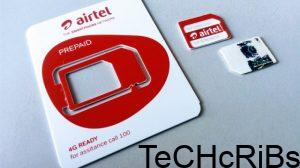 How to check Airtel PUK Number using USSD code
⇒ Dial *121# > Select 3 > Select 7,
⇒ Then the PUK number allocated to your sim pops up on your screen.
You are advice to take a screenshot of your PUK number and upload in your Google drive so you can access the drive on another device and unblock your SIM. For those who don't know Google drive. In a simple word, Google cloud is an online cloud storage that give about 10GB free where you can host your files till further notices.
Want more updates like this? Join us via any of our social media below.