Sometimes Google Play store has it errors, these errors disallows users to download easily by showing download pending for a very long time. So today on NaijaCloud we are going to look into the steps to Fix Google Play Store Not Downloading. In case you missed my last post on How To Forward Image On Whatsapp Without Losing Caption .So without much Ado lets dive in.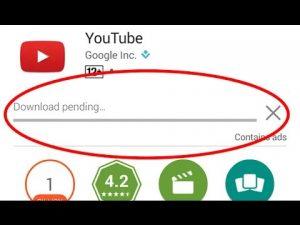 Different Types Of Google Play Store Errors
Error 498: In this case, your phone's cache is full. Try wiping the cache partition using your phone's recovery.
Error 919: Your phone's storage is full. You'll need to free up space on your device in order to continue.
Error 403: You're using two different Google accounts on the same device. You'll need to use the correct account; consider removing the other one.
Error 927: The Play Store is already updating, so there's no reason to troubleshoot this issue. Just wait until it finishes updating.
Error 101: You have too many apps installed. Try removing a few.
Error 919: Your Access Point Name settings aren't correct. This requires getting the correct APN settings and reconfiguring your device. credits
How To Fix Google Play Store Not Downloading
In order to solve the Google Play store not downloading error follow the self explanatory steps below and give testimonies afterward. So without taking jush of your time, below are the simple steps to solve Google play store error.
Open the 'Settings' >  tap on the 'Applications > Search for 'Google Play Store' and tap on it
Now, hit the 'Clear data' and Clear cache' option
Then, head to Accounts option and delete the Google Account > Restart the smartphone and set up the Google Account again
Now, head back to the Google Play Store and try downloading.
BOOM! It works like a magic.
Want more updates like this? Join us via any of our social handles below.