Hello! Welcome to Naijacloud. Today I am going to tutor you on how to use ClubKonnect, how to fund wallet on Clubkonnect, and all you need to know about their commission.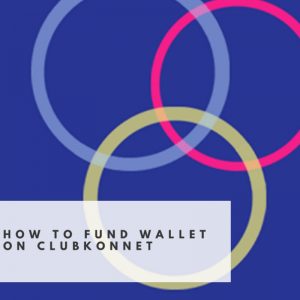 I have started using ClubKonnect for a while now and I can boldly say they are doing great.
No regrets so far. Lol.
From fast service delivery to affordable data and cable charges.
Sometime last year, I wrote a post on How to start data reselling business in Nigeria. In case you need to know about starting a data reselling business and how to make huge money selling data daily, you can quickly check out the post.
What's ClubKonnet
Before we start the explanation on how to fund clubkonnect account, you will need to know about the ClubKonnect Company.
CLUBKONNECT described themselves as a Virtual Top-Up (VTU) platform that offers instant recharge of Airtime, Databundle, BulkSMS, CableTV (DStv, GOtv & Startimes), Electricity Bill Payment and so much more at an unbeatable discounted price not obtainable elsewhere.
So without wasting much of your time, let's get into the steps to use ClubKonnect, how to fund wallet on Clubkonnect, and all you need to know about their commission.
How To Fund Wallet On Clubkonnect
You would need to create a clubkonnect account to be able to fund your wallet. You can easily create an account by visiting their signup page here.
After creating the account, log in and you will be redirected to your dashboard. Your dashboard should look like the one in the image below.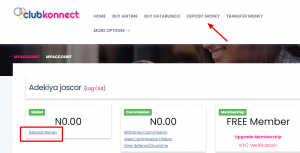 On the MENU, Locate and Tap "DEPOSIT MONEY". Tap it and wait for it to load.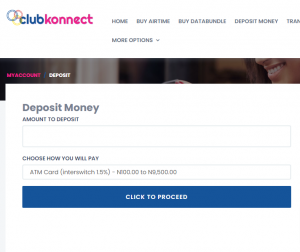 Now you have space where you can type the amount you would like to deposit into your clubkonnect account.
The last step on How To Fund Wallet On Clubkonnect is to Select the type of deposit method you like. You have two options which include the Interswitch ATM deposit and the direct bank transfer method.
Insterswith charges about 1.5% which I think it's quite manageable. If you are thinking of using the direct deposit method, you should have filled the KYC page. You can proceed to fill the KYC page by tapping here.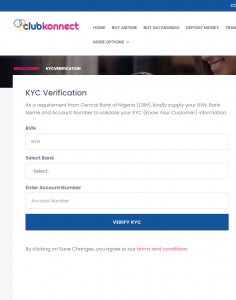 If you are using the Interswitch method of payment, you can use your ATM card for payment. After successful payment, your Clubkonnect account will be funded immediately.
How To Get Commission On Clubkonnect
After getting to know how to fund wallet on ClubKonnect, you will have to learn how to get commission on clubkonnect.
According to ClubKonnet, you earn a 5% store commission for Airtime, Data bundle, Cable TV subscription, and Electricity bill payment they purchase PLUS an additional 35% referral commission of their membership upgrade fee.
Just keep sharing your referral link to friends and families.. make sure they sign up and make a transaction. You can learn more about their commission here.
ClubKonnect Whatsapp Number
You can contact ClubKonnect via any of the numbers. Call via 09062547110, SMS/Text via 08149659347. You will get a quick response from them immediately.
Conclusion
I hope you enjoyed my post on How To Fund Wallet On Clubkonnect And It Referral Commission. In case you have a question or suggestion, look for a way to get in contact with me. You can make use of the contact us page.