Hey! Welcome back to Naijacloud. Today we're going to look into the comprehensive guide on how to start a data reselling business in Nigeria.
May be you have been searching online for these keywords; Data bundle reselling pack, Data Reselling Pack, Data reselling app, Where to Buy Data in bulk for resale, data reselling business PDF, Glo Business plan, data reselling business in Nigeria PDF.
Congratulate yourself!
You came to the right website, Today I will explain all you need to know on How To start data reselling business In Nigeria, how to make money from it, and everything you might need to know.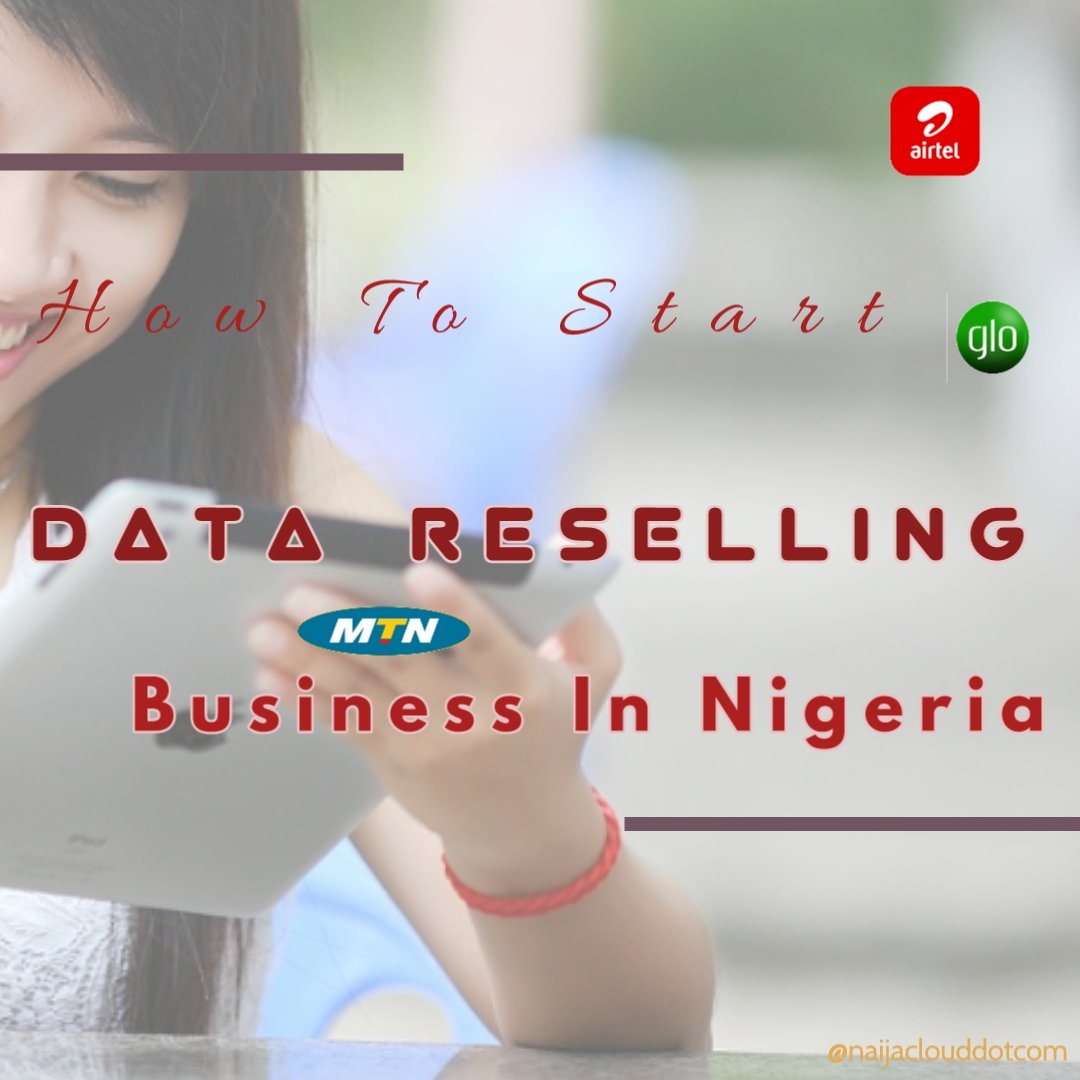 I want you to have it in mind that you can make thousands of naira daily reselling data.
Come to think of this, why do bank sell airtime and data?
Have you ever thought of this before?
Banks sell data because they know how much they could make from VTU.
According to MTN, Nigerians spend millions on naira daily on Data and airtime. Imagine if you have some people buying from you.
Enough of the intro! Now let's get to the real deal.
If you like to know how How To Start Data Reselling Business In Nigeria, follow me and let's dive in.
What's Data Reselling
I think the word "Data Reselling" is straight forward. You get paid for reselling data.
This is very simple, you buy data at cheaper price of about N300 and resell for about N350.
That's a whooping N50 gain!
According to VTUking, The phrase "data reselling" could be used to describe the business of buying (by individuals or companies) data bundles in large scales, directly from telecommunication companies.
Then reselling such data to end-users in smaller quantities, thereby earning some profits. You know most of us buy data and recharge cards from people selling Recharge cards outside (hawkers).
At the end of my guide on How To Start Data Reselling Business In Nigeria, you will able to know the various platforms to buy cheaper data and how to resell them.
How To Start Data Reselling Business In Nigeria.
The first thing you will to know before starting any business is capital.
You will neeed to get some funds to start a data reselling business. The most interesting thing about this business is that you can actually start with as low as N1000.
You are thinking N1000 is small? Don't worry today I will be breaking down how much you can make per each capital you start with.
The second thing you will need to get before starting a data reselling business in Nigeria is a business number.
You might need to register a number and open a business WhatsApp.
This will enhance your productivity and surely inprove sales.
Sometimes ago I wrote a post on how to start a WhatsApp TV and make money from it, you can equally check the post out and make use of it.
After getting all these you can read the note on how to start a data reselling business in Nigeria below,
There are many websites on the globe to get cheap data for resell but today I will list the top 5 of them for you.
I will be opportuned to explain only one of this platforms.
To cut the story short, below are platforms to get cheaper data for resell.
There are many other cool platforms like this but my listing are based on cheaper data and customer's support.
I will be considering Lintolpay today.
The main reason why I chose Lintolpay above all of the listed above is because of their cheap data, costumer support, and reliability.
How To Start Data Reselling Business With Lintolpay.
Lintolpay is one of the best VTU websites I have seen so far.
The website is fast and smooth. It takes about 2 seconds to see your data notification when purchased.
Isn't that incredible? Lol.
Now Let's get into the full steps to start start data reselling on Lintolpay.
Go to the official Lintolpay website here.
You will need to sign up for an account, you will neee your email and phone number for that.
You will be logged in after successfully registration.
Your Lintolpay dashboard should look like the one in the image below.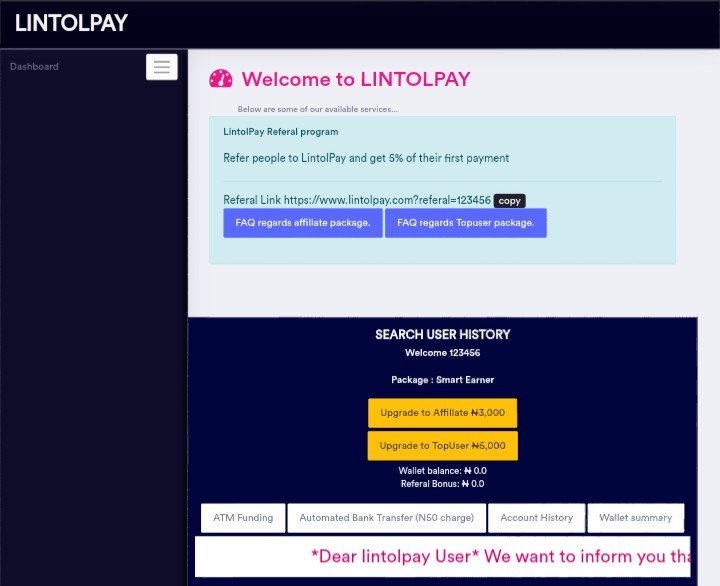 Now deposit at least N1000 in your Lintolpay account. For every N1000 deposits via debit card Lintolpay charges N15.
Opening an account is the first stage, Now you will need to know how to make monetary by reselling data.
Do you want to know how? The quickly read the next paragraph below.
How To Make Money Reselling Data In Nigeria.
After Opening a Lintolpay account, you will need to know how to make money from reselling data.
Lintolpay has two plans….
They have the free and a premium plan. User with free plan buys MTN data for N310 while user with the premium plan buys MTN data for N290.
Can you see the difference? But the premium plan costs N5000.
Let's say you are using the free plan…
You buy data for N310 and resell for N350. If you sell data to over 10 customers daily that means you can make close to N400 daily.
Lets do the calculations… N350 – N310 = N40 × 10 customers.
You can actually make more than that daily depending on the number of customers you have and how social and popular you are.
I have a friend that make close to N2500 daily from selling data.
So what are you waiting for? I hope you had all you are looking for on How To Start Data Reselling Business In Nigeria.
Conclusion
I hope you love my write up on How To Start Data Reselling Business In Nigeria? Do you have any question?
You can ask them in the comment box below and get instant feedback. Dont forget us to join us via any of our social medias below.