Hey! Welcome back to NaijCloud. Today I am going to teach you the different methods to check the age of an Instagram account. The two methods include using the Instagram age checker tool and the account data method.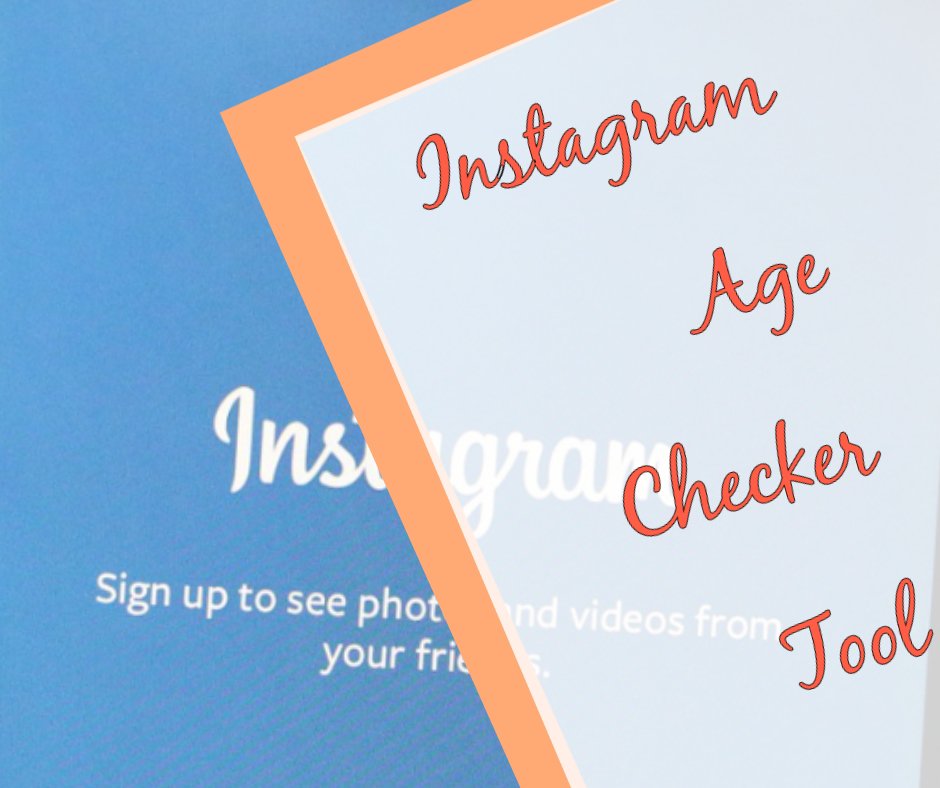 You will surely need to know the age of an Instagram account when trying to buy and sell. The methods I am going to teach you today are surely going to help out.
I wrote a post a while ago on how to sell an Instagram account and make money, you can quickly check it out or open in a new tab for future read.
What is Instagram Age Checker?
Instagram Age Checker is a tool that requires users to verify their age before accessing certain content on the platform. This tool is used to prevent underage users from accessing inappropriate content and ensure that Instagram complies with laws and regulations related to age-restricted content.
When a user tries to access age-restricted content, they will be prompted to enter their birthdate. If the user is below the age limit for the content, they will be redirected to a page that explains why they cannot access the content. If the user is above the age limit, they will be granted access to the content.
Now, Let's get back to our post on the Instagram age checker tool. Today I would be teaching you two different methods. One will require you to get logged in to the account, and the other doesn't need your login.
So without much ado let's dive in.
How To See When An Instagram Account Was Created
Checking your Instagram account age isn't that hard, provided you follow the correct procedure. As I have said earlier, I have two methods. The first method doesn't require an Instagram login will the second one does.
Instagram Age Checker Tool
There are several age checking tools that you can use to know the age of your Instagram account. You don't need to have any access to the account to check the age., You don't need a password. All you need is the username of the account.
Today I will give you two of them but I would be focusing more on one. Istaunch and 123accs are two verified Instagram Age Checker Tool. I would be focusing more on 123accs.
Reason?
Because it tested and fast. istaunch works too but I still prefer 123accs. Now Let's get to the real deal, below are the steps to check your Instagram age using 123accs.
Open 123accs.com in a new tab and wait patiently for it to load.
scroll down and locate "IG age check", under the IG age check you would see something similar to the image below.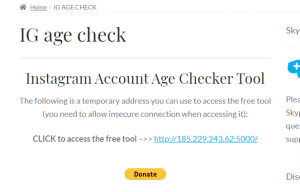 Now you would see "CLICK to access the free tool –>> http://185.229.243.62:5000". Tap on the IP and wait for the next page to load.
You would see a dialogue box, enter your Instagram username without the @.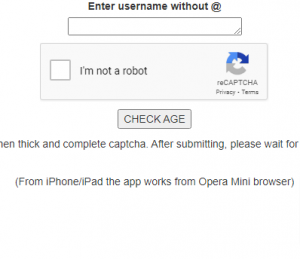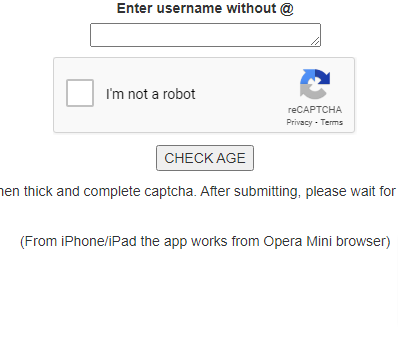 Fill the reCAPTCHA and tap "CHECK AGE"
You would have to wait for about 5 secs. Now your Instagram account with the date of creation will be displayed as shown below.


Account Data
This is accurately the most accurate method. It would show you the time and date the account was created. Before thinking of using this method you would need access to the Instagram account. I mean the login (password).
If you need to buy an account, just tell the seller to send you a screenshot of the account data page. That's all you need to know about the age of the Instagram account.
To get Instagram account data, follow the steps below;
Tap on MENU. If you don't know what that means, that the 3 dashes at the top of your Instagram app. Like the one in the screenshot below.
Now Tap settings > security.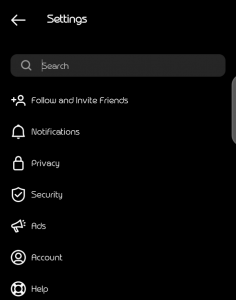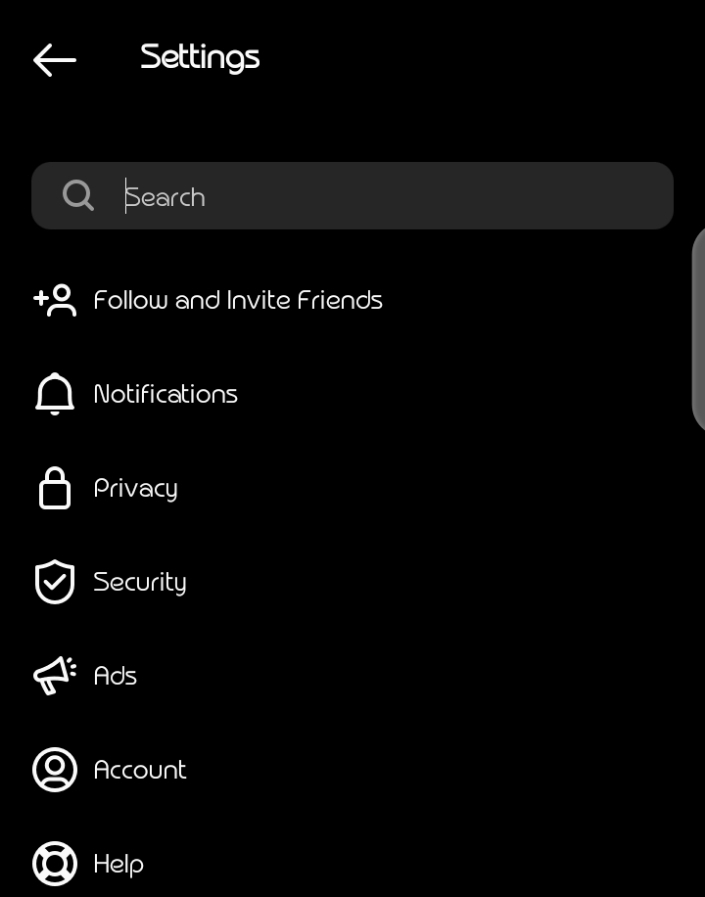 Scroll down top Data and History. Tap Access Data. Your account data will be displayed immediatley.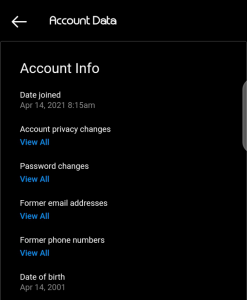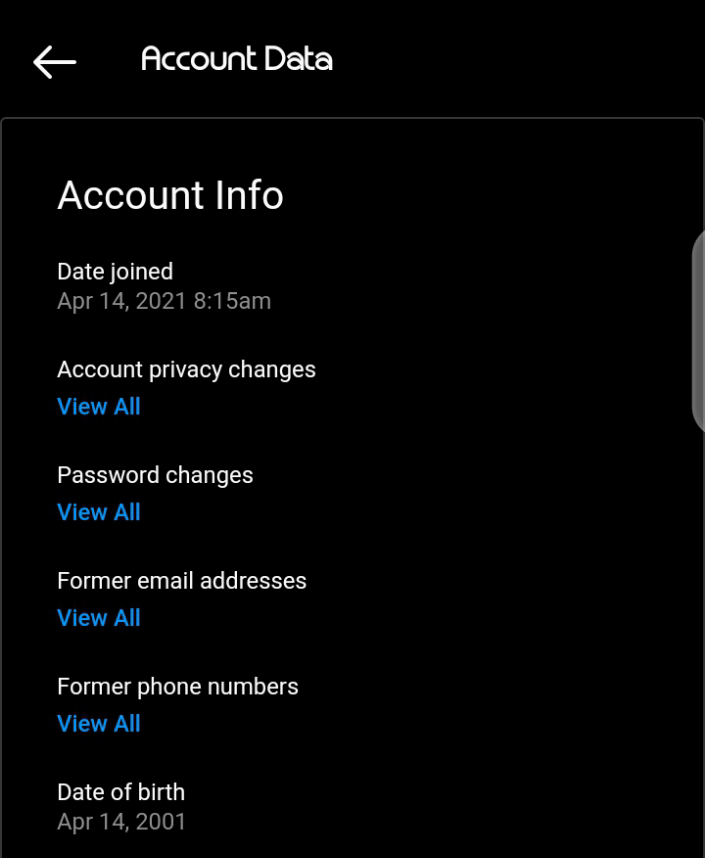 Conclusion
I hope you enjoyed my post on how to use the Instagram age checker tool. In case you have any questions, you can look for a way to contact me.