Hello. Welcome back to NaijaCloud, today we are going to look into how to make money from Audiomack plus the simple steps to get started with Audiomack monetization. It's frustrating as an artist when you release songs and you get streams and you don't make money from it.
Audoimack has a feature where you can get paid for your content on the app, you get paid depending on the streams and your location. You don't have to do anything to get started, all you need is your Audiomack account. 
Want to know how? Without much ado, let's get to the steps on how to make money on audiomack;
What's Is Audiomack?
I know a lot of you would ask this question. According to Wikipedia, Audiomack is an on-demand music streaming and audio discovery platform that allows artists and creators to upload limitless music and podcasts for listeners through its mobile apps and website.
You can upload your songs as an artist, upload your mix as a DJ, and create playlists. It's easy to create an Audiomack account, to get started hit this blue link.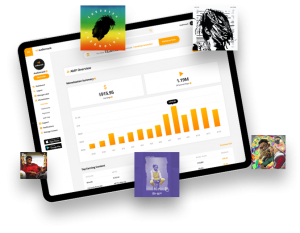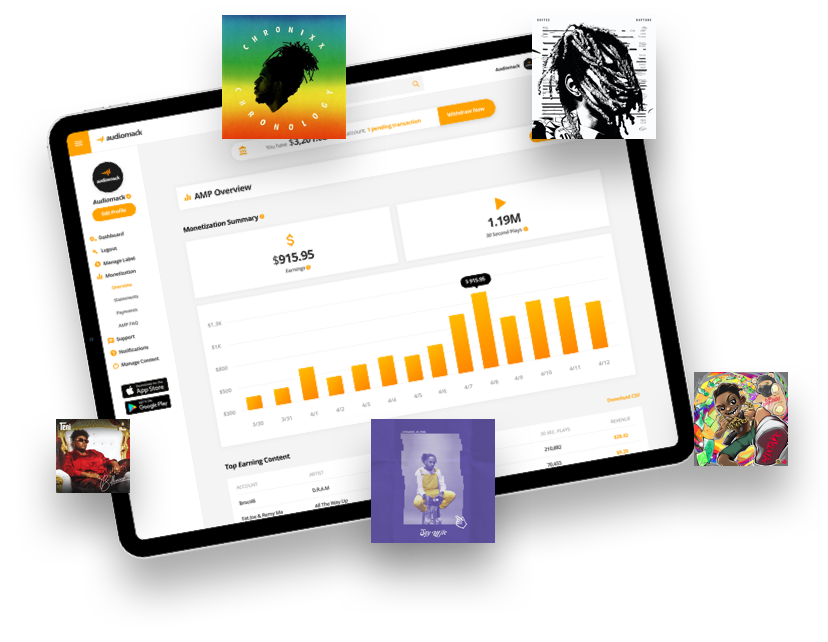 How to Make Money on Audiomack
For a user to be able to make money on Audiomck, you would need to opt-in for the AMP program. This enables you to make money and get access to your analytics dashboard. I have a full description on how to get on board below;
Apply for Audiomack Monetization (AMP)
Applying for the AMP is easy and I have made steps straightforward. Kindly note that you can't use the Ausoimack app for this, you would need to use any of your desired browsers for this. So without wasting time let look into how to apply for audiomack AMP;
Visit the Audiomack website or open the link here in a new tab. Scroll down until you see APPLY FOR AMP and tap on the button.
Immediately, you should be redirected to a contact page where you would be asked to input your email. To opt-in for the Audiomack AMP your account need to have completed full authentication.
If you would like to authenticate your account, you would need to get over 25 followers and at least two content uploads. Once you have the two you can proceed to the next step.
Back to step two, submit your application and it should be approved within 1-3 days. You would get an email from Audiomack. After application, you will need tips to increase your revenue so I have a list of them below.
Good Content
Uploading your best content would increase your revenue. It's the best and proven method to get organic streams. Nigerians love good content and you need a huge sum of Nigerian or African traffic to make money via audiomack.
Make your artwork and account look professional. Proper editing and good artwork would help your music. You would need to determine, as an upcoming artiste set a date of upload and make sure you update content for your fans and follow to stream.
Reply comments and build a following. Most method people use to build a following is commenting on a page with higher streams and most of the comments looks spammy.
Effective Promotion
Effective promotion is needed for your music to grow. Hire a team of good PR's and watch your career boom. Promotion is necessary, it makes sure your music gets to your targeted audiences and gets a huge chance of becoming someone's new favorite artist.
Not just fans but die-hard and loyal one. Hiring a good team and management get you a good chance of getting signed by a good record label
Consistency
Consistency is one of the major keys to make money from audoimack. There are some times that you might feel disappointed but your goal should be your target. You might need up to 1000 streams to make a reasonable income, don't be disappointed, and keep posting your content.
Good content would attract die-hard fans. That is all for today.
Lol
FAQ
Does Audiomack Pay Royalties
Yes. Audiomack pays master and composition royalties.
How much do Audiomack Pay Per streams
Unlike other platforms,  Audiomack's payment ratio is low. Audiomack pays way below $10 for 5,000 song streams.
Conclusion
I hope you enjoyed my post on audiomack monetization, How to Make Money on Audiomack. I wrote a post on how to download Audiomack songs to mp3, don't forget to check it out. Make sure you follow us on Google News.