Hello! It's joscor here. Today we are going to look into the steps to check if a company is registered in Nigeria. Most company owners don't even know the advantage of getting registered with CAC.
Different countries with different Bodies for registration of companies. In Nigeria, it takes about 1-2 weeks for a company to be registered under CAC.
Let me walk you through the steps to check if a company is registered, and the bodies responsible for the registration of companies.
Bodies Responsible For Company Registration In Nigeria
Before we can talk about how to check if a company is registered in Nigeria, we must first look into those who are responsible for registering companies in Nigeria.
The body responsible for the companies registration in Nigeria is CAC. CAC which means CORPORATE AFFAIRS COMMISSION was announced in 1990 for registration of companies and established by the ALLIED MATTERS ACT AND THE COMPANIES.
They help to maintain companies registration, with this company is registered in Nigeria by the CAC. This is one of their very important roles and conducts investigations on the affairs of any company.
Why Do I Need To Register My Company?
You will also need to know this. I have outlined below all advantages of registering your company in Nigeria. The goods are attached to it.
Gives you a better advantage than those companies that are not registered. Let's say you are applying for government contracts and two individuals applied. One with a registered company and one which isn't registered.
The registered one will surely be awarded the contract.
Why? Simply because of the trust.
How To Check If A Company Is Registered In Nigeria
After the long introduction. Here you Go! I have helped outlisted the simple steps below. You will surely need to visit the CAC website and make sure you know the name of the company you are looking for.
The following are the procedures to check if your company is registered in Nigeria.
Go to the CAC website here or open the link in a new tab. The website may take some seconds to pre-load depending on your network or browser.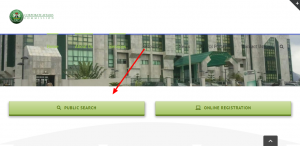 Locate and click on the "PUBLIC SEARCH", it would then load you a search box.
Type the company name without `PLC', `LTD' and ` LIMITED'. Just the company name alone or insert the company RC NUMBER in the search here box.
The type "SEARCH". If the company is valid them it showed display but if it's not the other is the case.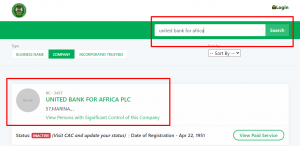 Conclusion
I hope you enjoyed my post on how to check if a company is registered in Nigeria. Want more updates like this? Join our telegram channel below. Don't forget to check my boost on how To Start Bitcoin Trading In Nigeria.