Hello and welcome back, today we would be looking at scholarships in Nigeria for undergraduates.
Getting a scholarship helps and builds up the way it encourages students to study more. 
Scholarships can help to encourage, and improve students' understanding of learning. 
In Nigeria getting a scholarship as an undergraduate is not an easy process of getting it. 
Most scholarships for undergraduate students require a specific grade to get it and also do not fall beyond that grade.  
Some awards are outside Nigeria and some are within Nigeria. We are discussing the top scholarships in Nigeria for undergraduates. There are thousands of scholarships out there that can help and reduce the stress of financial difficulties. 
Some scholarships are to help people with difficulties in monetary aspects.  
So scholarships are organized by the church, high-rank people in the community, the federal government mosque and universities, and many more. 
Depending on the type of scholarships you are going for. 
Qualifications Needed For Scholarships
You can just jump into any scholarships in Nigeria for undergraduate, you need to have some qualifications academically. 
In most scholarships, you must have the following requirements 
In most cases, you need your previous result with the best grade. It is said that some requirements need a minimum CGPA of 4.0. 
So if you know you have a CGPA of around 4.0 you are eligible for some scholarships that will be mentioned here. 
Some scholarships for undergraduates in Nigeria are for people just entering into universities in which they need their waec results with specific grades   
For those types of scholarships, you would need your birth certificate, local government certification, and jamb results may also be asked depending. 
And most importantly your passports 
These are the most important things needed for most scholarships for undergraduates in Nigeria. 
In applying for any scholarships for undergraduates in Nigeria please make sure you know what and how the scholarship works. 
Don't just apply for what you don't know much about, try getting your point and verifying it. 
Especially scholarships that can be outside Nigeria, most scholarships are risky and some are stressful to manage.
Some conditions of scholarship may not be okay for you to manage. So it is better to know more about it before going into it. 
Top scholarships in Nigeria For Undergraduates
Some spend weeks or even months trying to get a scholarship for undergraduate in Nigeria. 
Just to apply for it is not easy because you get thousands of students like you and me trying to get the scholarship. 
Still, some don't get to even fill in the form because some don't know the right scholarship for them. 
Here are the scholarships you can apply for as an undergraduate student. 
MTN Scholarship 
MTN has not only helped support our economic problem but also helped the bright future of the young ones. 
They have a great plan for us in Nigeria: getting to interact with one another is not only their plan but also to give in free education for some of our young ones.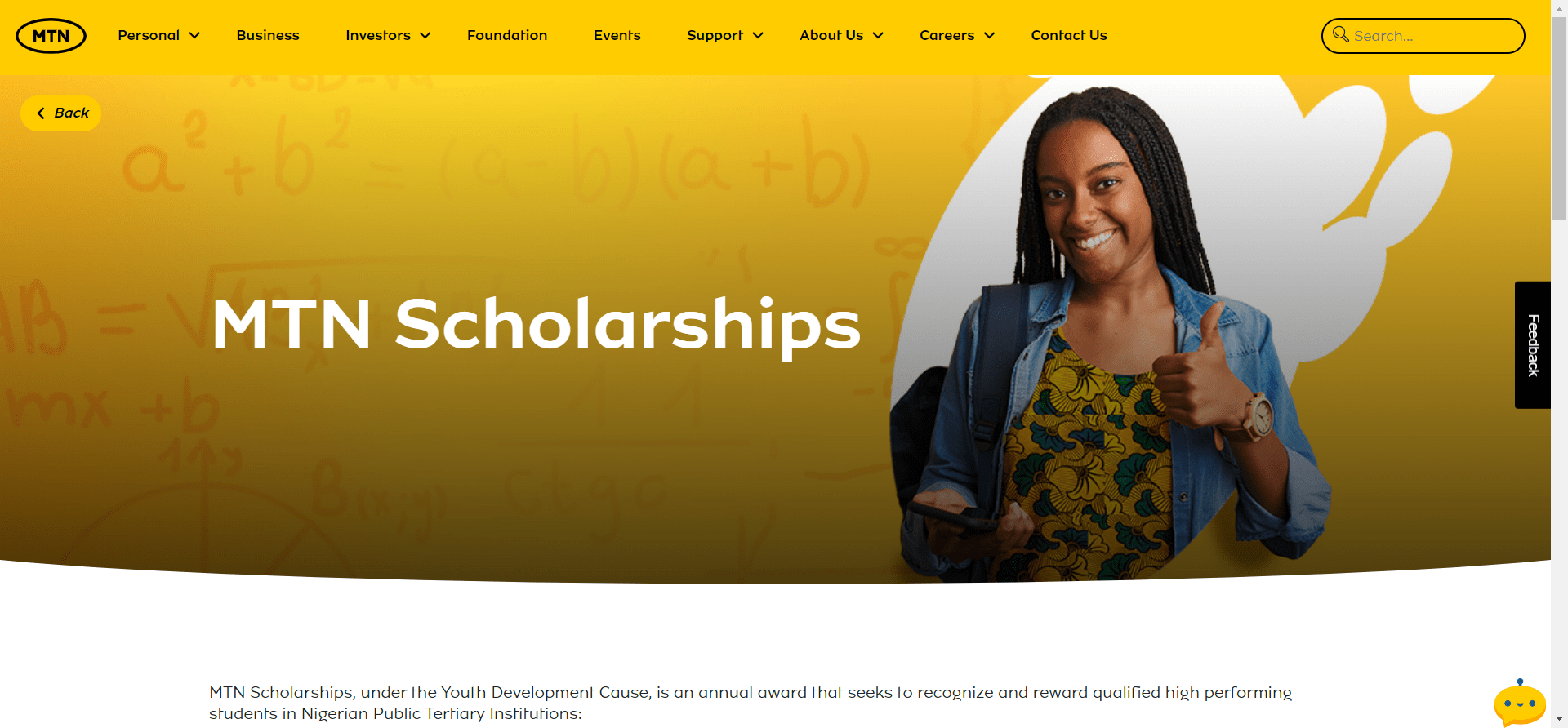 Mtn scholarships are one of the most trustworthy scholarships for undergraduate students that is available. 
This scholarship is available also for students in Nigeria that just finished secondary school. They can also apply for this scholarship 
In case you need an account to receive funds from the scholarships, do check my post on Prospa. 
In mtn scholarships you need a minimum GPA of 3.0 and should be in a university, must have an OND
Babcock University Scholarship 
Babcock University is a private university that is owned by the  Christian co-educational Nigeria university and it is mainly operated by a seven-day Adventist church. 
This church gives out a large number of scholarships for undergraduates in Nigeria to attend their schools. 
They help with financial needs and help improve qualified students. 
Babcock can also get students to go out of Nigeria to students depending on their qualifications.
Things need for the scholarship is a minimum CGPA of 3.0
Applications letter. 
This is one of the things you may be asked to get when filling in the Babcock form. You can also be asked for more but this is the most important. 
Guinness Scholarship
Guinness is a brewery company in Nigeria, it is said that this Guinness is mostly consumed in the UK, Ireland, and Nigeria. 
It is said that the youth are the future of tomorrow so getting to build up need youth people by supporting their education is the vision of Guinness and it is usually working.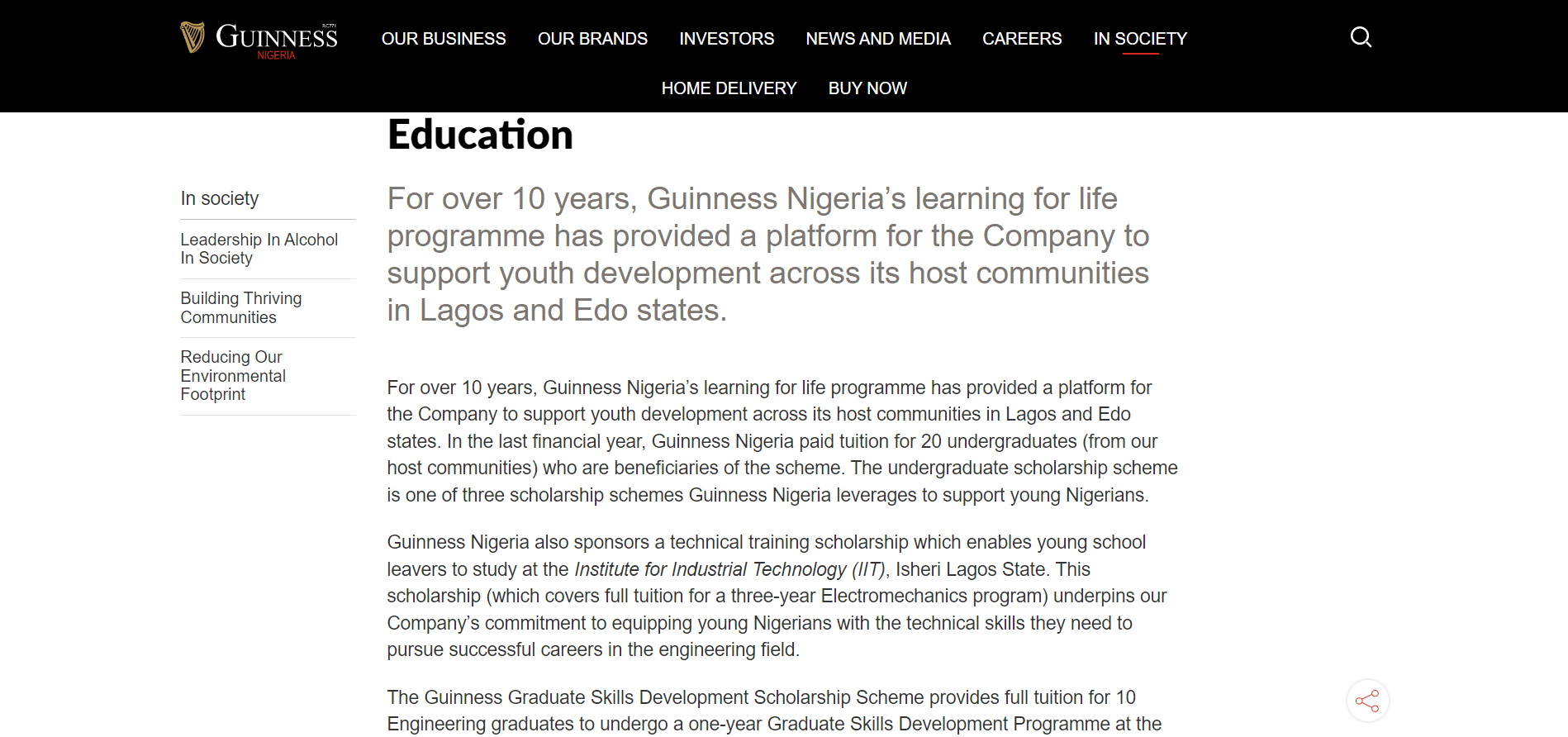 The Guinness Scholarship also has a high taste for greatness in Nigeria.
 Guinness scholarships not only help universities level along but also the polytechnic. 
You can apply for this according to the course you are studying in university and you may be tested and most importantly you must be in 100 or 200 level students. 
Federal Government Scholarships Award
Not only private universities or private companies or bodies that give out scholarships for undergraduates to improve and reduce the crime rate in Nigeria. 
The federal government can also help in promoting Nigeria's economy by giving scholarships to undergraduate students. 
Applying for a Federal government scholarships award in Nigeria you must have a minimum CGPA of 4.0
Some of the federal awards can also be given to master, Ph.D. ower. 
Conclusion 
I hope you enjoyed my post on top scholarships in Nigeria for undergraduates? Make sure to give suggestions via the comment box below.
Other private universities like landmark, covenant, Nile University, and Al-Hikmah University also give out scholarships for undergraduate students which gives an impact on both religious and cultural impact on us. 
I have a post I wrote on top secondary schools in Ondo State, don't forget to check it out. 
You can apply for this scholarship now and reduce the expenses of your education making the government help and give you enlightenment. 
It may not know that in most of these scholarships you get to be enlightened, you get more education and more knowledge of new things. 
After gett, this award, remember not to lose yourself with the crowd. 
Make and set a goal, try and get to the point where you can.