Hello and welcome back to Naijacloud. Today we are going to look into the steps to convert PDF to PPTX. Today's article is sponsored by 2pdf.com. We would be looking into all the steps to convert your pdf files to pptx. So without much ado, let's dive in.
Microsoft PowerPoint is one of the most frequently used tools in the Microsoft Office product line, with instructors, professionals, and even students using it to present an agenda or a product at a meeting or in the classroom. When sending a PPT to someone, it is best to convert it to a PDF file so that the original quality is preserved. There is a lot of software or online services that can convert PPT to PDF, and we've compiled a list of the top PPT to PDF converters for you. All you have to do is to go through these tools and pick the best one on how to convert PDF to PPTX. 
2PDF.com 
2PDF.com has been able to earn a reputation as a popular and effective PDF conversion tool. If you have a PDF to PPTX conversion requirement, you may think about using this tool. It is an online PDF to PPTX conversion tool. Hence, you will get the opportunity to stay away from the hassle of downloading and installing software on your computer as well.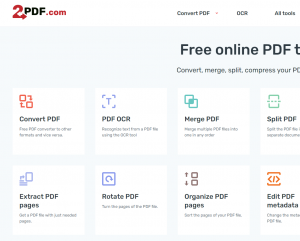 There are only four steps available for you to follow and do a PDF conversion with the help of this tool. You should first pick the PDF file and add that to 2PDF.com. Then you should pick PPTX as the output. Then you will get a link to pick the page size and orientation. You can then click on the convert PDF to PPTX link. The PPTX file will then be available for you to download. 
Adobe Acrobat Standard DC
The next program is Adobe Acrobat, which I'm sure you've heard of. Adobe develops a wide range of products, from picture and video editing software to tools for coding websites and apps. Adobe's PDF converter, Acrobat DC, is one of the finest.
When you think of "Adobe," the expense is probably the first thing that comes to mind. Yes, Adobe Acrobat Standard DC is the priciest option on our list, but it covers everything. It's also worth noting that this software is based on a subscription model, which means you'll have to pay for it on a monthly basis to continue using it. By committing to a year, you can reduce your expenses. If you also use a Mac on a regular basis, Adobe Acrobat Pro DC, which allows you to handle PDFs on both Windows and Mac systems, is a good option.
PDF Conversion Suite 
Is Adobe just too big and too pricey for your needs? Try PDF Conversion Suite if you only want to convert PDFs to Word documents quickly, easily, and locally. 
This useful little software is available for download for free on the Microsoft Store.
This software lacks the PDF organizing and editing features included in choices 1-3, and its UI isn't particularly appealing, but this is reflected in the pricing (or lack thereof!). PDF Conversion Suite is also inefficient because batch conversions are presently unavailable at converting multiple PDF to Word at once. 
Conclusion
I hope you enjoyed my post on steps to convert PDF to PPTX? Don't forget to check my post on 5 Techniques To Double Your Reach On TikTok.