TikTok money making has become severe, and some consider it as a full-time job. There are plenty of ways to make money on TikTok, despite fewer followers. Similar to creators of other applications, TikTok creators also achieved financial success. When you look at the statistics of TikTok stars on how much they earn, the result seems mind-boggling. However, you would have heard the dancing queen Addison Rae, who makes $5 million in a year. 
Yes, I know it tempts you to hear out all the ways you can implement on TikTok to earn money. Without any further delay, let's get started! And here we go.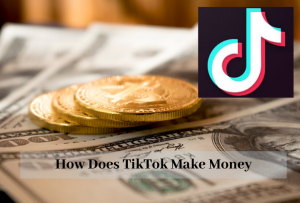 4 Ideas To Make Money On TikTok
Idea #1 PartnerUp With Trusted Brands
Yes, it's a favorite thing happening all over other social platforms, where a brand offers a helping hand to the creators. Okay, let's consider an imaginary brand that makes scented candles! The brand might pay you on TikTok if you are willing to talk about the specific candles in their market. With the replacement of pay, you even can get a trip regarding vouchers for your collaboration. Cool, isn't it?
Note: Don't look for partners with companies whose views don't match your niche as you do. Brands somehow lookout to bring sales for their business, the only thing you have to do is create branded content that brings more traffic to the organization. 
Idea #2 Advertise Your Products In TikTok
When you already have established merchandise, this is the best place for you to make money. You can get started by showing off your products by including all the details in the video. 
On the other hand, insert a link to your shop in the bio. And when people love your products, they might get obsessed with your brands, with the possibility of getting more likes on TikTok. Let's look at an example, "Zalora," its Asia's best fashion eCommerce platform, conducted a fashion festival to get interaction from customers, and the income was relatively higher than expected.
It is the best idea to create your own personalized merchandise, like an Italian greyhound-like Tika the Iggy did. Here, the brand's owner sells Tika branded clothing online. 
Idea #3 Influencer Collaboration
Actually, this is the reverse method of idea #1; if you are an established business looking for growth, reach out to influencers whose content is apt with your brand. However, research proved that every dollar spent on the influencer campaign would yield an average of about $6.50 for the business. Most marketers say that the customers have gained higher quality via influencer marketing rather than email marketing. 
TikTok creator marketplace can be an excellent choice to find out the best influencer for your brand. This marketplace connects influencers and brands well-personalized, where every brand can join the campaign with accessibility for influencers by invitation. You can also check my post on 5 Techniques To Double Your Reach On TikTok.
Idea #4 Apply To TikTok Creator Fund
Knowing about this creator fund is necessary because this is the app-sanctioned money-making method in TikTok. In 2020(July 22), TikTok brought their new creator fund, which encourages people who dream of using their voices and creativity for their careers. And there are some basic guidelines to follow if you have to apply for this creator fund. 
Be the age of at least 18 years.

Be located in the U.K, France, Germany, Spain, or the U.S.

Have followers of at least 10k.

Video views

of 1,00,000 in the last 30 days. 

A perfect account that abides by the rules of the TikTok community. 
Wrapping-Up
Social media monetization isn't that easy, but if you make efforts and have patience, you are likely to get exposure as other TikTok stars got. Hard work will definitely pay off; keep trying the doors that are locked on TikTok. 
Author Bio
Anne Joseph is a passionate social media writer and working at Bauxite. She has strong strategy skills in developing and managing social media campaigns. She loves to make new connections and enjoys the opportunity to work with social media influencers. Start following her on Twitter.com.