In the first week of 2021, social media was abuzz with the news of a reformed Whatsapp Privacy Policy.
This new policy allows Whatsapp to collect a lot more data from users and share it with Facebook, its main company. What's worse, a February 8 deadline was slated for users to accept the new policy.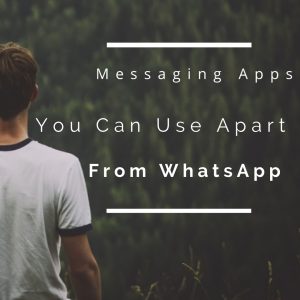 Questions about privacy from big tech companies have been rocking cyberspace. And now, the biggest chat messenger in the world wants to receive virtually all data related to our devices. As claimed by the new policy, battery percent, ISP, IP address, and a host of other information will be siphoned from devices.
Even if an existing user wants to delete a Whatsapp account, it doesn't guarantee that the individual's data will be deleted too. Using chat messengers doesn't mean your data has to be shared with the companies. Below, you'll find the most private messaging apps you can use
Top-Ranked Whatsapp Substitutes
Signal
Following the release of Whatsapp's new privacy policy, Signal trended on platforms like Twitter. The application was also endorsed by prominent people like Elon Musk, Jack Dorsey, and Edward Snowden.
Signal provides end-to-end encryption for its users, which means third parties can't spy on your communications. Its code is also open-source which translates to the app getting checked by anyone for top-notch privacy. It is considered one of the best privacy-focused messaging apps for all brands of smartphones.
Jabber/OTR
This isn't exactly a chat app – it is more of a protocol that allows secure communications. If your work depends on secrecy, such as investigative journalism, the Jabber/OTR protocol is one of the best options for you.
Its advantage over chat apps like Signal is that it doesn't need personal information like your phone number. Any two parties can set up the Jabber/OTR protocol and start communicating privately.
Messages
This iOS chat platform is very secure for communications. You can send a self-destructing message to another party. The issue with this app is that it only works between two iOS devices. A message from the platform to a device based on a different OS will show up as the usual text message.
To effectively secure your communications on this app, avoid backing it up to the iCloud service. If this happens, a case of your iCloud getting hacked or a subpoena from the government could lead to a breach of your chat privacy.
Measures to Protect your Communications
Using secure chat platforms is just one in a barrage of steps to protect your privacy.
To protect your communication, you'll need to secure all of your internet traffic. There are two major steps to achieving this high level of cybersecurity.
Using Tor Network
The Onion Router network is widely regarded as one of the safest ways to navigate the internet anonymously. When you use the network, your traffic passes through a lot of different servers before it arrives at its destination.
These servers can be created by anyone willing to uphold the anonymity cause. The more the relays, the better your protection. Utilizing this network shields your IP address from being seen by websites.
Using the Tor browser also blocks all trackers and never saves browsing history. Several freedom fighters have been noted to use the platform to express their views.
Downloading a VPN
A Virtual Private Network is a technology that modifies your IP address to boost your online anonymity.
Most VPNs have an array of servers around the globe for users to choose from.
Once a VPN server is connected to, all internet requests pass through the server before getting to its destination.
VPNs protect users from hackers through their complex encryption. Your data is also kept safe from the government, advertisers, your internet service provider, and companies.
The difference in protection between Tor's network and a VPN is that VPNs protect all of your internet traffic.
Using Tor Browser only protects your activity on the browser. Using Tor's network in conjunction with a VPN guarantees you a high level of security.
Final Thoughts
The conversation about online privacy has increased since Whatsapp rolled out its new policy.
This policy gives it the permission to go through and store every bit of data passing through the app.
To protect your data, you can migrate from Whatsapp to Signal, Jabber/OTR, or Apple's Messages app.
Securing the entirety of your online traffic means you need to use Tor Browser and get a VPN.