Have you heard about Fiverr Affiliate Program? Do you want to know how to earn from it? Today on Naijacloud we are going to look into the Fiverr Affiliate Program review, how to make money from it, and how to withdraw your commission plan via PayPal or bank transfers.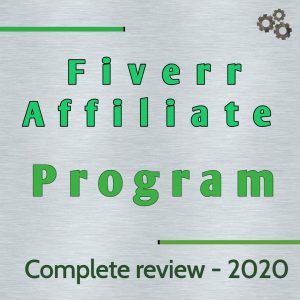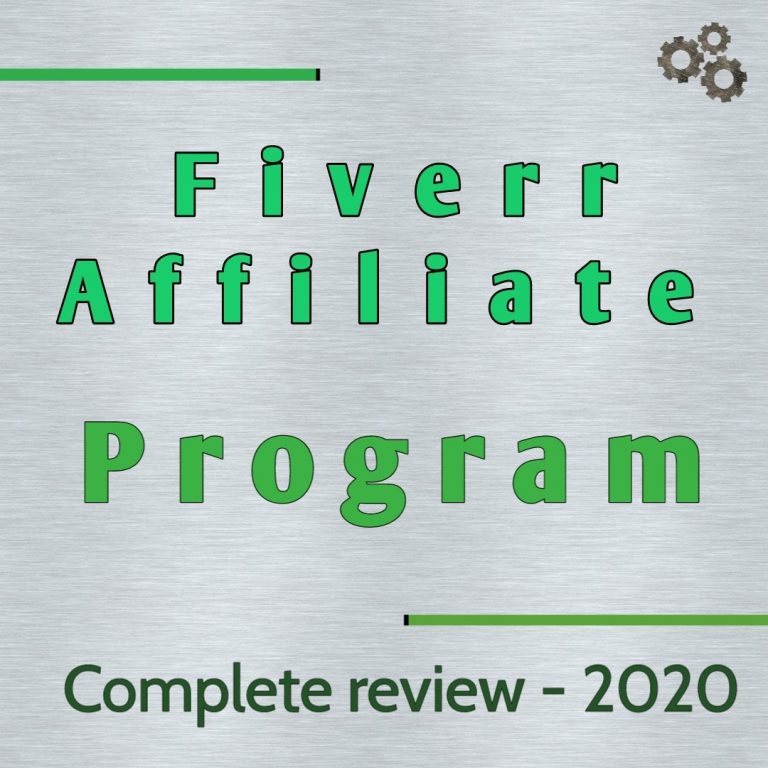 For people who don't know what Fiverr means, Fiverr is virtually one of the largest online market place for freelancers, the Fiverr Affiliate Program is a program created for users to gain commission for referring downlines to the program.
The most interesting thing about Fiverr affiliate program is that you don't need a website or blog to get started, we will be discussing more about that.
In this article today, I have compiled all you need to know on Fiverr Affiliate Program, different commission plans, and how to make money with the platform. So without wasting much time let's get started.
How To Join Fiverr Affiliate Program
Before thinking of joining Fiverr Affiliate Program you might need to get a blog or website to increase your chances of instant approval but the blog/website isn't compulsory.
Normally blogs that teach about Tutorials and How-Tos get approved immediately why entertainment blogs have to be properly reviewed.
Yow will have to get a valid email, phone number, and a skype account. The skype account is not compulsory tho but I am sure it can increase of getting instant approval for your account. After getting all the required, now you create your free account by following the steps below;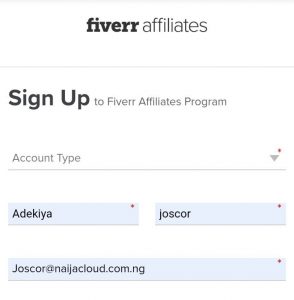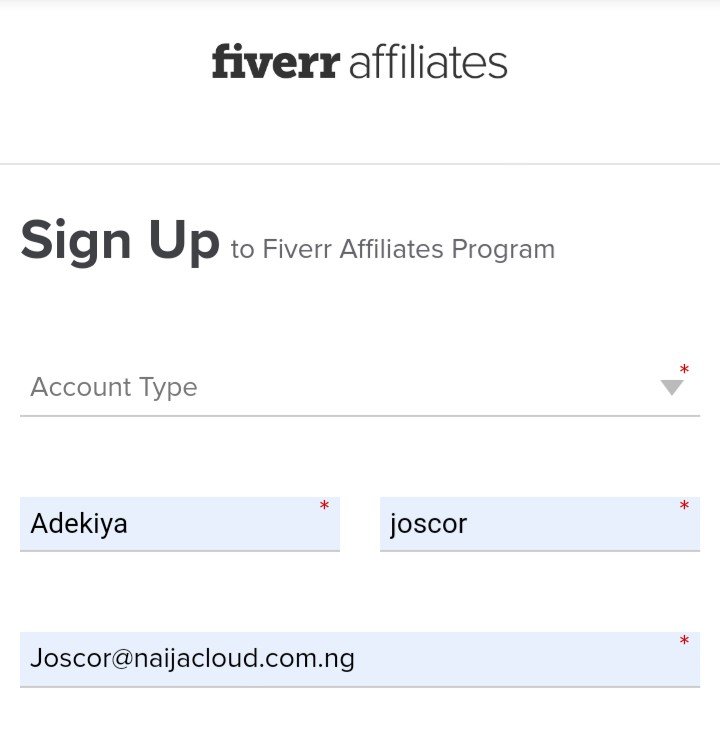 After filling all the Fiverr affiliate registration form, locate and tap the submit button
Your account might get approved instantly but if not, wait till you get a no-reply approval email from Fiverr.
As we've said earlier, you might need a tech or tutorial blog to get your Fiverr Affiliate account approved instantly. Immediately after your account gets approved, you can start by following the remaining steps below to copy for unique affiliate link;
Login to your Fiverr affiliate account and tap on MENU.
On the MENU, find marketing tools option and click on the default link button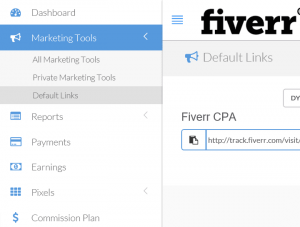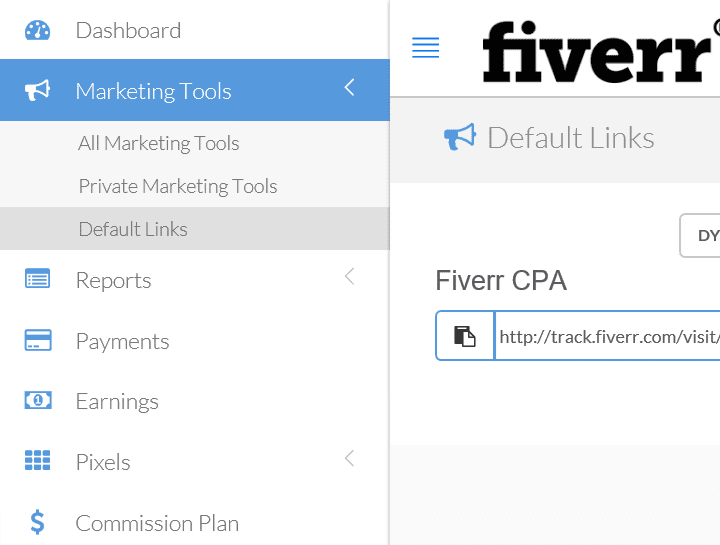 Your special assigned affiliate link will be displayed to you, you can quickly copy the link to your clipboard
Fiverr Affiliate Commission Plans
Fiverr affiliate program is designed in form of a CPA network, that is you get a commission whenever a user purchases Fiverr commission via your referral link.
The only problem you might have with the Fiverr affiliate program is that you only get a commission whenever a buyer purchases on Fiverr for the first time on Fiverr via your referral link.
It's a platform called "FTB" (First-time buyer). I have outlined the major Fiverr Affiliate Commission Plans and how much you can make from them below;
Fiverr CPA
This is the very first and the most popular Fiverr affiliate commission plan, you can earn as much as 15$ – 50$ for every Fiverr services purchased via your link.
Should I explain better? Yes! I think I would.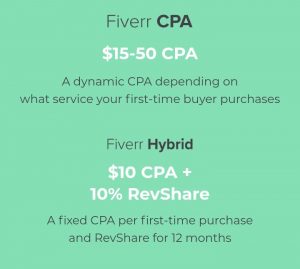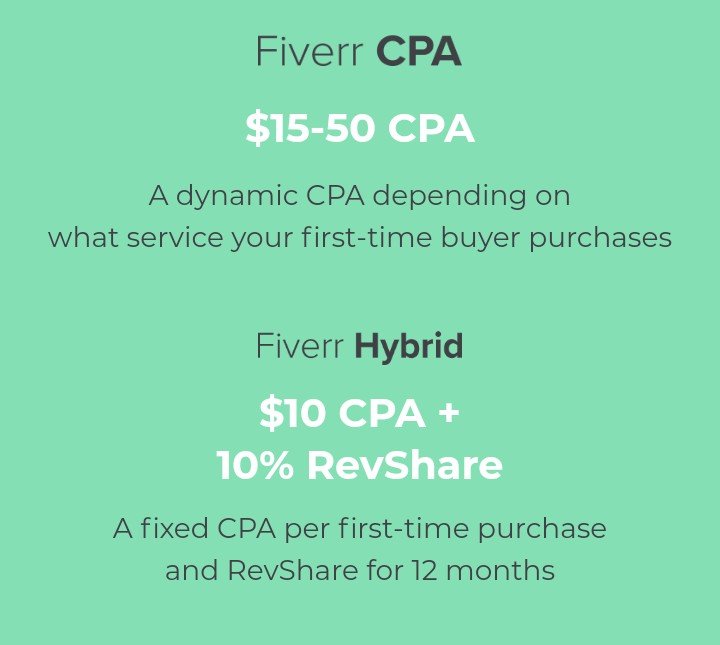 Let's say a first-time user purchases any of WordPress, animated explainers, Website builders & CMS, Ecommerce, and Gaming development via your link you get 50$ commission.
Users who get services like; WordPress, Lyrics & music video, 3D model & product design, and presentation design vis your link you get 40$ commission.
For slideshows & promo video you get 30$, For Articles & blog posts you get 25$ commission, and for other services not mentioned you get 15$ commission
Fiverr Pro
When promoting Fiverr pro offers, you get up to 150$ for every first time purchase done via your affiliate link. Only high rated freelance professional services are accepted her.
The lowest Price your referee can purchase on Fiverr pro is 100$. That means your referee has to purchase over 100$ Fiverr pro Gig before you can get commissions. That's taskful, right?
Lol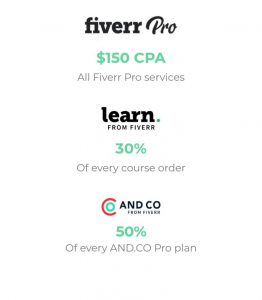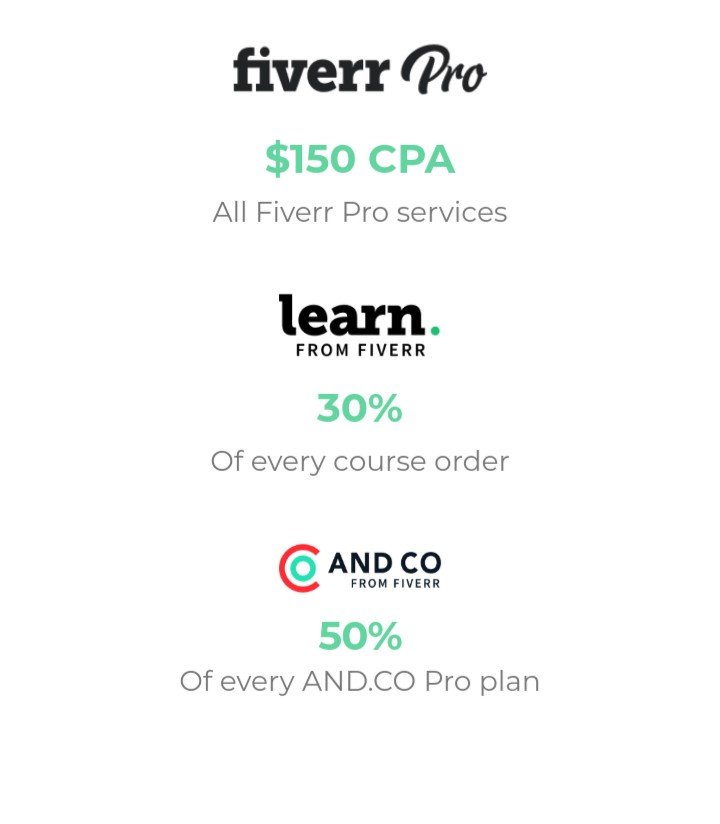 Learn
Learn is actually drafted from "learn from Fiverr", an online Fiverr academy where freelancers can learn some skill to sharpen their ideas.
You get up to 30$ for every user on Fiverr who plan to get this Fiverr courses via your link
AND CO.
For the AND CO. commission offer, you get 30% off every pro plan a users purchase via your referral link
How To Promote Fiverr Affiliate Link
There are many methods to kill fish. I was just joking lol. Let's get back, the easiest way to promote Fiverr affiliate link is by running Facebook ad or Search Engine Optimization.
You can budget some money for Facebook ad or personally get a way to message me from this blog so I would link you with a Facebook Ad geek
How To Withdraw Fiverr Affiliate Commission
You can only request payment from you Fiverr affiliate commission by PayPal or Bank transfer
Conclusion
That's all you need to know about Fiverr affiliate program, I hoped you loved it. This post will get updated whenever we have new updates.
What did I miss? You can include them in the comment section below and get an instant reply. Meanwhile, you can check my post on Jumia Affiliate Program – How To Join and make money selling products. Want more Juicy updates like this? Download our Mobile app below Or Join us via any of our social handles below.