Making money online seems easy when you have the right audience and follow the right procedures, but on NaijaCloud we're going to look into the steps to join the Jumia Affiliate Program
The program is popularly known as Jumia Affiliate Program, you make money selling Jumias product. What I mean is you get a special percentage for selling Jumia product via a trackable link programmable assigned to you.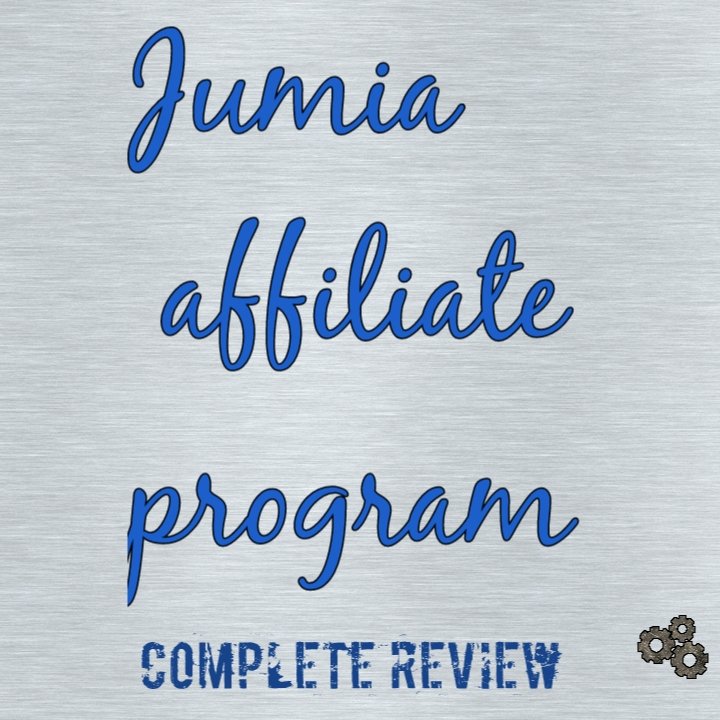 The most interesting thing about the Jumia Affiliate Program is that you can actually make money without having a website. You will need a very active Facebook account to get started. Want to know more about Jumia Affiliate Program? Then follow the well-explained steps below.
How To Join Jumia Affiliate Program
To join the JUMIA affiliate program you need to make a big move by creating an affiliate account. Opening the account is easy as ABC. You will need a website to get your affiliate account ready, but in case you don't have a website you can quickly use a well active Facebook account or page with over 1000 friends.
If you don't have a blog you can kindly sign up on WordPress here to create a free blog with 3 minutes from here.
Firstly, you will need to create a Jumia affiliate account. To get started visit affiliate.jumia.com
On the page, locate and tap the "become an affiliate" button.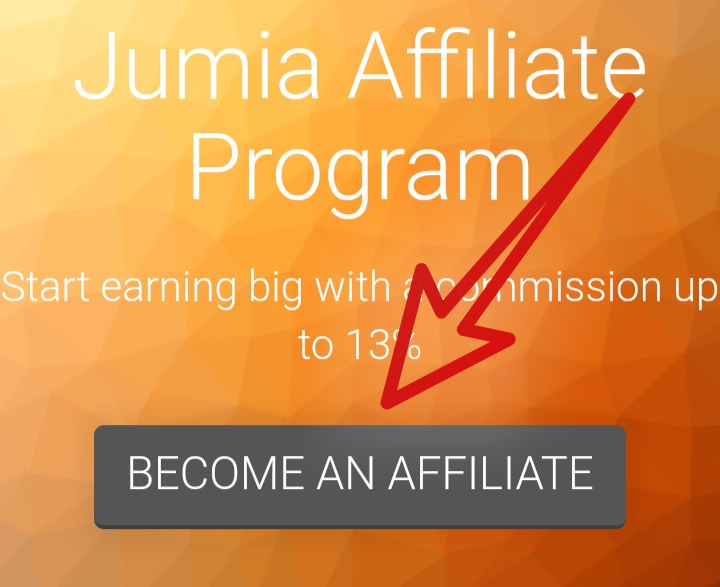 After doing that you will be redirected to a user registration page, fill all the forms, and get started.
Moreover, If all your details are correct, you will get an email from JUMIA if your details are accepted.
How To Get Jumia  Ad Banner
After successfully creating your account you need to get you Ad banners so you can upload them on your blog. This very method id for blog or website owners, if you don't have a blog you can kindly navigate to the next subheading to learn how to use trackable links. So without much ado, let's get into the steps to get Jumia Ad banner.
To get started, you need to be logged in to your affiliate account, you can quickly visit affiliate.jumia.com/login to login into your account
After signing in your dashboard should be like the one in the image below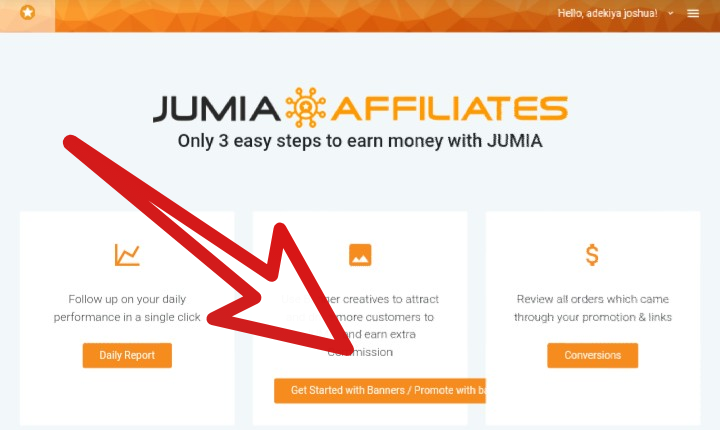 Now, locate and tap "Get started with banners / promote with banners"
Select a country that you would like to promote its offer. Let's say you are in Nigeria, you can select Jumia Nigeria.
You can select the banner you want from the niche of your website. Assuming you're running a tech blog you can locate a Phone banner.
Select the size of banner you this is suitable for your website. There are different ranges of sixes which include; 250*50, 300*250, e.t.c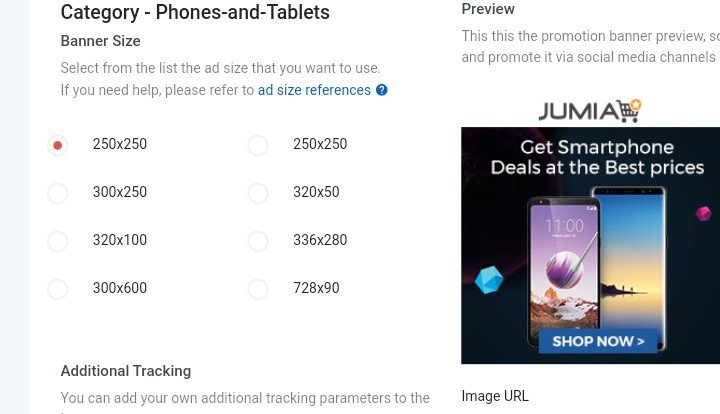 You can download the image and upload it to the sidebar or header of your website. If you have a proper idea of HTML, you copy the banner code and paste it to any part of your website. All you have to do is just locate "Banner Code", copy the assigned code to you and paste to any part of your website.
How To Get Jumia Affiliate Link for Products
In case you don't have a website, you will need to get an affiliate link so you will be able to post your link on social media and earn a commission.
Tap on the MENU on the top on the Jumia website
Locate Advertising > Link Builder and follow the next step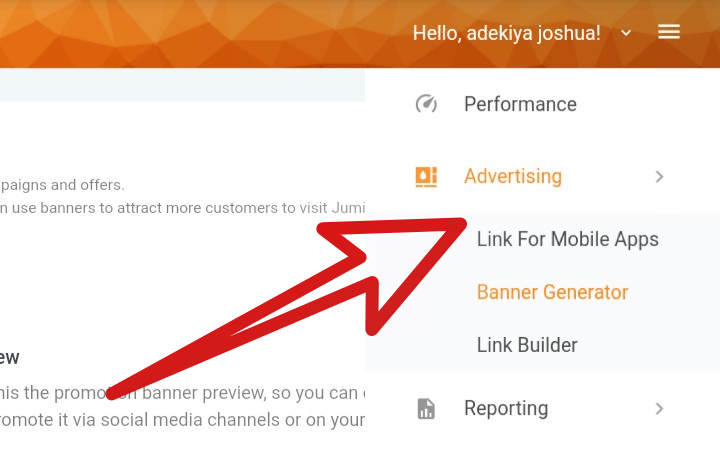 You will need to select the country you will be promoting its offer
Now, go to the Official Jumia website and get a URL to any product you will like to promote.
Paste the URL into the Jumia URL Page box like the one in the annotated image below.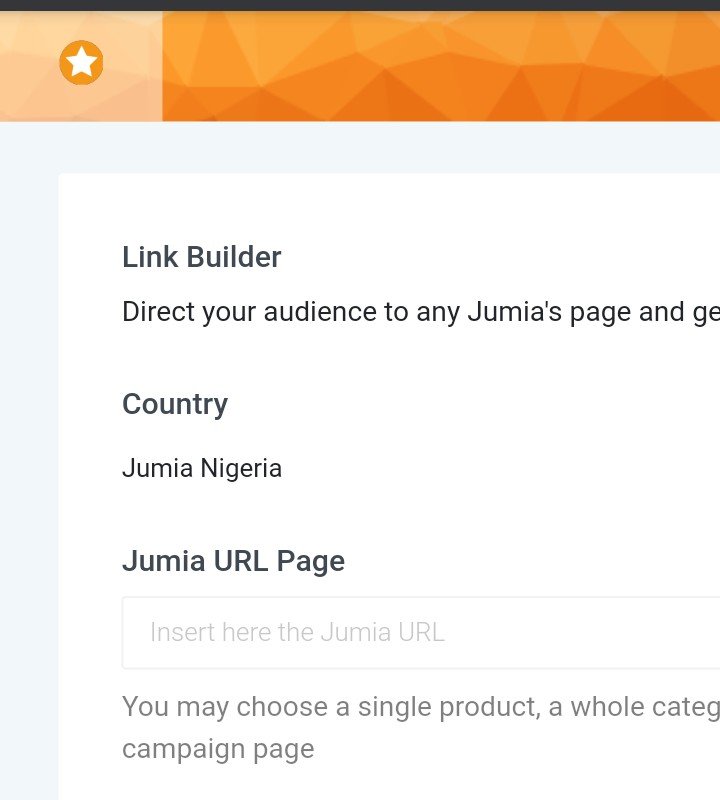 The page will automatically give you a trackable link that you can share and get commissions.
How To Withdraw From Jumia affiliate program
To get paid on the Jumia affiliate program, you need to submit your account details but before then, tap MENU > payment information the select your country and preferred payment method. In addition, the only payment method by Jumia is bank transfer, you get paid within hours.
Conclusion
That's all you need to know about the Jumia affiliate program, this post will get updated whenever we have new updates. What did I miss? You can include them in the comment section below and get an instant reply. Meanwhile, you can check my post on how to accumulate MyMTN app 40GB. Want more Juicy updates like this? Download our Mobile app below Or Join us via any of our social handles below.