If you keep getting this error "Can't Connect To Proxy Server", then this post is perfect for you. Today we are going to learn the causes and solutions to this possible error. In case you missed my post on How To Download Paid Apps On Google Play Store For Free, don't hesitate to check it out. So without wasting much time, let's dive in.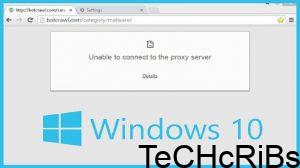 METHOD 1 – Disable PROXY
If you keep getting the can't connect to proxy error, then follow the simple steps below and get them solved. Meanwhile, if you find these steps clumsy, kindly skip to method 2
Open internet options in you window 10
Now, go to the connection tab. Locate the LAN setting button and tap it.
Toggle off "Use a proxy server for your LAN " option and click OK to make your changes valid.
ALTERNATIVELY
Hold Windows Key and "I" to quickly open the PCs settings
After the settings open, move to the Network & Internet section
Locate Proxy and Toggle off all options listed.
METHOD 2 – Use A VPN
Changing the IP address is one of the simplest and easiest methods to solve can't connect to the residential proxies issue. A VPN can help you change your IP address therefore it would definitely work.
Take note that free VPN won't work for this because they aren't strong. You can make use of VPNs like Nord VPN, Cyberghost VPN, and among others. With premium VPNs, you will have to pay but your IP is 100% save
METHOD 3 – Reset Internet Options
Another great method to solve can't connect to the proxy server is to reset the internet option, to quickly reset the internet option to follow the simple steps below.
Hold the Windows key + S and wait for it to load. After successfully loading, locate, and enter Internet options.
When the Internet Properties windows open, navigate to the advanced tab and click on the RESET button.
Toggle on DELETE PERSONAL SETTINGS, locate and tap the Reset button.
After successfully following the steps above, I am sure by now you should have solved the error causing windows 10 to display can't connect to the proxy.
Want more juicy updates like this? Download our mobile app below or Join us via any of our social media handles.