Have you been looking for the easiest way to check UBA account balance? Today on Naijacloud, we are going to look into two possible methods to check your account balance on UBA. The first method is the USSD and the second is the UBA mobile banking app or chat banking. Each method has its pros and cons. So without wasting much of your time, let's dive in.
How To Check UBA account balance using Ussd code
UBA is providing a completely enhanced mobile banking experience to its customers with the UBA mobile app. All you just have to do is to download, install, and register using your UBA ATM card, Then you can visit and refresh the app whenever you need to check your account balance, to Check UBA account balance using USSD code is the easiest but the reason why it isn't preferable is the charges attached to it. 10 naira will be deducted from your account unlike other methods in this post which are 100 percent free.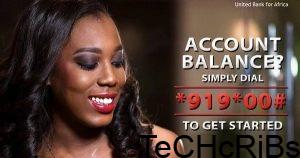 Dial *919*00# using the phone number linked to your UBA account
An SMS or POP UP that entails your Account balance will be sent to your phone
How To Check UBA balance using UBA mobile app
UBA mobile apps seem to be one of the best methods of checking account balance. To check account balance, just download the UBA mobile banking app and enter the last 4 digits of your ATM card to proceed the registration. After registering, you will see your balance is displayed on the screen. No charges applied and no extra costs.
How To Check UBA Account insight using Chat Banking (LEO)
UBA introduced chat banking some years ago, Chat banking is a method of the transaction whereby all transactions are done and performed on WhatsApp only with the help of a verified banking bot. To check your balance using chat banking is absolutely free and it requires internet connections because all transactions are made on WhatsApp or Facebook Messanger.
The name of the UBA chat banking bot is LEO and comes with a verified WhatsApp account. LEO helps mainly to transfer money, buy airtime, pay bills, check account balance, and many others.
Message Leo on WhatsApp via +2349030010007 and wait for  it to respond
You will get a response within sec with the list of options as shown in the image below
Reply with "A. CHECK BALANCE" and you will be sent a link to enter your account password.
Then BOOOM! Your password appears immediately.
What did I miss? You can include them in the comment section below and get an instant reply. Meanwhile, you can check my post on How To Check Zenith Bank Account Balance.. Want more Juicy updates like this? Download our Mobile app below Or Join us via any of our social handles below.