Downloading paid apps from Google play store is simple as counting from one to ten, but many people get confused when doing this. So today on Naijacloud we are looking into the self explanatory steps to download paid android apps for free. So without much Ado lets dive in.
Requirements
>> Android 5+
>> Stable internet connection
Why downloading paid apps for free?
Some paid apps are expensive and people don't prefer using modded apps. So by using this methods am going to teach you today, you would be able to download all paid apps on playstore for free.
How to download paid android apps using Blackmart
Download Blackmart App, install and launch it. Wait while the app loads.
As you open it, you can see all the trendy apps right on the home screen for direct access. At the top, get all the genres you can click to explore the new and latest trends viz., Apps, Games, Music, Video
Top apps, etc.
If you know exactly what you want, then quickly search the app using the 'Quick Search Bar' at the top taskbar.Type the initials there, and your app will be on your screen right at the moment.
BOOM! The paid app starts to download.
How to download paid  apps using Aptoide
Acess your  browser on your Android device and navigate to the URL m.aptoide.com.
Click on the Install button to download and install Aptoide from APK file.
The Package Manager is launched to install the downloaded app. If you have alternative applications associated with application (.apk) files, a menu pops up asking you to select an app. Select Package Manager in this case.
Now open up Aptoide App Store. You might be prompted to add a store (repository) to your collection. Go on and add a store if you like. (It is however not necessary).
Tap on the Search icon on the top right corner. Type the name of the app and hit Enter.
If you don't see the desired app in the search results, tap on the Search More button. More results will be displayed in a browser page.
Select the particular app. A dialog box appears prompting you to confirm the app installation. Click on OK.
You will further be prompted to add the particular app repository which contained the searched app. Add it if you want to (not required).
The Package Manager now installs the app. Finally, click OK to finish the installation.
How to download paid  apps using AppFree
AppsFree offers a better way. A lot of these apps are not worth your time or effort. I am talking about new apps which may not be good enough, or ones that you have already rejected the last time they were free. AppsFree wants to solve this problem with a simple swipe of your finger. There is a single list with limited filters at your disposal. I like the Dismissed list. Just swipe right, and you will never see that app again the next time it is free. There is no way to track apps on sale, though. However, you can view the Dismissed list whenever you have a change of heart.The only con is that AppsFree only list actual paid apps that are free for a limited time. We won't trick you into downloading apps that are always free.
How to download paid  apps using Appsales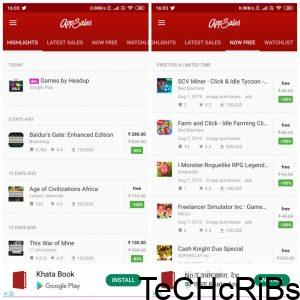 AppSales to me is one of the best apps to download paid android apps on Google playstore legitimately. The app is straight forward and direct. AppSales has Watchlist Charts Grouped into 3 sections "Last 48 hours, last 30 days and 1 Year" you can easily discover brand new trending apps or the most popular paid apps. AppSales lets you discover the best apps and games on sale thanks to our advanced filter and customization options. Other functions, like a price monitor or Watchlist Charts, makes AppSales an all-in-one solution for apps gone free deals and offers. AppSales also have this feature that Dismisses apps you already own or you're not interested in and they won't show up the next time they are on sale.
Incase you missed my last post on how to make money on whatsapp, you can check that here. Want more updates like this? Vibe with us via any of our social handles below.