Do you want to know the list of TV channels that are available on the DStv Padi package? If your answer is yes, then you are reading the best article on the internet.
I'm going to list the number of channels on the DStv Padi channel, and I will let you know all the important information that needs to be known about the DStv Padi package and other popular packages on DStv as well.
Dstv is one of the most used television services for entertainment and information in Nigeria and other countries in Africa.
It comes with incredible features, which is why millions of Nigerians and people from other African countries love DStv and choose the entertainment company over other television services on the continent.
DStv Padi Package
The DSTV Padi Package has been and continues to be one of the best packages on DSTV.You will be able to get over 40+ TV and 11 audio channels of the best in local TV on Padi.
When DStv Padi was launched, a lot of people did not like it because it had the lowest number of stations.
Even though it is one of the lowest packages, it was made affordable for lower-class Nigerians and still consists of enjoyable channels with numerous thrilling Nollywood movies and dramas, international telenovelas, music to get the party started, sports highlights, regular wildlife documentaries, fun kids' shows, and local and international news.
The list of channels on DStv Padi is now much better than when it was first launched.
A lot of channels have been added, and it is now very entertaining, just like other expensive DStv packages.
Likewise, the price remains so cheap and affordable for millions of Nigerians to subscribe.
The Dstv Padi package is available for Nigerians that want to get so much entertainment and information for a little money, regardless of their lifestyle.
The DStv Padi is for you because you will be able to get the latest information and entertainment in the country and internationally.
There are several news channels where you can get the latest information in sports, events, politics, education, and other important information that you need to know in Nigeria and other countries of the world.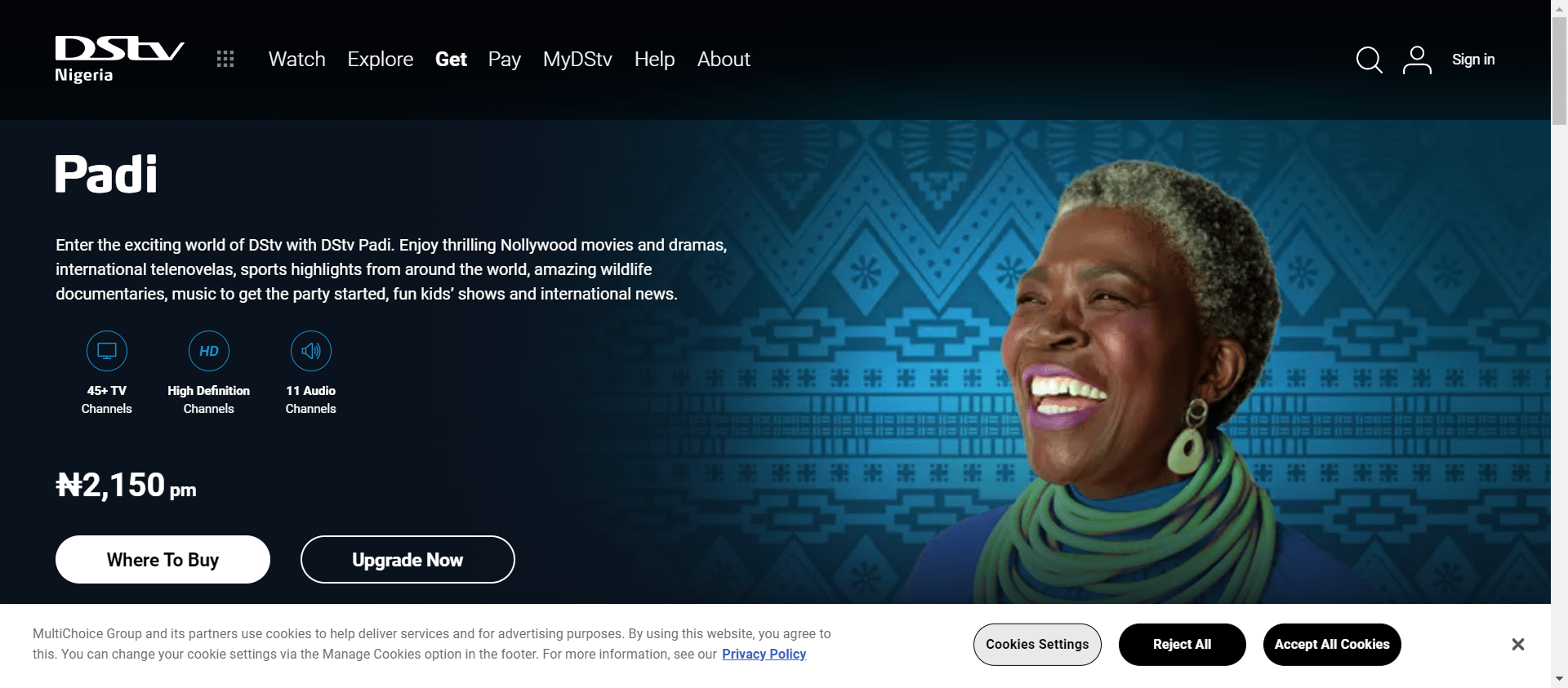 If you are a movie lover, then you will be able to get the latest Nollywood movies, from Yoruba to Igbo, and other interesting movies that are made in Nigeria.
Likewise, you will be able to get the latest music, including hip-hop, gospel, and other kinds of Nigerian music, from the DStv Padi package.
DStv Padi packages are available for children, youth, adults, parents, and elderly people. Regardless of your financial status, you will be able to afford to subscribe to the DStv Padi package monthly because it is the cheapest of the DStv packages at the moment of writing this informative article.
DStv Padi Channel List
There are numerous TV channels on DStv Padi; these channels include BBC World, CNC World, Telemundo, Televista, B4U Movies, NTA 2, NTA News 24, Galaxy TV, AIT, Channels TV, Africa Magic (Igbo, Hausa, Yoruba), NatGeo Wild, Spice TV, SilverBird, SuperSport BLITZ, Jim Jam, Mindset, and more.
The DStv Padi is an entry-level DStv plan.
These are the full channel list and audio channel list, which are below:
Igbo Magic in Africa (159)
(156) Africa Magic Hausa
TeleMundo (118)
Yoruba Magic in Africa (157)
Trybe (195)
Televista (194)
B4U Movies (451)
Spice TV (190)
NatGeo Wild (182)
SuperSport Blitz (220)
(418) TVC News Nigeria
NTA Parliament (370)
Joy News (421),
BBC World News (400)
CNC World (415)
Arise News (416)
Mindset (319)
Jim Jam (310)
Urban TV (328)
Trace Naija (325)
AFRO Music English (326)
WAP TV (262)
Wazobia Max (259)
OGtv (260)
NTA News 24 (419)
NTA 2 (369)
Galaxy TV (258)
Arewa 24 (261).
Silverbird (252)
NTA I (251)
MiTV (255)
Lagos TV (256)
Channels (254)
AIT (253)
Adom TV (280)
eTV Africa (250)
Fiesta TV (329)
K24 (275)
Day Star (342).
Dove TV (349).
Emmanuel TV (390)
Eternal Word Television Network (348).
FAITH (341)
Islam Channel (347).
TBN (343)
TV Mundial (P) (680)
Lumen Christi (350)
Audio Channels
BBC World Service English (850)
BBC World Radio 2 (851
BBC African Languages (852
Voice of America (853)
World Radio Network (854).
Channel Islam International (865).
Radio France Internationale (866)
RAYFM (868)
Star (869)
Rhythm (870)
TransAfrica Radio (872).
DStv Padi Price
Currently, the DStv Padi costs 2,150 Naira per month. It is currently one of the cheapest DSTV packages available to Nigerians when compared to other DSTV packages.
Aside from DStv Padi, there are several DStv package lists that come with incredible channel lists just like DStv Padi.
Other DSTV package lists are
DStv Yanga Package
DStv Confam Package
DStv Compact Package
DStv Compact Plus Package
DStv Premium Package
Frequently Asked Questions
What exactly is PADI in DSTV?
The popular DStv Padi package is one of the available packages on DStv.
Multichoice created this package so that their viewers or customers will be able to enjoy the exciting world of DStv on DStv Padi.
The Dstv Padi package comes with several thrilling Nollywood movies and dramas, international telenovelas, sports highlights from all countries of the world, amazing wildlife documentaries, music to get the party started, fun kids' shows, and international news. 45+ TV.
Can I watch BBN on DStv, Padi?
Currently, you can't watch Big Brother Nigeria on DStv Padi, but you can subscribe to all the DStv packages so that you will be able to watch the popular Nigerian reality show.
Big Brother Naija will be airing on DStv Premium, Compact Plus, Compact, Confam (Family), Yanga (Access), GOtv Max, and Jolli.
Likewise, you will be able to enjoy the show 24/7 on DSTV channel 198 and GOTV channel 29.
Doors in Ghana and Uganda will also be able to watch the popular Nigerian reality show Big Brother Naija on Gotv or DStv as well.
To watch Big Brother Naija in Ghana on DStv, you need to locate Channel 129 in Ghana. Likewise, watch Channel 329 to watch Big Brother Naija from Uganda on DStv.