Hey!Welcome back to my blog. Today we are going to discuss the bumpa review and what makes it the best Shopify alternative in Nigeria.
What Is Bumpa?
Before we start the bumpa review, I would first discuss a little about the bumpa app, the advantages, and what it could be used for.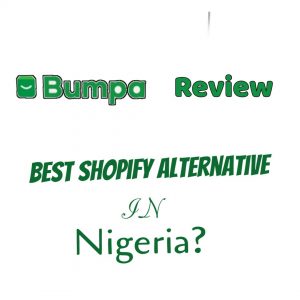 Being a business owner and you find selling of your goods hard. Having your own business there is something you have to do to make your business grow.
Ask me how to be updated? Lol
Bumpa app is built to help build small-scale and large-scale businesses.
Bumpa formerly known as salescabal helps business owners ( sellers) with an online program/ platform that makes selling their goods easy. It is founded by David Lieb.
According to my researches, the Bumpa app has 5000+ downloads as of the time of writing which shows this Bumpa app is the hot deal now. You can download the bumpa app from the Google play store or the app store, it would really help you compare and contrast all am going to say in today's Bumpa Review.
With Bumpa Sub woo commerce is made easy. No code idea is needed just your creativity. It has a secured payment gateway, view sales reports, uploads products by taking pictures, manage invoices check total revenue.
You can also chat directly with your customers and create a special group while on the app. Tell me something more satisfactory. Lol.
How To Download The Bumpa App
The Bumpa app is available on both the Google play store and the app store, but today's Bumpa review I would be focusing more on the Google play store because of the larger percentage.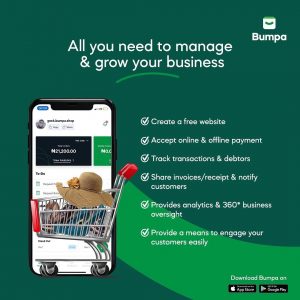 To download the Bumpa app on Google Play, follow the steps below;
Go to the play store or follow the link here, then type the name of the "Bumpa". the app was 21MB as of the date of publishing this masterpiece.
Wait for few minutes and the app would be download immediately.
How To Register And Use The Bumpa App
To spice up today's Bumpa review, we should look into the steps to use the app.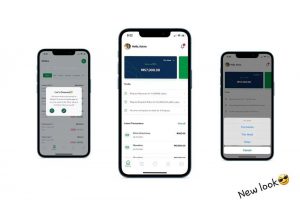 Many people think it's hard to register on most fintech apps. Yes, it's true, but the coolest feature about Bumpa is that you don't need a BVN to get started.
Registration is easy and straightforward. It should be done shortly after downloading the app. Just fill in the information needed then you're good to go.
You would be asked your store name, phone number, email address, name, and obviously your desired password. Referral codes are optional. You can play one if you have one or you can use mine "JOSCOR".
You will be asked to set up a store, that is if you feel like doing it immediately. If not you can just skip.
In the app, at the bottom part, there are some guidelines that will help you work your way around the app.
What Makes Bumpa Shopify's New Altewenative In Nigeria.
The Bumpa app has really been of great help for business owners. It is an app that is easy to register, has no stress, no pay, and is no waste of time.
Bumpa UI/UX designers get a 5 dot for this. The app is so simple to operate, though some people might still find it hard. Lol.
This BUmpa review is a waste if we don't add this. It manages an online and offline store.
According to research, the Bumpa app helps in record keeping. One of the problems most businessman and woman has today is the problem of record-keeping. This app has helped to solve this issue and it is not really time-consuming
Bumpa is one of the best E-commerce apps which helps for easy operation, negotiation, and tracking of goods.
Conclusion
I hope you enjoyed my post on the Bumpa review. This post will get updated whenever we get new updates. Don't forget to join us on telegram. You can check my post on Top Clickbank Alternatives In Nigeria – Recommended.