Fameswap, currently the largest market place to sell instagram account at better and juicy rates . Today on NaijaCloud we are going to look into Fameswap full internet review.  In case you missed my former post on How to Bypass Google ReCAPTCHA (I'm not a robot), don't hesitate to check it out. So without much Ado let's go into business.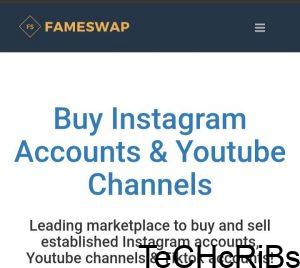 What's Fameswap?
Fameswap is the largest and fastest-growing marketplace to buy Instagram accounts. You can get all account on this platform ranging from the followers you desired. Trust me Fameswap is the marketplace to buy Instagram accounts, you get buyers who are serious and they pay. No ripping, scamming and any form of intelligence display. You can easily visit Fameswap here.
Fameswap Plans
Fameswap has different plan which I think you might have to consider looking into before diving into the use of  Fameswap and it's advantages.
» Free Plan
» Premium Plan
Free $0
hidden listing usernames
standard escrow fees
limited message threads
contact sellers only
no search
standard support
Premium $50 /month
full listing usernames
lower escrow fees
unlimited message threads
contact any user
search box on browse page
priority support

Why You should use Fameswap
Fameswap has many advantages in which i think can be useful to take note. They are the very best in this field. You can actually sell your account from any niche, below are few reasons why I think you should consider using it.
⇒ Encrypted payment capture
Fameswap partnered together with banks to provide you with safe encrypted transactions, making sure that payment is securely captured. Fameswap ensures that its users pass verification checks before transactions can proceed.
⇒ Secure messaging platform
You will be able to communicate with sellers via a secure messaging platform. After you log in and request information about an Instagram account for sale, sellers are notified and have the ability to respond. When you are ready, you can make an offer.
Safe account transfer
When the transaction is finalized, a dedicated team  will transfer all associated information to you, making you the new owner of the instagram account. Buyers and sellers will be notified via an email from the  team once account transfer has been completed.
24/7 Fameswap support
Once you receive your instagram account from the seller, Fameswap Support will be available to help you with any questions.
How Fameswap Works
It's easy to use and navigate. Their website is one of the best i have seen and it load pretty fast. So without taking much of your time , below are some highlights of how the platform works.
» Seller lists Instagram account
Fameswap team reviews all accounts prior to listing them to go live. The seller is free to set their own price as a starting point for negotiation.
» Buyer & Seller Communicate
Buyers and Sellers can communicate through a secure messaging system to share their account context, history, and future opportunities
» Buyer sends offer
A Buyer makes an offer to buy instagram account with the price they are willing to pay. Upon offer acceptance, Buyer and Seller begin the payment transaction through Escrow.
» Secure Account Transfer
Escrow securely transfers the account to the buyer and the seller receives the funds from Escrow
Fameswap Escrow
Fameswap offers a secure escrow service for users looking to buy or sell social media properties. It allows sellers to accept secure form of payment, and buyers to receive access to social media property without risk.
What does it cost?
Escrow fees are 5% of offer price or $50 minimum, whichever is greater, available for eligible transactions over $100. The fees may be assigned to the Buyer, the Seller or split among the parties. Who pays the fee is agreed upon at the time the escrow is created.
Fameswap Affiliate Program
Premium – Earn 30% of recurring membership fees you bring.
Example: You bring a user that subscribes to premium membership of $50/month. You get paid $15 per month for the lifetime of the subscription.
Escrow – Earn 20% of escrow fees from buyers you bring.
Example: You bring a user that ends up buying a $1,000 account through Fameswap Escrow. Our fee is $100. You get paid $20 as an affiliate for bringing the buyer.
Most of the content on this page are drafted from Face swap website. Want more updates like this? Vibe with us via any of our social handles below ⇓.