Hello. Welcome back to NaijaCloud. Today we are discussing the highest asked question in Nigeria, Top 10 female YouTubers in Nigeria.
I have been asked these particular questions over and over again. Today you guys will get the answer. I am going to be Ranking their base on the number of subscribers they have.
I would be talking more about their name, the number of subs, a little more about their personality, and a little bit about how much they could be earning.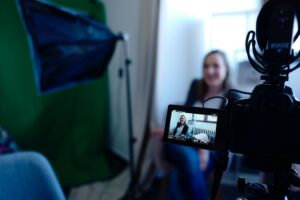 On my blog, I have a blog post how to make money and start a YouTube  channel, do so to check it out.
In these articles, we find out a lot about our female YouTubers in Nigeria. So without wasting much of your time, let's dive in.
Top 10 Female YouTubers In Nigeria
I have outlasted most of the top female YouTubers in Nigeria, all the way from over 700k subscribers down to 21k subscribers. In case you know of a channel and it's not here, do well to make mention via the comment box below.
Now let's get started, without further ado below are my list of top female YouTubers in Nigeria;
Sisi Yemmie. (741k subscribers)
To kick off this list, we would start with Sisi Yemmie. She started her youtube channel on 17th November 2011, she was born in Warri, Delta State. Her school is Igbinedion university.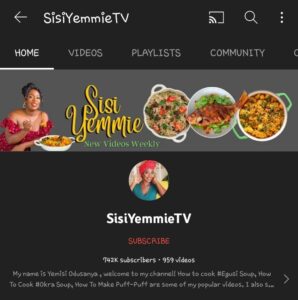 She is just like a social media Goddess among her other females. She is a blogger, social media promoter, and blogger. Her youtube is called sisiyemmietv, she has 6 months of Nigerian food timetables.
Basically, she shares cooking recipes, and reviews and also teaches people to cook on youtube, she also talks about motherhood.
She won awards: the blog of the year in the Nigeria blog awards, most unique voice in blog, and many more awards.
She has 741k subscribers with 959 videos, most important lesson is that to become top 10 female YouTubers the more your video the more likes, and so it takes time and dedication.
Dimma Umeh ( 440k subscribers)
Dimma Umeh was born in Enugu state, she is a video blogger. Her full name is Chidimma Umeh, she was born on the 5th of June She is nominated for the future awards Africa prize for content creation
You see she is one of the best. She is not just a star but also the best of the best. For her to be nominated shows how hard-working she can be.
She is a content creator digital creator, her youtube is mainly about Nigerian beauty and fashion lifestyle. As of today, she has 440k subscribers and 357 videos, isn't that amazing wondering how she got all these subscribers it is pretty amazing.
Layefa Ebitonmo (308k subscribers)
Layefa ebitonomo full name is layefalayera ebitonomo. She was born on the 25th of October and she is also a make-up artist.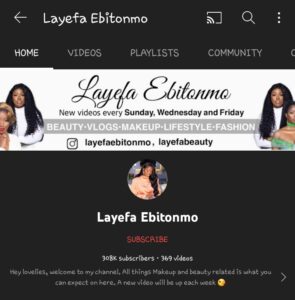 Layefa ebitonomo started her youtube channel around February 27, 2014. Teaches people about make-up tutorials.
Her vlog is special in makeup and beauty, a social media influencer, in fashion and lifestyle
Ebitonmo has over 300k subscribers with 369 videos. She works on makeup and beauty as I said earlier. Layefa shares cute and beautiful videos and she posts her mom in some of her videos.
Ihuoma Eze (178k subscribers)
Eze is a lifestyle blogger, a storyteller, and a Direct sales agent with Access Bank plc port Harcourt.
She is good and is also good in her videos and she joined youtube on October 29, 2015, has over 170.8k subscribers and 115 videos. Ihuoma Eze celebrates her birthday on the 14th of April. Ihuoma currently lives in Dubai.
The most impressive video of hers that drew my attention was her article named ' How to make money as a YouTuber in Nigeria in 2021'
Ihuoma is a photography, lifestyle, and travel blogger, she travels and explores other countries. People that have never been out of Nigeria when viewing her vlog the feeling like they are out into Dubai. She vlogs almost around Dubai which has helped her to be among the top 10 female YouTubers in Nigeria
Kelechi Mgbemena ( 147k subscribers)
Kelechi is a beauty influencer, and digital content creator.  She helps with videos, and product reviews.
The easiest way to get to her is to reach her via her email at [email protected], when I first watch her videos I fell in love with them.
Her value is impactful and helps other YouTubers be independent on their own.
She helps create social entrepreneurs, so they can build and grow a profitable brand. 147k subscribers and 281videos she has a really good quality video, just a video on her youtube will blow you off.
Tomike Adeoye (103k subscribers)
Tomike Adeoye coming 6th on the top 10 female YouTubers in Nigeria has a lot to say about herself, she is an award-winning brand influencer, an entrepreneur, and a brand ambassador for companies like Maltin and Sabicash.
She started her youtube vlog on the 9th of February 2014 which has helped her to have 103k subscribers with just 87 videos she is one and only female on the top 10 female YouTubers in Nigeria that has videos less than 100 and with more than 100k subscribers.
To Ike is doing well. I don't know much about here, this article will get updates whenever we find one.
Kamisi nnamani (78.7k subscribers)
Kamasi has 78.7k subscribers which she makes from a total of 22 videos. Kamisi started her youtube videos around 13th May 2014.
Vivian Okezie (65.2k subscribers)
Vivian started her youtube life on January 9, 2015. It is top-notch for her being on the top female YouTubers, she is in this position because of the number of subscribers on YouTube which is 65.2k with over 205 videos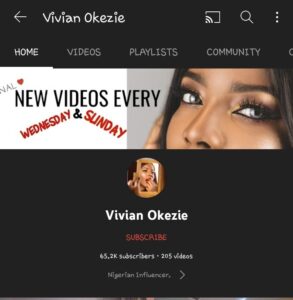 Although she is a content creator influencer. She deals with beauty, fashion, and lifestyle.
Okezie is one Abuja-based content creator. What I like most about he work(youtube) is the way she presents them
Em Eretim ( 33.8k subscribers)
A lifestyle, digital creator, a video editor. Her content is mostly about street foods. I love her so much because she goes deep into the street.
She also goes in with skincare and others and travels ( places like Ghana, Nigeria). I just like the vibes in the post video.
She started on 10th November 2017, and as of now she Has already gotten 33.8k subscribers on YouTube and has 125 videos
Alma Ngur (21.1k subscribers)
Alma Ngur's full name is Alma Ojugbana Ngur born on the 10th of July, she resides in Abuja.
She is a brand influencer, and digital content creator, has over 21.1k subscribers on YouTube with a total video of 402, and she started her youtube career on 3rd June 2013.
Not only is a brand influencer. The digital content creator is also a mother, wife, and entrepreneur.
Her blog can also help you with relating with children and writes blogs about being a mother, lifestyle, fashion, marriage, and food review content.
One thing I notice about the top female YouTubers in Nigeria is that most of the work is on fashion, lifestyle, skin, and travel. It is common for most of them except for some.
Conclusion
I hope you enjoyed my post on Top 10 Female YouTubers In Nigeria? As I have said earlier, if you have an suggestion and question do well to use the comments box.
Make sure to join our Telegram channel to get notified when we post more contents like this.