WhatsApp status is the best way to express your feelings on WhatsApp. Today on NaijaCloud we are taking a look into 500+ WhatsApp status quotes which might be of help to you. People tend to express their expression on WhatsApp such expression includes Funny, Love, Romantic and Break ups. so without much Ado lets dive in.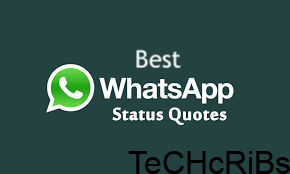 How To Upload on my WhatsApp status
How would you upload on your status without knowing how? Is that possible? So we are going to learn how to upload media on your WhatsApp status. After learning this you can proceed to the next paragraph. If you feel you know about uploading on your WhatsApp status kindly skip and proceed to the next paragraph.
Open WhatsApp.
Tap on Status.
Tap on My Status. If you've already got a status, tap the little circle with a + sign on the top right.
Take a photo by pressing the shutter button, or hold the button for a video. Or select one from the camera roll at the bottom of the screen.
Add a caption if you want by tapping on Add a caption, and then tap on the Send icon at the bottom right.
You can tap on it to view, or press the menu button on the right side to check how many people have seen the update, or to forward it. Tap on the eye icon to see the names of the people.
The WhatsApp status will disappear in 24 hours.
Best WhatsApp Status Quotes 2020
Now, we are unveiling top status quotes you might ever come across on the internet. So take your time and check all . We recommend you share this page to one of your friend so they don't miss the fun.
Funny WhatsApp Status Quotes
Below information contains funny WhatsApp status quotes. I can assure you all  the quote below are funny . In-case you find anyone that suit your condition, don't hesitate to copy and paste.
 Just saw the most smartest person when i was in front of the mirror
I wish I could mute people in real life.
 I don't go looking for trouble. Trouble usually finds me.
 Dear problems… Please give me some discount… I am your regular customer.
 Take my advice, I don't use it anyway.
 Never laugh at your wife's choices. You're one of them.
 Love may be blind, but marriage is a real eye-opener.
 You can never buy love, but still you have to pay for it.
 I'm so poor I can't even pay attention!
 I really want to work so hard. But being lazy is so much fun.
 If I won the award for laziness, I would send somebody to pick it up for me.
I'm not lazy, I'm on energy saving mode.
 Laziness is the mother of all bad habits, but ultimately she is a mother and we should respect her!
 Never give up on your dreams keep sleeping.
 Shopping is an art. I am an artist. Respect Please.
"3 words more beautiful for a married woman than I LOVE YOU: No Cooking Today"
 Behind every successful man is a surprised woman.
 Behind every great man is a woman rolling her eyes.
 The man is the head, but the woman is the neck. And she can turn the head any way she wants.
 You can either be right, or you can be the husband.
 In my house I'm the boss, my wife is just the decision maker.
 I want someone to give me a Loan and then leave me Alone.
Love WhatsApp Status Quotes
I took my time to glance through the internet to find the best love quotes, and i believe you would love them. So copy them now and paste them on your status.
Thank you for coming into my life. For letting me feel this love that I have for you. Because not everybody is as lucky as I am… To be loved by you!
You are one of those beautiful things that happened to my life and made my life worthwhile
I will love you forever. No matter what happens I'll be there. Distance couldn't take us apart – it will make us closer. B'Coz true love waits & never surrenders…
You looking most amazing,wonderful,fantastic,smart,charming, dazzing…
Every friendship dosen't change into love but every love begins with friendship.
I always pray to God to tie us in a sacred knot so that we spend each and every moment together.
True love is when she talks non- stop and you are still interested in listening to her.
Don't love too much, don't care too much, don't trust too much; because that too much can hurt you too much..
I don't know if I like you or love you, want you or need you, all I know is I love the feeling I get when I'm near you.
If you expect something in return, It's called business, not love.
I don't need a burning sun and a cooling moon to show me my way. Just want you to hold me whenever I tumble.
Everyone thinks that love hurts.. But love never hurts.. Rejection hurts.. Loneliness hurts.. Love is the only feeling which covers all the pain
Love does not consists of gazing at each other, but in looking together in the same direction.
Bees love honey…people love money…but I LOVE YOU
Psychology says, you relaize you love someone when you want them to be happy, even if its not with you
Sad WhatsApp Status in English
We've compiled the best sad WhatsApp quotes that will suit your condition. so without wasting much of your time, all quote are yours . Copy as much as you like.
I'm slowly giving up.
I don't depend on people anymore because I'm tired of being disappointed.
I'm invisible until someone needs me.
My silence is just another word for pain
I'm missing something in my life these days.
Silence is the most powerful SCREAM.
BEING IGNORED, worst feeling ever.
I don't need drugs, Life is killing me slowly all by itself.
One night I burn in the fire of my own all thoughts….
How did I go from being so happy, to so sad?
The most painful goodbyes are those which were never said and never explained…
I always found the right one at the wrong time.
Out of all lies, you have told….. was my favorite.
I felt a great emptiness without him, I will miss him for the rest of my life.
I don't need a therapy, I need a hug.
If it not happy ending then there is no end…
The sad part isn't that we never talk, it's that we used to talk every day.
We all feel lost sometimes.
Friendship WhatsApp Status Quotes
A true friend is the greatest of all blessings.
Wherever we are, it is our friends that make our world.
Friends are the most important ingredient in the recipe called life.
One of the best things in life is a good friend!
In my friend, I find a second self.
A friend is someone who makes it easy to believe in yourself.
Looking at your best friend and saying, "I'll do it if you do it."
Friendship is born at that moment when one person says to another, 'What! You too? I thought I was the only one.
You don't have to be crazy to be my friend. Give it time. It will happen eventually.
The better the friend, the less cleaning you do before she comes over.
Real friendship is when your friend comes over to your house and then you both just take a nap.
A real friend is one who walks in when the rest of the world walks out.
Best friends make good times better and hard times easier!
If friendship is your weakest point, then you are the strongest person in this world.
One friend can change your whole life.
The better part of one's life consists of his friendships.
Life is better with friends!
Everyone has a friend during each stage of life. But only lucky ones have the same friend in all stages of life.
Everyone has a friend but only few have good friend like you.
A true friend reaches for your hand and touches your heart.
Between friends, words are optional.
True friendship comes when the silence between two people is comfortable.
Some souls just understand each other upon meeting.
The language of friendship is not words but meanings.
Different but Best Friends.
Friends are like flowers, they add color to your life..!!
Friendship is a Flower that blooms in all Seasons.
True friends are flowers grown from seeds of love.
Friends are the chocolate chips in the cookie of life.
In the cookie of life, friends are chocolate chips.
When I count my blessings, you're always at the top of the list.
I am genuinely blessed to have you as my best friend.
So blessed to have you in my life! Cheers to you, friend.
My life is so much more special because of you, Friend. What a blessing!
I'm beyond blessed to have friends who are like family in my life!
It is a blessing to have bunch of friends like you.
It's a blessing to have a friend like you!
A good friend is a blessing from GOD.
You are the sister I got to choose!
There are friends, there is family and then there are friends that become family.
There's a point in every true friendship where friends stop being friends and become sisters.
Friends are the siblings God never gave us.
Motivational Whatsapp Status Quotes
 If No Think You Can, Then You  Have To.
 Tough Times Don'T Last: Tough People Do
 It Costs $0.00 To Be Decent Human Being.
 The Harder You Work, The Luckier You Get.
 Let Your Faith Be Bigger Than Your Fears.
 The Quite You Become, The More You Can Hear.
I Never Dreamed About Success. I Work For It.
 Sell The Problems You Solve, Not The Product.
 Live Out Of Your Imagination, Not Your History.
 Good People Bring Out The Good In Other People.
 You Didn'T Come This Far To Only Come This Far.
 Making Mistakes Is Better Than Faking Perfections.
 Life Is Change. Growth Is Optional. Choose Wisely.
 Focus. Otherwise You Will Find Life Becomes A Blue.
 It Takes A Lot Of Guts, Don;T Let People Get To You.
 Excellence Is Not Being Best: It Is Doing Your Best.
 Every Accomplishment Starts With The Decision To Try.
 A Woman With A Voice Is By Definition, A Strong Woman.
 Don'T Compare Your Beginning To Someone Else'S Middle.
 God Gives His Hardest Battles To His Toughest Soldiers.
 Falling Down Is How We Grow, Staying Down Is How We Die.
 When You Feel Like Quitting Think About Why You Started.
Best Breakup Status For Whatsapp
One day you will want me & tell me sorry, but it'll be too late.
One Day You will Wait for me But I Will Not Come.
There comes a time when walking away is the best for everyone.
You broke a promise & made me realize. It was all just a lie.
The heart was made to be broken.
Never trust those people who don't understand yur feelings.
No girl should ever forget that she doesn't need anyone who doesn't need her.
Love is the beautiful mistake of my life.
Hope is the power that gives a person the confidence to step out and try.
An eyes with dust and a heart with trust always cries.