Big Brother Naija one of the most popular Tv Program in Nigeria is about to commence. Big Brother naija started way back in 2006 and it's still active and well streamed till date. To  apply for BBNaija Season 5 you must be at least 21 years by June 1, 2020. Just make sure you have a valid Nigerian passport, and you will be very eligible to participate. In case you missed my former post on How To Forward Image On Whatsapp Without Losing Caption, you can kindly check it out. So without much Ado let get to what you came for.
What is Big Brother Naija?
A reality show in which contestants live in an isolated house and compete for a large cash prize worth $100000 at the end of the show by avoiding being evicted by viewers.
How Big Brother Naija Started
The first season of the show first aired on DStv Channel 37 from March 5 to June 4, 2006. The voting results were verified by the auditing company of Alexander-Forbes, Also
Ebuka, the most popular housemate for several weeks into the show and widely believed to emerge the winner was the seventh housemate to be evicted; many viewers blame the Joe's Fan Club (JFC) for his eviction. Joe himself was soon evicted from the show.
Big Brother added another twist to the game on day 79 by cancelling the day's scheduled nominations and making the housemates believe they will instead be evicted based on their performances on assigned tasks while in reality no more evictions were held and viewers began voting for the winner who turned out to be 26-year-old Katung Aduwak.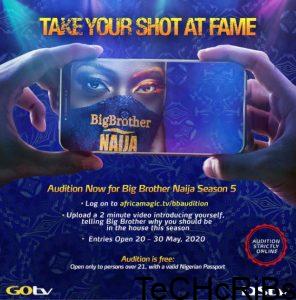 How To Apply for BBNaija Season 5 Season 5 Online
Just record a 2-minute video of yourself, sharing why the organizers should pick you to be a housemate,
After recording your clip, fill out the online registration form and upload your video.
Make sure you answer all questions on the form completely and truthfully. If you lie about anything, you will be found out and disqualified immediately from the selection process. For its 5th season, the BBNaija show will run its online audition process from May 20 till May 30. Therefore, you need to hurry, ladies and gentlemen.
Then tap here to apply.