Hey! Welcome back to Naijacloud. Without wasting much time today we will be looking into the procedure on how to activate MTN 0.0kb Unlimited Free Browsing Cheat Using Tweakware VPN. The only con of this particular freebrowsing is that you have to be an MTN mpulse user to enjoy this, you can quickly check the steps to migrate here. I created a post too on how to activate 9mobile freebrowsing cheat using Tunnel tweak VPN, so without any further ado let's dive in.
Requirements
Tweakware App – Download here
MTN SIM – make sure you have no airtime on the SIM, to make sure the trick works.
Android 5+
3G/4G connection.
How To Setup MTN 0.0kb Tweakware Unlimited Free Browsing Cheat 2020
Open your Tweakware app, you can also check this quick download link.
Locate and Tap on the None option and select (New MTN ng 0.0kb free 1 or free 2)
Now tap to connect button and wait for about 30 seconds to get connected and you can start surfing the internet unlimitedly for free.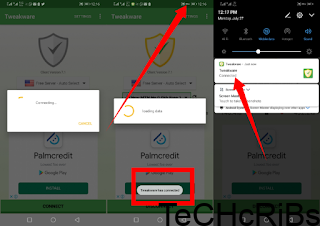 MTN Tweakware 0.0kb Unlimited Free Browsing Cheat Manual Configuration Settings
I have carefully written a whole explanatory procedures on how to manually set up the unlimited Tweakware free browsing cheat. Below are the manual configuration settings for the unlimited mtn 0.0kb free browsing cheat.
Go to setting
Custom setting
Connection mode : HTTP
Server pot : 8080
Host header :smartapp.mtnnigeria.net:8080
In line type : Single
Reverse proxy – leave Empty
Proxy Host :10.199.212.2
Proxy port : 8080
That's all you need to know on MTN 0.0kb Unlimited Free Browsing Cheat Using Tweakware VPN. This particular post will get updated whenever I get new updates. Want more perfect updates like this? Download our mobile app below or join is via any of our social media handles below.