Hello. Welcome back to NaijaCloud. Today I am going to teach you how to solve "This phone number cannot be used for verification".  I would be making this post so short and clear.
I encountered this particular error last week and I found a simple method to solve it. It's simpler than you think.
Today I would be sharing with you all you need to know on how to fix "This phone number cannot be used for verification" and things to do to avoid future mistakes.
The error is caused mainly by two things, it's either your IP address was flagged by your you turned on 2F verification.
Your IP might get flagged if you are trying to access the Google account or email via a VPN.
If you entered the wrong password too many times too, Google identifies your IP as spam and it gets flagged immediately.
Make sure you are disconnected from the VPN before proceeding.
Now that you know the cause, without further ado let's look into the steps to solve "This phone number cannot be used for verification"
Why Does the Error Occur?
The error message "this phone number cannot be used for verification" appears when Google's system detects that the phone number has been used multiple times for account verification.
This is often the case with phone numbers that have been associated with multiple Google accounts or have been used for spamming or other suspicious activity.
How To Fix "This phone number cannot be used for verification"
Fixing the error is so simple AS ABC. Just follow the steps below and you are good to go;
Once you get the error "This phone number cannot be used for verification", you would need to get a Virgin number.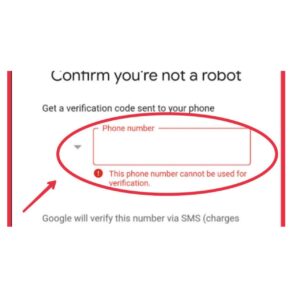 What do I mean by Virgin number? A new number that hasn't been used to register and Google account before. You can also use the method I have here to get a free US number.
Once you have the number, input in the given space and you should get a six-digit pin sent from Google.
This particular code would verify the account.
Request a Voice Call Verification
If you have a phone number that you would like to use for verification but keep receiving the error message, you can try requesting a voice call verification.
This option is available on the "Verify your phone number" screen where you are prompted to enter your phone number. Choose the "Call Me" option and wait for the automated call from Google.
You will receive a verification code that you can enter to complete the verification process.
Use a Different Verification Method
If the phone number verification option is not working for you, there are other verification methods available. You can choose to receive a verification code through email or Google's mobile app.
If you choose the app verification method, you will need to download the Google Authenticator app to your mobile device.
Contact Google Support
If none of the above solutions work, you can contact Google support for further assistance. You can visit the Google Help Center and click on the "Contact Us" button to find the contact options for your specific issue.
You may need to provide some personal information and details about the issue, so be prepared to answer any questions asked by the support team.
What Can I do To Prevent The "This phone number cannot be used for verification" Error?
The fastest method to prevent this from happening again is to add a recovery phone number and email. Turning off Two-factor verifications also works.
You should also make sure that you aren't on a different IP address or VPN when trying to access your Google account.
You can also set your age to be less than 15. Even tho is method isn't 100 percent advisable but Google would think you are a kid and immediately ignore you
Conclusion.
I hope you enjoyed my post on how to fix the popular Gmail account error. Don't forget to join our Telegram channel below to get more spicy updates like this
Make sure to use the comment box below incase of any questions or suggestions.