Hello! Welcome back to NaijaCloud. Today we are going to look into the 1xbet affiliate review and the method I used to make my first $500 dollars online. Even though it's not been easy, I have tried most of this so-called affiliate platform and I can say Bet9ja, 1xbet, and Melbet affiliate are the three most reliable affiliate companies.
To kick off today's 1xbet affiliate review, we need need to look at the pro and cons. To get started with a 1xbet affiliate, you would need to own a website, if you don't have a website you can use an Instagram profile with a large number of followers or a telegram channel.
Once you have the page, website, or Telegram page you are good to go. Ixbet offers banners and affiliate links. You can also use your custom promo code to refer people.
I would need to tell you a little more about 1xbet affiliates because they are one of the best in this game, they provide a commission rate of about 25% which means you get 25% of your referral losses for life.
They equally offer over 30-40% commission rate to some users too, depending on your location and country of the target. You should also have it at the back of your mind that you also get a 25% to 40% per debit from your earning when your referrals win a bet.
It might not sound clear, I would be explaining more on the earring and the commission rate during our cost of study.
Now that you have heard a little about 1xbet affiliate, Let's look into the 1xbet affiliate review and how I made over $500.
How To Become 1xbet Affiliate Member
The first thing you need to get started with a 1xbet affiliate is to create an account. You would need to get an affiliate account to start earning money as I do.
According to 1xbet themselves, the average user makes $1000 per month even though it took me over a year to archive that. I have a list of posts relating to affiliate marketing here, you can just pay a look. Between, if you don't have a 1xbet account, you can open one ASAP here.
Now let's look into the steps to create the 1xbet affiliate account;
You would need to have a website to get on board, you can also use your Instagram page or telegram channel link. If you would want to get a website, you can purchase your hosting and domain at Netlight systems and learn the steps to install WordPress here.
After getting your website or blog, you can proceed by visiting 1xpartners.com/sign-up or simply opening the link in a new tab. Your page should look like the one in the image below.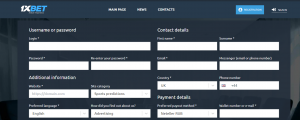 On the page, you would be requested to set your username and your desired password, your email, and your website URL. 
On the same page, you would also be required to enter your preferred withdrawal method. Available payment methods include Skrill, Netteller, and WebMoney, you can also make a withdrawal via a player account in Nigeria and we shall discuss the withdrawal later.
Now that you have your account ready, you would need to learn how 1xbet affiliate works. To spice up today's 1xbet affiliate review, I have all you need to know bout how it works below;
How Does 1xbet Affiliate Program Work
The only method that you could use to make money via affiliate marketing is by making referrals and to make referrals you would need to have high traffic.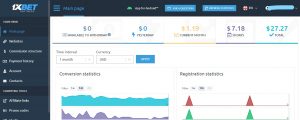 Traffic is applicable for people using websites or blogs, for people Instagram accounts, you would need to focus more on growing your followers and engagements. You can make money by promoting three things which are explained below;
.
Banners
Banner and media are some of the best methods to get referrals to 1xbet. You can place Gif and its HTML code on your blog. The gifs display as an ad so that whenever a user registers and deposits you get the commission.
Media files range from different sizes, formats, and languages so that you can Geo-target on your website. Make sure you ad the iframe (HTML code) where people would be able to see it.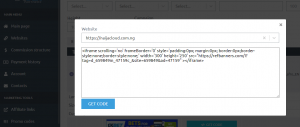 Gifs and 350 * 250 banner ads are recommended and placed at the begging or middle of posts. I would leave a link to a website to learn how to add code to WordPress blog here.
Promo Codes
You can also generate your promo code, It's a win-win for you, 1xbet, and your referrals. Your referral also gets a sign-up bonus whenever they register with your promo code.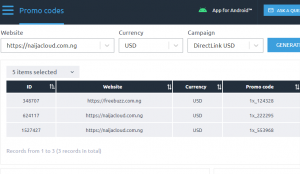 This is the simplest method to convince a friend to register via your referral, all you need is to tell them to register with your promo code that they get a sign-up bonus.
Affiliate links
This is also one of the best methods to promote your 1xbet affiliate offer, with this method a trackable and customizable link would be generated for you so whenever a user tries to register via your link it reflet on your dashboard. You can also set custom landing page.
1xbet Affiliate Commission
1xbet reward you 25-40% of your referrals stake and there is also a negative commission structure where you get debited whenever any of your referrals win a bet. When I used 1xbet affiliate then, I was offered the 25% commission structure.
1xbet Affilaite Withdrawal
The Minimum payment is $30 and payments are made each week. To accept your first payment you would need to contact support to tell them you need to withdraw.
It's better to make a withdrawal via a Player account. The funds would be sent to your 1xbet account where you can now withdraw to your local bank.
Send an email to "[email protected]" telling them that you need more info on withdrawal and you would get feedback almost immediately.
Conclusion
I hope you enjoyed my post on 1xbet Affiliate Review and How I made my first $500. Feel free to send me a message or contact me via the contact us page and you will get a response immediately. Let me know your experience with 1xbet affiliates in the comment section below.