Hey! Welcome back to NaijaCloud. Today we are going to look into the Allahbox Review if it's legit or a scam.
Today, I am going to teach you new methods to make money online. Many of these online platforms claim to pay at their first seen, after a while, they just ghost.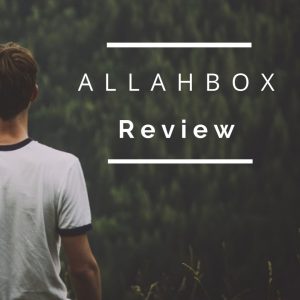 Late last year, I wrote a post on the inforib review and how to make money via it. As at the time of writing it then, they were still paying. All of a sudden, they ghosted and don't reply to emails any longer.
So today on the Allahbox Review, we are going to look into making money from the platform, their various VIP plan, and other Basic things that you might need to know.
What is Allahbox
According to them, Allahbox described itself as a platform that allows its members to make a fixed daily return(interest) on their initial deposit and as well as the affiliate program to earn additional income and make their money grow fast.
Is Allahbox Legit?
As at the point of writing this, I can boldly say allahbox is legit and I have some payment screenshot to back it up. One of my friends gave the platform a try and he was paid.
So without wasting time on the Allahbox review, let's look at some interesting things about them.
How Allahbox Works
The first thing we would be looking into on the Allahbox Review is the steps to create and register an account. Allahbox has a different subscription plan, they have the free one.
To create an account you will need to;
Head over to their website Allahbox.com
You should be redirected to a page where you can submit your email and phone number.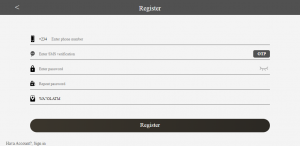 Submit Everything and Tap register.
Your account is halfway created. You will need to select a subscription plan.
The free plan has its pros and cons. Today I would be taking my time to explain each to their subscription plan and the benefits you can enjoy from each.
VIP 1
The Allahbox VIP 1 is totally free, and you also get free N2000 upon completing your registration.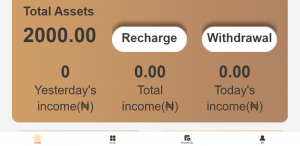 The percentage earned per rebate is 0.75%, the number of daily tasks is 10, and the maximum withdrawal N30,000
VIP 2
The VIP 2 isn't free unlike the first one, It holds a registration fee of N30,000.
The percentage earned per rebate is 0.8%, the number of daily tasks is 10, maximum withdrawal amount: 50,000 Naira.
The total number of withdrawals for this particular one is 2.
VIP 3
This is the third plan on the list, It holds a registration fee of N60,000. The percentage earned per rebate is 0.85%.
The number of daily tasks is 10. The maximum withdrawal amount is 100,000 Naira. The number of withdrawals 5.
Allahbox also has the VIP 4 & 5 subscription plan, they both cost N200000 and N500000 respectively. You can go through their website to know more about that.
Allahbox Referrals
Today's Allahbox Review won't be valid if we don't discuss their referral system. One thing I love is that theirs is categorized into three tiers which they call generations.
They have first, second, and third-generation referrals. I will just talk a little about each so as to save our time.
The first generation is your actual referrals while the second generation is indirect referrals that are referred by people you referred.
You will be earning a fixed commission on your daily earnings.
The third generation, these are your leads. Just like the second generation. They are indirect referrals too that usually happens when people you refer also refer other peoples too. You will also earn a fixed commission on their daily earnings on Allaxbox.
Allaxbox Withdrawal
The Minimum threshold for allahbox is N5000. Once you reach this threshold, you can request payment to your bank account. I attached some screenshots of Allahbox payment below.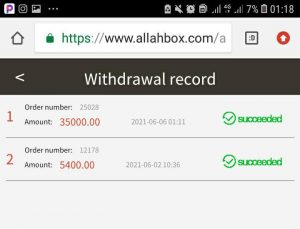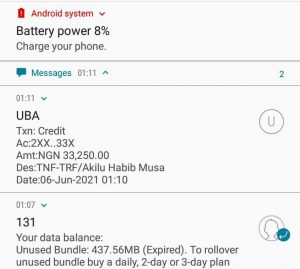 Conclusion
I hope you enjoyed my post on the Allahbox review. If you are clear you can join the specially designed Allahbox telegram group here.
If you want more updates like this don't forget to follow us via any of our social media handles below