Have you ever felt like increasing your WhatsApp views? Look no further because this is the right post for you.
Today I will be teaching you how to get free 1000 plus WhatsApp status views. Isn't that cool?
Yes, it is. All you need for today's tutorial is your WhatsApp account, join some of my WhatsApp drive WhatsApp groups and follow the steps below.
In case you missed my post on how to make money on whatsapp check the link and see.
I can help you increase your WhatsApp status views for low as N1000. If you are interested, you can tap here to contact me on Whatsapp.
So without much Ado let's quickly increase some WhatsApp views.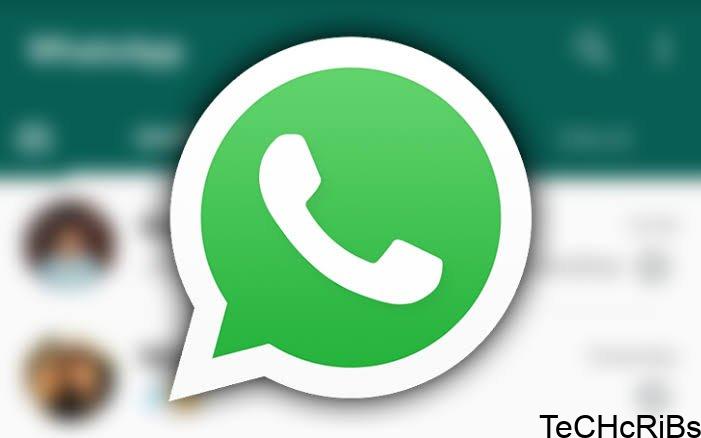 What's WhatsApp status?
WhatsApp Status allows you to share text, photos, videos, and animated GIFs that disappear after 24 hours. People tend to express their emotions on WhatsApp status.
How to  Increase WhatsApp views
I have three methods of increasing whatsapp status views, the first two are automatic while the other two are manual.
You don't need to message anyone using the first two methods and it's highly recommended. So want to know more?
Then check the headings below.
Ads – I can help you increase your WhatsApp status views for low as N1000. If you are interested, you can tap here to contact me on WhatsApp.
This is virtually the latest and the best method to increase WhatsApp status views. It's very simple to use. All you have to do is to submit your phone number on the WhatsappStatusViews website, come back by 9:30 pm to download your assigned VCF file.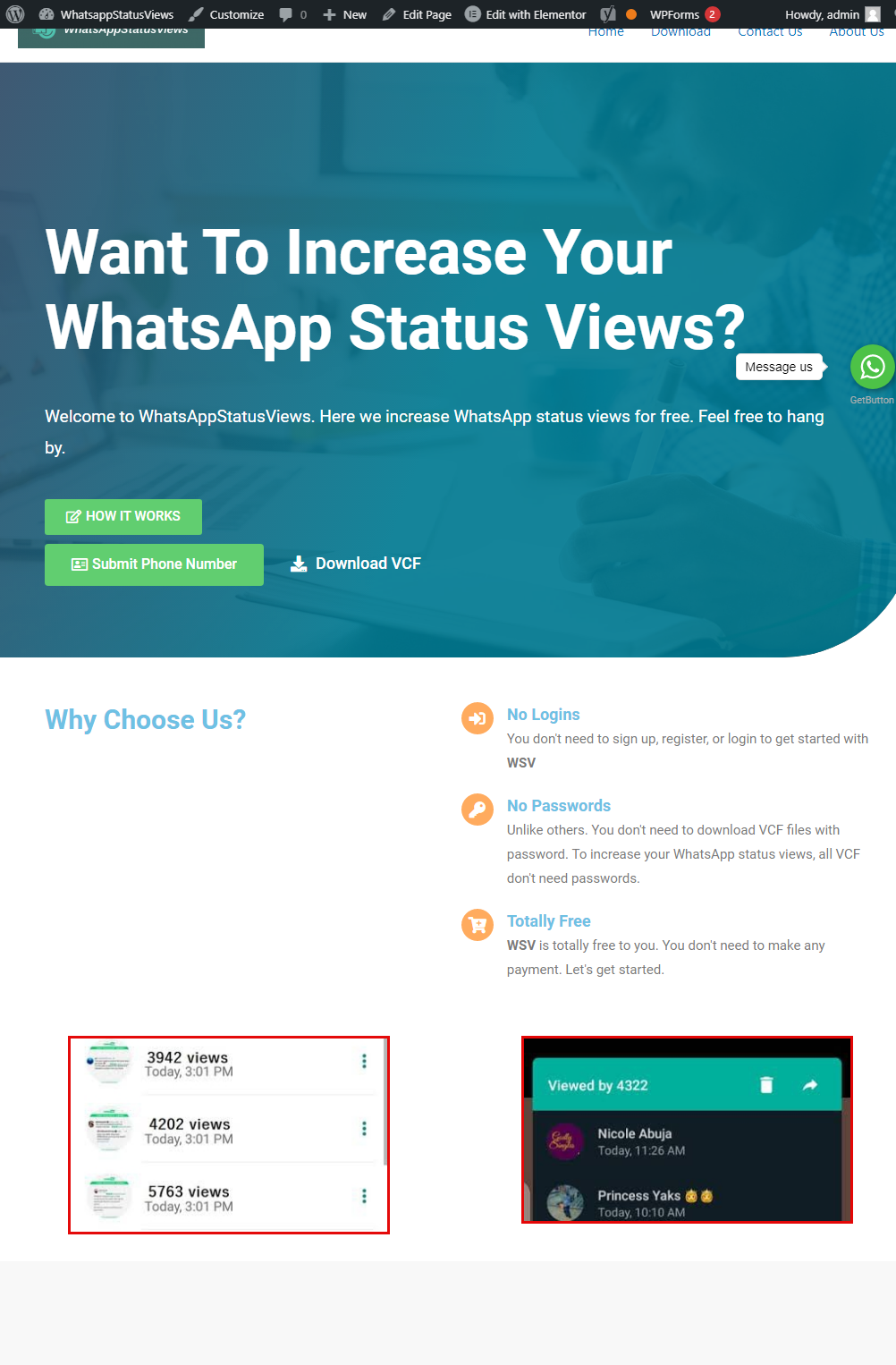 The most interesting thing about WSV is that all services are free and no password or logins required. Personally, I have tried WSV and I can boldly say they are legit.
WSV has great customer support. So what are you waiting for. Head on to whatsappstatusviews.com.ng to get started.
You can also save your friend's status via downloading gb whatsapp apk on your phone
Just like WSV, Genix Booster is a project aimed at seamlessly giving users the opportunity to increase their WhatsApp status viewers or to increase the number of participants in a WhatsApp Group.
You can use the website to increase the number of your WhatsApp views. The only problem I have with the platform is that it's not automatic, you might need to message each user manually.
so what are you waiting for? Go to the website and get started.
Wassapviews.com
This is the best and the fastest method to increase whatsapp status views.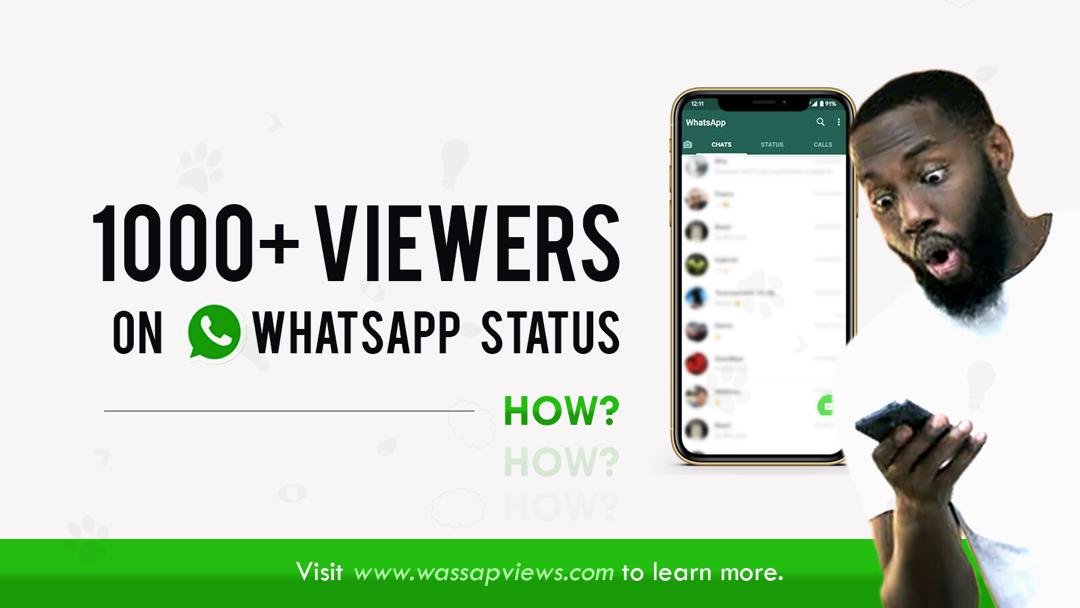 All you just have to do is to visit the website, come back by 9pm and download the VCF file.
When you download the files, you have to install it and the contact assigned to the file will be saved automatically on your phone.
I personally have tried wassapviews.com and it worked for me.
They also have a premium version that's only for N200, this plan is suitable for Tv owners.
Below are some proof that wassapviews.com truly works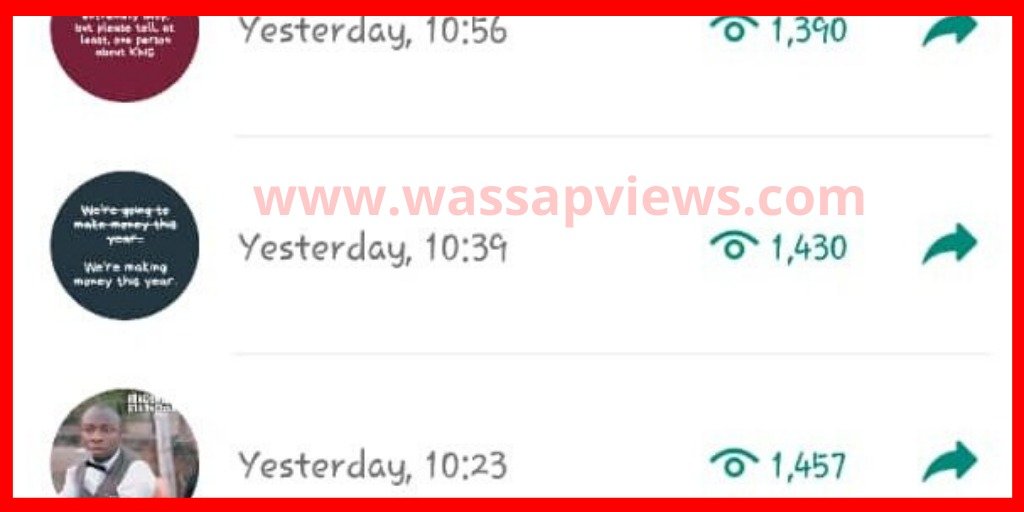 Manual Method
As i have said earlier, getting whatsapp contacts seem to be hard sometimes, You have to get thousand of contacts in your phone-book to get tones of views. So I created a whatsapp group for people to get free WhatsApp views. I am sure the first question that will pop up in your mind is "how does it works". I have created some WhatsApp gain groups below were you can gain WhatsApp views for free, all you just have to do is to join the WhatsApp groups below and message anyone you find on the group. Let's say you message 250 People, that's automatically 250 views, I have created 6 groups so you can get up to 1000 status views. Please note that this method isn't an official method, it's just to help people who need whatsapp viewers.
Join the groups via any of the whatsapp group immediately after this post
After joining, Copy and send the message below to the group
Hello room
my name is ——— save my number
let's see each others status
Massage me.
People who are interested in getting views will add up immediately
Things you have to take note before joining the group
Don't join the group if you know you aren't ready to add other members
Incase you are the very first to join a particular group, wait and lets other members join before thinking of leaving the group
Should in-case the group is filled up. This post will get updated on weekly basics OR just drop comments below and notify us.
Don't in any Method

spam

or send any advertisement into the whatsapp groups.
Add up member immediately and remain active.
Group Links
Don't Join group to spam!!! We hate it.
Quick reminder : I have 8000 WhatsApp contacts for sale, Tap here to message me.. I can also increase your status views for as low as N1000
Tools and Resources Needed
WhatsApp status views 300 link
Numerous online services and websites offer to increase your WhatsApp status views by providing you with unique links to share. 
These platforms say that giving your contacts the link to your status makes it easy for them to see it, which can increase the number of people who see it to 300 or more. 
But keep in mind that it may not always be safe or reliable to use these shortcuts.
WhatsApp status views increase apk
Several Android apps say they can get more people to look at your WhatsApp status. 
These apps, sometimes referred to as "WhatsApp status views increase apk", usually work by automatically viewing other users' status updates in exchange for more views on your own. 
Some users may find these apps helpful, but it's important to make sure the one you choose is safe and secure before you install it.
WhatsApp status views booster
A "WhatsApp status views booster" is an app or online tool that helps you get more people to look at your status updates. 
Most of the time, these tools work by connecting with other WhatsApp users to make a network that checks each other's status updates and shares them. 
As with any third-party app or service, you should be careful when using a booster and look into how well it works and if it's safe.
WhatsApp status views group 1k
Some WhatsApp groups are made to get their members to look at each other's status updates more often.  
These groups, often referred to as "WhatsApp status views group 1k" or similar, have a large number of members who agree to view and engage with each other's status updates. 
You can join these groups to expand your audience and increase your status views. 
Be mindful of the content you share, and always respect the group's rules and guidelines.
How to fake WhatsApp status views
Using third-party tools or services to artificially boost your status view count is how you fake WhatsApp status views. 
Some users may find this method appealing, but it's not a good idea because it goes against the platform's rules and could lead to their account being closed.
WhatsApp views hack
It is important to mention that trying to "hack" WhatsApp views or attempting to manipulate the platform through unauthorized means is not advisable. 
It is always better to focus on organic methods, such as creating engaging content and promoting your status updates through legitimate channels.
Conclusion
In conclusion, increasing your WhatsApp status views for free is possible with the right strategies and techniques.
By creating engaging content, utilizing hashtags, leveraging other social media platforms, and engaging with your audience, you can attract more views to your WhatsApp status.
As you implement these tactics, analyze your results and adjust accordingly for even better outcomes.
Remember that consistency is key in maintaining an engaged audience. Start implementing these tips today and watch as your WhatsApp status views skyrocket!