Hello. Welcome back to NaijaCloud. Today we are going to look into the best ad network for low traffic sites, how to make money with them, and most of their pros and cons. If you have the best ad network or monetization strategy, making money online won't be your problem.
Some ad networks work well for low-traffic sites. What I mean by low traffic is 300+ daily unique visitors. lol, you can't make a reasonable income with a blog that has less than this amount of traffic. Even Though you can give it a trial.
As at the time of composing this blog post I don't use an ad network even though I'm Adsense approved. I use affiliate marketing and sell my products. I have used so many ad networks when I had little traffic. Today I would be expecting all the ad networks I used and how relevant they are. I once wrote a post on top Google AdSense alternatives in Nigeria, don't forget to check it out you will find it useful.
Kindly note that my reviews are based on how easy they are, their requirements, and some other little factors. So without much ado, let's look into the best ad network for low traffic sites.
Best Ad Network For Low Traffic Sites
Now let's get to the real business. If you have a low traffic, CPC wouldn't be the strategy for you. CPM is the best for sites with low traffic sites as you get paid per thousand impressions. CPC users get paid per click and you don't have an assurance that you would get a click from your little traffic.
So without wasting your precious time, I have outlined below all the best ad networks for low traffic sites;
Google Adsense
Google Adsense is the best in the game. The only problem you might have as a low-traffic blogger is the verification aspect, once you get approved you are good to go. The program started June 18, 2003, exactly about 18 years ago. You can see how far they are in this game.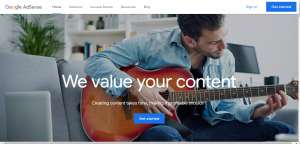 One of the greatest myths to date is that you need huge traffic to get Adsense approval and that's a lie. I have facts to back that, when I started NaijaCloud I got approval with 100 daily organic traffic. All you need to get on board are quality content and some additional page requirements. You can learn more about getting AdSense approval here.
Now let's talk about what makes AdSense the best for low-traffic bloggers. For a thousand impressions on Adsense, you can earn as low as 4$ it depending on your Geolocation. All you just have to do is to increase the number of ad units on your blog post per page so that your earning can also increase too. 
Stuffing too many ads on a page has its implications too. Adsense earning depends on your ad size, they have different ad sizes which include the Medium Rectangle (300×250), Large Rectangle (336×280), and many others.
Propeller Ads
Propeller is also one of the best ad networks for low-traffic sites. They have the best CPM offers. It is the best for low-traffic bloggers, to get on board you would have to verify your domain and it is as easy as ABC. lol.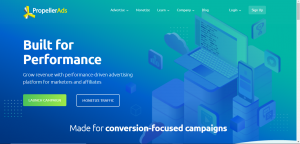 According to them, they said they have a minimum CPM of $0.01. Let's do the math, let's say you have a thousand impressions that you can make as high as 10$. Kindly note that your earning on all ad networks depends on your Geolocation, that is why you can't earn the same amount with some from the US. They have high CPM.
The minimum requirement to withdraw on Propeller is $5 and you can make a withdrawal via PayPal or Payoneer. PayPal is $5 while Payooner is $20.
RevenueHits
This is also one of the best CPM ad networks. They have the same CPM value as that of Google Adsense. You can make as low as $5 with a thousand impressions. From my research, I noticed that for every 1,000 impressions a site received, it earned $5 in revenue (CPM rate = 5 USD).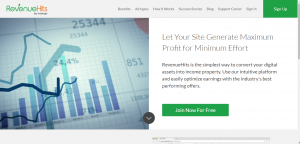 Even Though Revenuehit is new to the market, they have been doing great. The company started in the year 2006 and it's owned and operated by MyAdWise Ltd.
Adsterra
Adsterra is also one of the best ad networks for low-traffic sites. Unlike AdSense, they don't have any traffic requirements. You can sign up right now and get everything ready in the next 20 mins.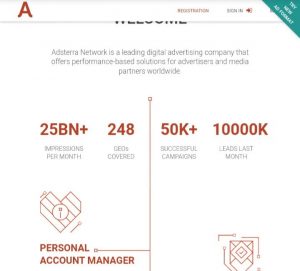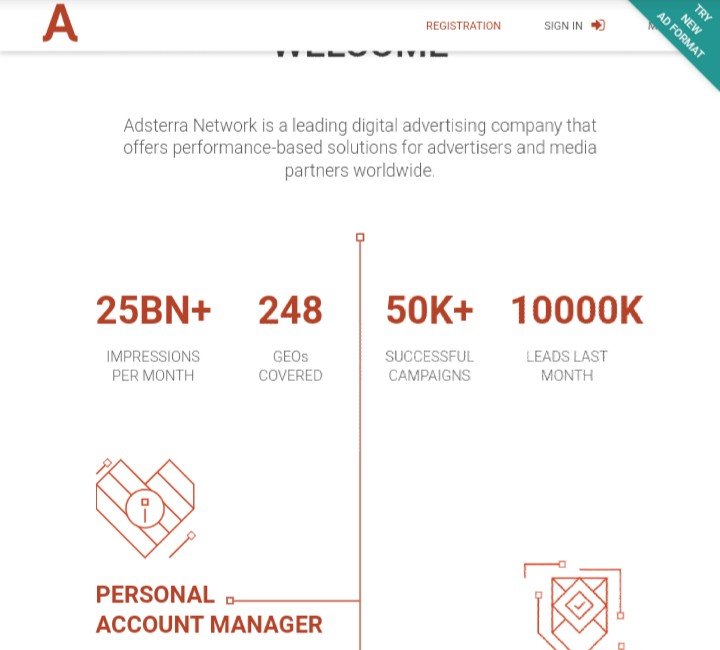 Let's talk about Adsterra CPM. They pay $2 per a thousand impressions according to them, all you can do to benefit from this is to increase the number of ads you serve so they can get more impressions. Your traffic type matters too. Maybe it's social, organic, or any form of traffic. All I know is that organic traffic is the best, you can learn more about Adsterra CPM here.
The minimum withdrawal on Adsterra is $100 and you get paid 15 days after making a withdrawal. As usual, you get paid via Paypal, bank wire, or Payoneer.
Others
There are also some other networks not left out. I won't have the opportunity to review everything. They include tribal fusion, Infolinks, value click, and burst media. The average CPM offer for all is $4.
Conclusion
I hope you enjoyed my post on the top ad network for low-traffic sites. Don't forget to join our telegram channel to get more updates like this. Make sure you follow Naijacloud on Google News here.