Glo Yakata Data Plan is a prepaid plan which rewards customers with wondrous data and voice benefits every time they recharge their Glo lines. Today on NaijaCloud we are going to learn the usefulness and how you can get free 6GB on Glo Data Yakata Plan. In case you missed my previous post on How To Activate Glo 1.25GB For N200 – Sunday Data plan, you can kindly check it out. So without much Ado let's dive in.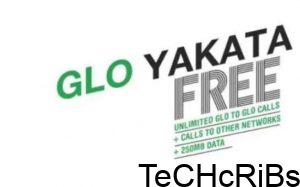 How To Migrate To Glo Yakata Data Plan
All Glo users are eligible for fro this offer. To subscribe to the Glo yakata data plan, simply dial *230#. But if you have ones been on the plan before, you will have to pay N100 to migrate back. If you aren't sure about the planned traffic plan you are, dial *100# to check.
How To Check Bonus On Glo Yakata Plan
If you're thinking of checking your bonus plan of Glo yakata, Dail *230*1# and you will receive a message following your request in 10 seconds. The bonus is valid for 7 days after recharge.
Glo Yakata Call/Message Rate
Call on yakata to other Nigerian networks at charged at the rate of 70 kobos per second. Isn't that great?
Glo to Glo calls on Yakata is charged at the rate of 55 kobo per second. The most exciting g thing about this plan is that they deduct the same charges from both balance and bonuses.
Message from Glo Yakata's normal account balance is charged at N4 per SMS while it's charged N14 per SMS from the bonus account.
How To Enjoy 6GB free Data on Glo Yakata Plan
Glo Yakata offers you awesome voice and data benefits when you buy a Glo SIM. When you buy a Glo SIM today, you get up to 6GB data every month for 6 months (that's 36GB of data) plus a raging N2,200 on every N100 recharge to call ALL NETWORKS.
How To Unsubscribe from  Yakata Data Plan
To unsubscribe/migrate from the Glo Yakata Plan, Dial *220#
I wrote a post on How To Check Your Phone Number On Airtel, GLO, MTN, and 9mobile, you should check it out. Want more updates like this? Download our mobile app below OR join us via any of our social handles.