Looking for the best quick loan apps? Then this post is the perfect one for you. Today on naijacloud we are going to look into top quick loan apps.
We glanced via the internet and looked for the very best for you, our rankings are based on downloads and Google Play store reviews. This is not a sponsored post neither an affiliate post. This post is meant to get traffic to this blog.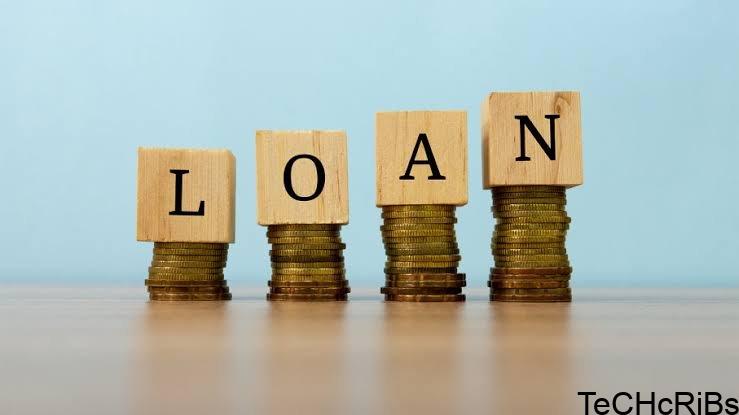 If you need money urgently, you can try these apps and get credited instantly, some of these apps are also referral based ( you make money which is withdrawable by inviting your friends to use the app).
The advantage of using this app is that you don't need any collaterals at all, all you have to do is to download the apps, install and apply for a loan.
Your loan gets approved in 3 mins and you get credited instantly.
To improve your chance of getting your loan approved, make sure you input the correct pieces of information and make sure you haven't been blacklisted. What do I mean by blacklisting?
When you burrow a loan on another app without paying, they send a signal to other loan apps. So if you are in that category, you are just wasting your time reading this article.
So without wasting much of your time, i have compiled the list of top 5 quick loan apps below, so take your time so you might get it right.
FairMoney Loan App
Branch
Carbon
Palmcredit
Xcredit
FairMoney Loan App
Fairmoney is one of the best loan apps I have tested and that is why it deserves first place in today's ranking. The juiciest update about this app is that it's not only for loans, you can also buy airtime and pay cable bills with ease. You enjoy up to a 3% discount and no transaction fees at all.
Fairmoney is one of the quick loan apps that offer up to N500000 loan credit depending on your credit trust. Fair money is fast, secure, reliable, and free to get quick loans, you don't need any collateral at all and doesn't take time. Fairmaoney allows users to repay loans in 60 days and above so their users can find time and pay back, you have to pay your loan on time to stand a chance of getting another.
Fairmoney has one of the best interest rates I have seen. Thye has monthly interest rates that range from 10% to 30% and respective APRs from 120% to 360%. There are no additional fees for processing loans.
You get N500 off your loan when ever you prefer a user to download and get a loan on the app. Fairmoney has some fantabulous reviews on Google Play that make it deserve this first position, you can check some of the picked reviews below.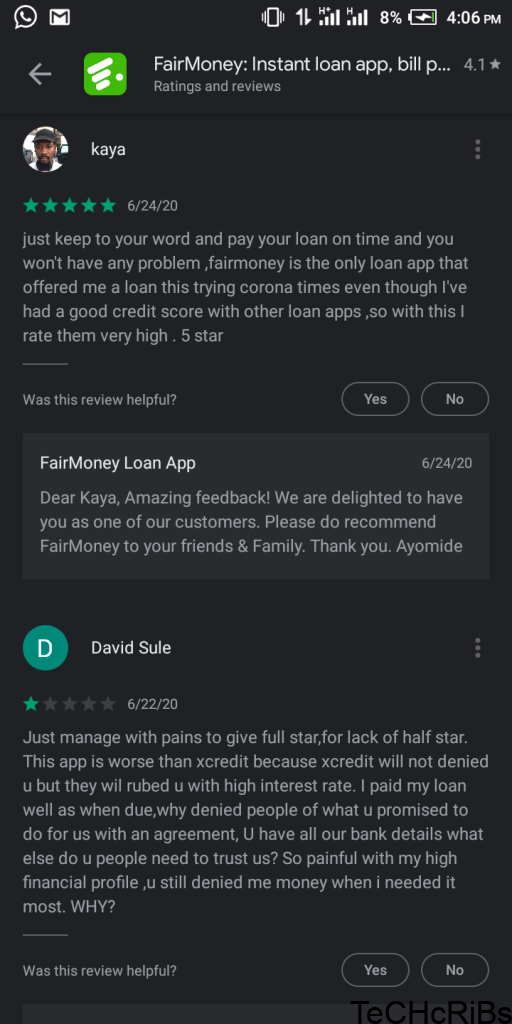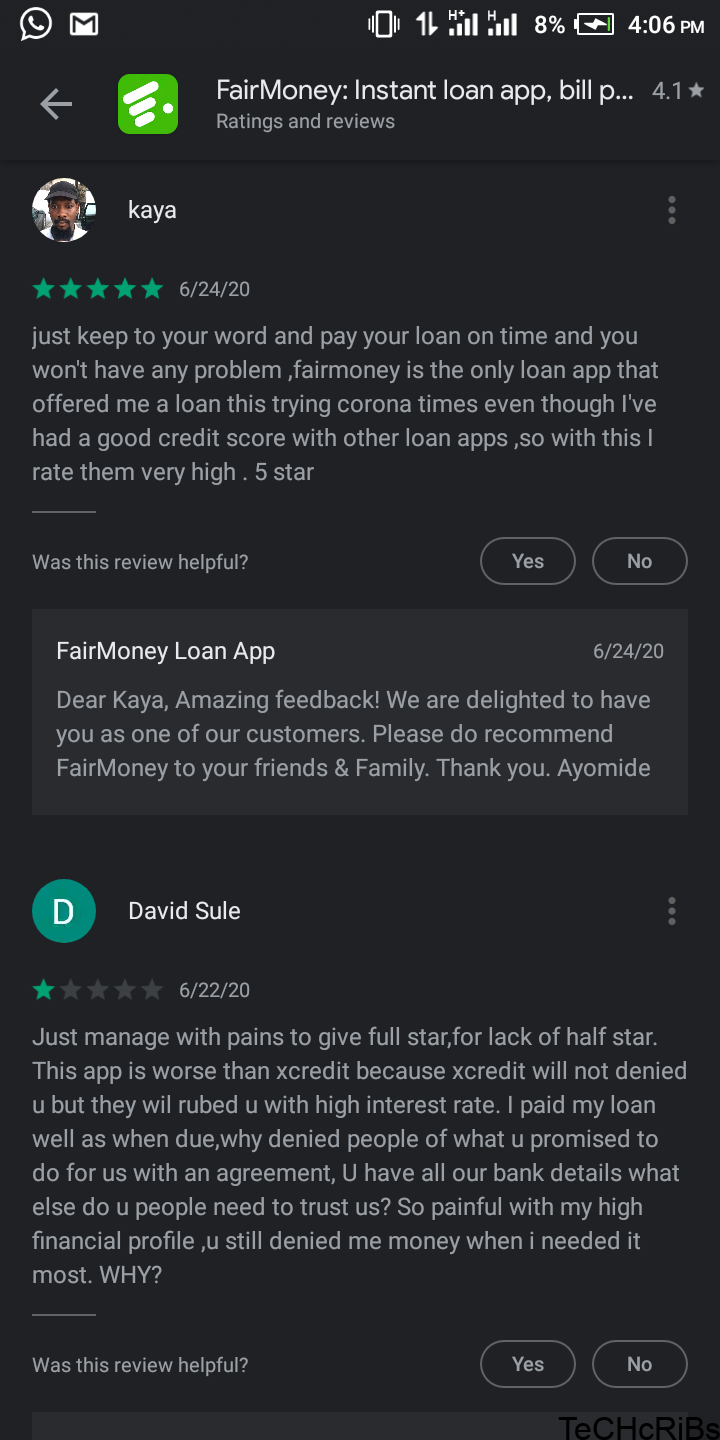 Branch Loan App
The branch app is one of the best quick loan apps because it has one of the fastest sign-ups. You get signed into the app is seconds (that's if you are a new member). It is fast, convenient, and reliable and you don't need any collateral to get a top-notch loan from the company.
The branch is the most secured loan app in terms of account security, any slight fraudulent login or trying to use the same BVN on two different accounts might get your account banned.
Branch is not only available in Nigeria. Are you surprised? The branch is also available for users in India, Kenya, and Mexico.
In Nigeria, Branch gives loan amount from N1000 which is the smallest to N200000, with APRs from 33% TO 261%.
Let's take for example if you are intending for a loan of N400000, a flat fee of N8000. No late fees, rollover charges, or origination fees.
In Kenya, the loan amount ranges from Ksh 250 to Ksh 70000. In India, the loan amount ranges from INR 750 to INR 50000, in Mexico, requestable loan amount also ranges from $200 to $20000.
The most interesting thing about this loan app is that they give a repayment date of 365 days for their clients to repay the loans requested for. You can try downloading the Branch app here, sign up, and get your loan in seconds.
Carbon
Carbon – is also one of the best quick loan apps that allow you to control your finances with few clicks. With Carbon, you can get loans, invest money, and make online payments.
You can invest in Carbon and get high interest later in the future. It,s fast, secure, and reliable. Carbo has 24/7 customer support in case you have any issue or complaints.
The loan app is currently available in Nigeria and Kenya only, that's for now tho. From my finding, Carbon gives the highest loan to clients, you can get loans up to N1000000 without any collateral
You can save/invest with carbon and earn up to 16% on investments which can be withdrawn to Nigeria or Kenya commercial account, withdrawal from Carbon to any Nigerian bank is free without any extra charges attached.
Whenever you repay your loans on time, you get bonuses which are termed "cashback" on the Carbon loan app.
Palmcredit
When talking about UI/UX design of loan apps, Palmcredit seems to be the best I have seen so far. The app is easy to navigate and mobile-friendly. The only problem with palm credit is that it has an age restriction that allows only users above the age of I8.
They have the lowest loan limit on our ranking today, they only allow users to get loans up to N100000. Is that fair to you? Well, it's their brand choice. The lowest loan amount on the app is N2000.
Loans on Palmcredit are allowed to be paid within the duration of 91 – 180 days. They have the lowest loan rate that's equivalent to 14% – 24% monthly and APRs of about 48% – 56%.
Palmcredit is the easiest to use, it's straightforward and easy. If you can open a Facebook account or get your way to this blog, I don't see anything that will make you need tutorials to use the Palmcredit loan app.
Plamcredit has a referral program where they pay their customers for each friend they invite to download and use the app. The point earned from a referral on the Palmcredit loan app is termed Cash bonuses". The only problem with Plamcredit is getting approval. You can download their mobile app to know more about Palm credit
Xcredit
Xcredit – as the name implies, am sure if you see the name anywhere, you would have know what the app is used for.
Am I right?
Lol.
Xcredit has the lowest number of downloads on Play Store on today's list. It has about 500K downloads and positive reviews. You have 91 days to 185 days to replay Xcredit loans, which I think is quite favorable. In't it? Lol.
They have an APR of 12%, if you don't understand what i mean, you can check my calculations below for proper understanding.
Let's say the loan amount is N50000, and maybe the loan term is 180 days, and then the interest is 12%, the total interest to be paid back will be N6000.
Your loans are sent directly the the bank account linked or the bank ATM linked. You can download Xcredit app here to get proper understanding.
I think I have properlly reviewed the top 5 quck loans apps in Nigeria. In order to get more loan offers on the apps, repay your loans on time. That's all for now, this post will get updated whenever we have new updates. What did I miss? You can include them in the comment section below and get instant reply. Meanwhile, you can check my post on How to create a WhatsApp TV and make money from it. Want more Juicy updates like this? Download our Mobile app below Or Join us via any of our social handles below.