Hello and welcome back to my blog, today we are going to learn How To Contact Gotv Customer Care Service in Nigeria.
GOtv is a popular digital terrestrial television known in Nigeria and other African countries. Gotv and its parent company promise affordable entertainment to all of their customers. GOtv. Showmax is an internet-based
Gotv is owned and operated by MultiChoice, the popular South African entertainment company that also operates DStv. Dstv is also one of the major satellite television services in Sub-Saharan Africa; minor service operates in over nine countries of this area and Showmax service.
Currently, millions of people have made use of gotv in Nigeria over the years. Currently, it is one of the most used and popular television services because it is affordable and shows several channels that Nigerians love to watch. For example, big Brother Naija, Hollywood TV series, live sports, Nollywood, Nollywood Yoruba, Bollywood, and more interesting TV channels are available on Gotv. 
If you are a Gotv user, then it is very important to know some hidden benefits that are available for all Gotv users so that you will be able to take advantage, especially the customer service of the popular TV service. 
How To Contact Gotv Customer Care Service in Nigeria
You need to know that there are several contacting gotv customer care methods in Nigeria.
I'm going to list the most effective methods you can use to contact Gotv customer care service in Nigeria in case you have any problems and need any help using their product or service. 
Gotv Mobile Application
Gotv mobile application is free on Google Play Store for all Android users. Likewise, Apple App Store is for those who use Apple devices. 
You can carry out several operations on the Gotv mobile application, from registering to subscription checking your balance, and other important operations. 
Likewise, you can access and communicate with gotv customer care if you have any problem using their product or service in Nigeria. 
Contacting the Gotv customer care representative on the Gotv mobile application is straightforward. 
Go To The Official Website And Live Chat
To contact Gotv customer care service in Nigeria using the official website, you need to click the link below. Gotv Customer Care Service. 
You will be able to communicate well with Gotv Nigeria's customer care service if you use the live chat features available on their official website. 
GOtv USSD
GOtv USSD code is one of the most effective methods to contact gotv customer care service in Nigeria if we have a problem with our service and need a quick solution. 
You need to dial *288# on your mobile. This incredible USSD code is designed to carry out many operations on your gotv. 
With the gotv USSD code, you will be able to check what you owe, fix errors, view transactions & reconnect. Likewise, you can make calls from the mobile number registered on the Gotv system.
It is very important to call a registered phone number to reach Nigeria's gotv customer care service without any complications. Likewise, they will solve your problem as soon as possible because they will be able to identify you with your phone number once it is registered on the Gotv system.
Gotv Customer Care On Social Media 
Gotv is available on Instagram, Facebook, and Twitter. So you can use gotv official social media accounts to contact them if you have a problem with their product or service, and you will be able to get picked up as soon as possible. 
You can send them direct messages on Facebook, Instagram, or Twitter. They will be able to answer you as soon as possible and help you to solve your problem if you have one.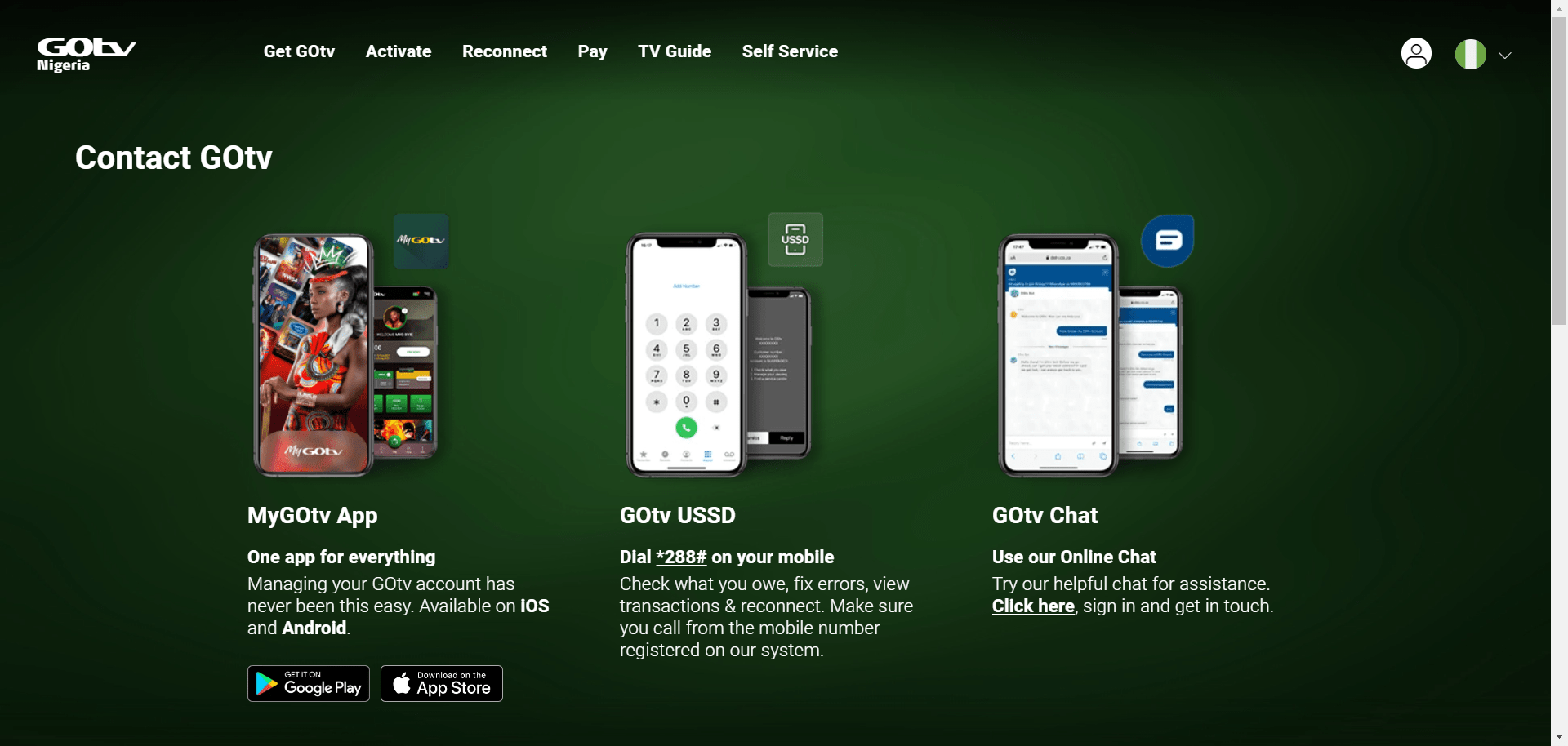 Email Address
You can also contact gotv Nigeria at their official email address, which is:
Tel:
+234 803 904 4688
Gotv Nigeria Address:
Multichoice Nigeria Limited, Plot 1381 Tiamiyu Savage Street, Victoria Island, Lagos State. 
It is very simple and straightforward to contact Gotv Nigeria customer care service if you know how to do it perfectly. You need to know that there are several methods of contacting the gotv Nigeria customer care service representative. But the most effective method of contacting Gotv customer care service is to use their official mobile application or website using the live chat method. 
Sometimes you don't need the service of gotv customer care service. All you need is a professional or expert who knows how to solve widespread Gotv problems and can help you eliminate the problem you are facing as soon as possible.
Electricians and other professionals are knowledgeable in solving common Gotv problems because they have been installing and using it for a long time. They know how to solve common problems of popular entertainment services. 
How To Buy Gotv Decoder
There are several retail stores where you can get your own Gotv decoder if you want one for yourself or your loved ones. 
The Gotv decoder is available in all states in Nigeria at the moment, and the price is the same, although it may be different depending on where you are buying from and the package or bonus that comes with it. 
It is important to do a little research before you proceed to buy go TV. They called her so that you could buy it at the right place for the right price. 
Currently, the GOTV package comes with one single decoder, an antenna (also known as GoTenna), and one one-month free GOTV Max subscription. GOTV decoders cost between N9,000 and N11,000.
The price maybe even more. It all depends on where you are buying from. It is likely cheaper in urban areas like Lagos State and other surrounding states than in other states, especially rural areas.