Do you anticipate having smooth interactions with your bank and Opay as an Opay agent? This manual reveals how to transfer money from gtbank to opay
According to statistics, during the past ten years, the telecom sector in Nigeria has experienced some of the fastest growth. 
This indicates that more people are subscribing to cable TV, refilling airtime,  and purchasing data online. 
Nigeria's population of over 200 million people has resulted in very high demand for all VTU services.  
Therefore, investing and leveraging in the telecom sector always makes sense. The existence of so many fintech businesses in Nigeria is no longer breaking news. 
These businesses are part of the country Nigeria and aim to make data subscriptions, cable TV, and airtime more widely available and reasonably priced.
Examples of these fintech firms are  Kuda, Opay, E-credit, Palmpay, and numerous others. 
For the purposes of this essay, we'll examine both the forward and backward transfer of funds from an Opay account to a bank account. 
What's Opay
OPay is a Fintech business that uses its smartphone app to enable mobile transactions.
With  OPay, you may pay bills, reload your phone's credit, send money to other users, recharge your airtime, and do a lot more.
Downloading the OPay app and making an account are the only requirements. Olu Akanmu, a Nigerian millionaire, is the owner of Opay. banks that work  together The banks that support direct transfers to OPay at the moment include  
GTBank 

First Bank 

Access Bank 

Bank Wema 

Silver Bank 

Union Bank  

FCMB 
How To Transfer Money From Gtbank To Opay
Basically, there are two methods to transfer money from gtbank to opay. I would be discussing the two methods today.
The first is by sending money to your Opay account using a bank's USSD transfer code. 
Add your ATM card or debit card to your OPay account as a second way to fund your OPay wallet. 
You must first comprehend the GT Bank Transfer codes and what they mean in order to transfer money from gtbank to opay
Utilizing the Opay USSD Transfer code, you can transfer money from GT Bank to Opay. 
On your phone, enter

*737*22# 

Pick mobile payments. 

Type in the amount, followed by 4. 

The OPay Account Number (Phone Number are always used by most money operators) 

Choose OPay For Quick Updates.

In order to complete the transaction, enter your PIN.

Now, the transaction should have been completed.
An alternative method is through the use of the GTBank mobile app also known as the GTworld app. You can check a detailed post on how to use the mobile app to transfer to your opay account.
FAQ On Opay Debit Card 
There are several intriguing features included with the Opay debit card.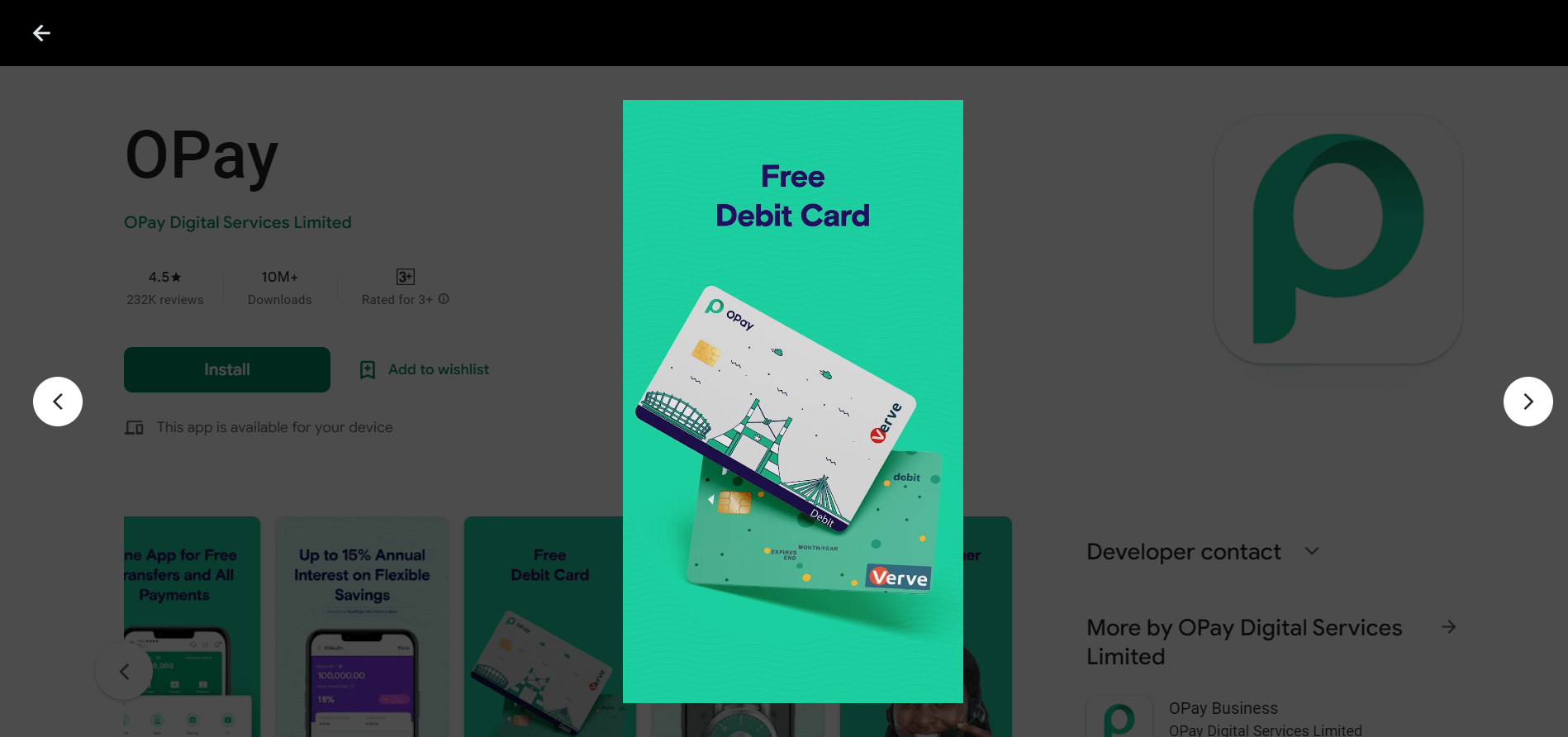 These characteristics include; 
It can be used practically everywhere in Nigeria for POS, Web, and ATM purchases. It is widely available in Naira units. 
Carries no liability for lost cards, and there is a yearly payback guarantee on the card. 
There are no maintenance or upkeep expenses. 
How To Obtain An Opay Debit Card. 
Opening an Opay account is the first step in obtaining an Opay debit card. 
You won't receive the card if your Opay account is not activated. To get started, download the Opay App from the Google Play Store. 
When you've created an account; Open the app and log in
Continue and click on Opay Debit Card Request 
Choose your present location. 
Include any more pertinent information about you or your business. 
The cost for the card charge is 600, which you will have to pay. If no one suggested you, leave the referral section blank. 
How soon is the Opay Card delivered? 
Depending on where you live, it could take some time to receive your Opay debit card. It is therefore highly recommended to provide a traceable address when applying for your card.
The delivery time for your card is 2 to 4 weeks. 
Opay Debit Card Activation Instructions
It's not difficult to activate your recently acquired Opay debit card. 
To ensure a smooth activation; 
Use the app to sign in to your Opay account. 
Choose Opay Debit Card. 
Enter your Card information, then continue. 
The card must have an OTP to be activated by Opay. Look for the code on your phone. Please call  *347*010# on the number you used to register if you don't receive the OTP.
As an alternative, you can ask customer service to activate your Opay debit card on your behalf by calling. 
Limit for Opay Debit Cards 
Opay's debit card functions similarly to that of other Nigerian banks. 
The daily minimum expenditure cap is set at 5 million Naira, depending on your KYC level.
Conclusion
In conclusion, Opay has surpassed its main rivals to become one of Nigeria's top fintech companies.  
The procedure on how to transfer money from gtbank to opay account has hopefully been thoroughly explained in this article. 
Furthermore, I think that the information provided above regarding Opay debit cards will make it simpler for you to obtain a card shortly.