Thinking on how to use Swagbucks in Nigeria? No worries. Today I am going to teach you all you need to know about getting started with Swagbucks, how to make money from it, the pros, and cons.
Swagbuck is one of the best survey websites in the whole world. You get paid on Swagbucks for watching videos, playing games, shopping online , and among other better things.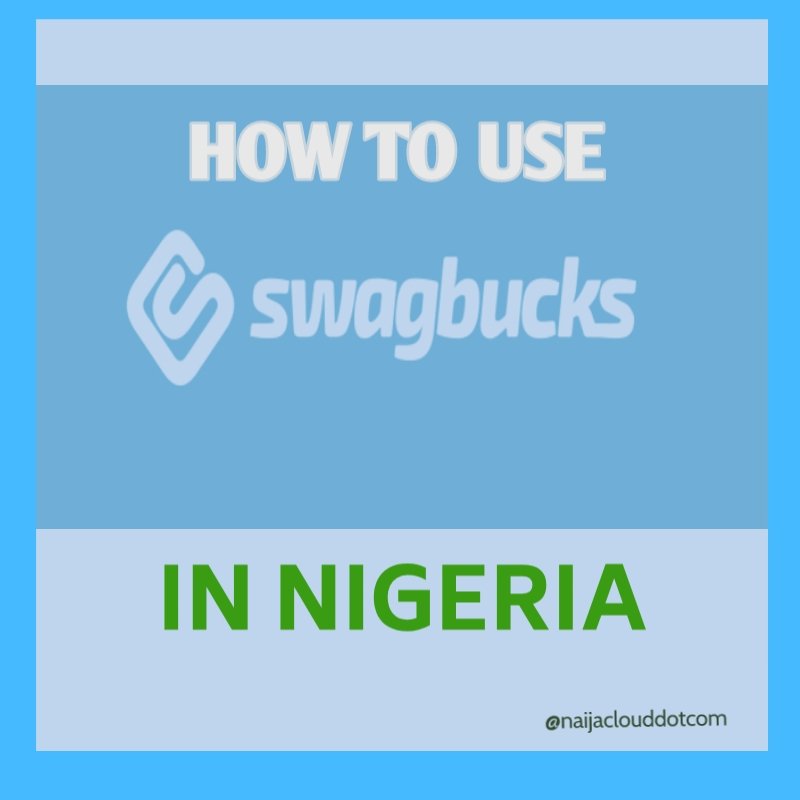 The reason why I love this platform is that you get paid for the things you loved doing.
Recently, I made a post on Vindale Research Survey, a platform like Swagbucks and you get paid in dollars.You can quickly check the post I made on Vindale Research Survey here. Don't forget to check it out.
It means a lot to us.
Still, want to know more about how to use Swagbucks in Nigeria? Follow the post below and let's dive in.
What's Swagbucks
Swagbucks defined themself as a free online reward membership website that users get paid for completing special tasks.
For every task you complete, you get "SB" which is equivalent to Swagbucks currency.
The SB can therefore be converted to gift card or free PayPal funds. You have to have some certain SB's to be able to request withdrawal.
If you need the detailed explanation of withdrawal, you can kindly navigate to the last paragraph. The next paragraph will teach you how to use Swagbucks in Nigeria.
How To Use Swagbucks In Nigeria
What pushed me in writing a complete Swagbucks review is because it's free and available for Nigeria users.  Unlike other CPAs, surveys, and affiliate websites. They blocked Nigeria because of the high cyber crime rate. Users will need a Swagbucks account to get started, below are the steps to create a Swagbucks account;
To get started, you will create an account. You can quick create one by tapping this blue link.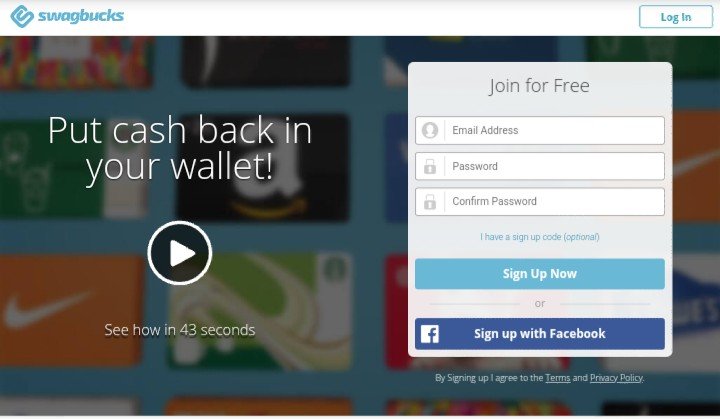 You will need your email to get started, you will also need to suggest a password for your account.
After filling all needed forms, tap the "Sign Up Now" button.
You will need to verify your email. An email will be sent automatically to the email you used to register your account.
Tap on the link the email sent to your email by Swagbucks and that's all.
You can also skip all email confirmation by registering using your Facebook account. Want to know how?
It's simple, just scroll down and tap "Sign Up Using Facebook" button. You should be automatically logged in and that's all. After getting to know how to use Swagbucks in Nigeria, now you will need to learn how to make money on Swagbucks.
How To make Money On Swagbucks
There are many ways to kill a fish, so, therefore, there are many methods to make money on Swagbucks. Today we're going to look at them simplest, easy, and convenient methods. So without much ado let's dive in.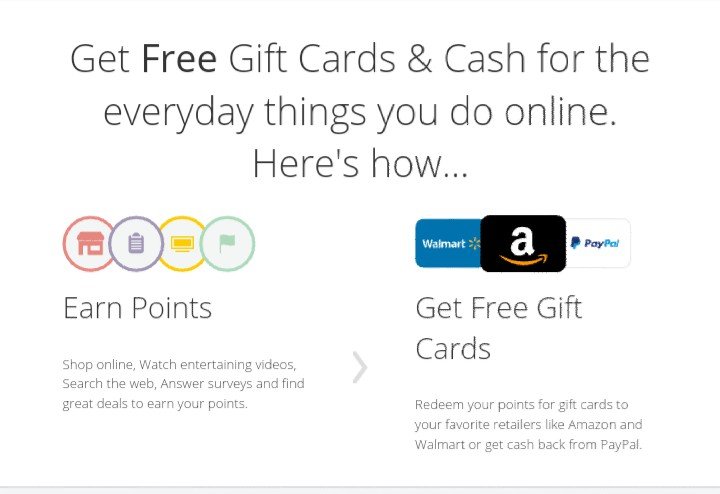 Taking Surveys
This is obviously the best method to make money on Swagbucks. It doesn't consume data and it is not stressful. Don't get me wrong, It is not stressful doesn't mean you shouldn't put in your time or very best.
Whenever you complete surveys on Swagbucks you earn "SB" which I told you can be converted to Giftcard or PayPal funds.
I know what you are thinking is how do they make their money. Many big companies pay Swagbucks for market research. This simply means Swagbucks will share the earning the make from the market research whenever you take part in surveys.
Most times you get emailed whenever a new survey is knocking. It simple as ABC.
Referrals
Networking or making referrals is also one of the best methods of making money online. Swagbucks pays you for every user you refer to their platform using your special assigned trackable link.
You will have a lot of turn-ups because the platform is free and they also make money doing what they love.
Watching Videos
It sounds crazy when you just noticed that you can actually get paid for watching videos online. Imagine if you have invested all the data that you have wasted on Youtube and Instagram on Swagbucks.
Swagbucks pays users for watching videos on the platform which I think is pretty cool and educative. You don't only make money, you're opportune to learning some new things
Playing Games
Without this all you have learned on how to use swagbucks in Nigeria is incomplete. The only problem I know most users might have with this is that it requires a steady internet connection to play the games.
In addition to. On Thursdays, Swagbucks offers up to $1000 money price for each game played. Someone has to be the winner.
The person could be you. What are you waiting for, head on, and start playing games to make money?
Shopping
You can earn SB in a few different ways, one of which is by shopping through the Swagbucks website. Swagbucks collaborates with a number of different retailers, including Amazon, Walmart, and Target, among others. 
Click on the "Shop" tab located on the homepage of Swagbucks to begin earning SB for your shopping. 
You will be presented with a list of available retailers, along with details regarding the number of SB you are eligible to earn for each purchase.
How To Withdraw From Swagbucks
After learning how to use Swagbucks in Nigeria, you will need to learn how to make a withdrawal from Swagbucks.
I said this earlier that you need to earn SB to acquire the Swagbucks point.
You need to get 300 SB to be able to request a withdrawal. You will get paid via Giftcards or PayPal. The only problem I know you might encounter is how to get paid via PayPal.
No worries I already created a post on that, you can check my post on how to create a PayPal that can send and receive in Nigeria.
Tips for Maximizing Your SB Earnings
It is important to keep in mind that the amount of Swagbucks (SB) you are able to earn will depend on a variety of factors, including your location and the availability of tasks, despite the fact that Swagbucks is an excellent way to earn additional cash. 
Here are a few tips for maximizing your SB earnings on Swagbucks:
Complete Your Profile
As was stated earlier, one of the most important steps in using Swagbucks is to finish filling out your profile. 
It is in everyone's best interest to provide as much information as possible, as this will facilitate the process of matching you with relevant surveys and other tasks.
Take Advantage of Daily Goals
Swagbucks provides daily goals that can be completed in order to earn bonus SB. 
To accomplish these objectives, you will typically need to earn a predetermined number of SB in a single day or carry out a particular task. 
Make sure to check your daily goals regularly to maximize your earnings.
Refer Friends
It's possible that if you refer your friends to Swagbucks, you'll earn more SB than you would otherwise. 
Be sure to give your friends the link to your referral page, and encourage them to sign up for the service using your referral link.
Be Selective with Surveys
It is important to be selective about the surveys that you choose to complete, despite the fact that completing surveys can be an excellent method for earning SB. 
Be sure to give the survey description a careful read before beginning, and limit your participation to polls that have some bearing on your life. 
Because of this, you won't have to waste time filling out surveys for which you have a low chance of being eligible.
Conclusion
In conclusion, the use of Swagbucks in Nigeria offers a great opportunity to earn rewards and money online. Not only is it straightforward to join, but there are many ways to take advantage of the benefits offered by Swagbucks.
It provides users with an easy way to get cash back and discounts on online purchases as well as receive other rewards such as gift cards.
Furthermore, using Swagbucks helps you support local charities and organizations that are doing great work in Nigeria.
That's all I think you need to know on How To Use Swagbucks In Nigeria. Want to ask questions? Drop them in the comment box below. That's all for now, this post will get updated whenever we get new updates.